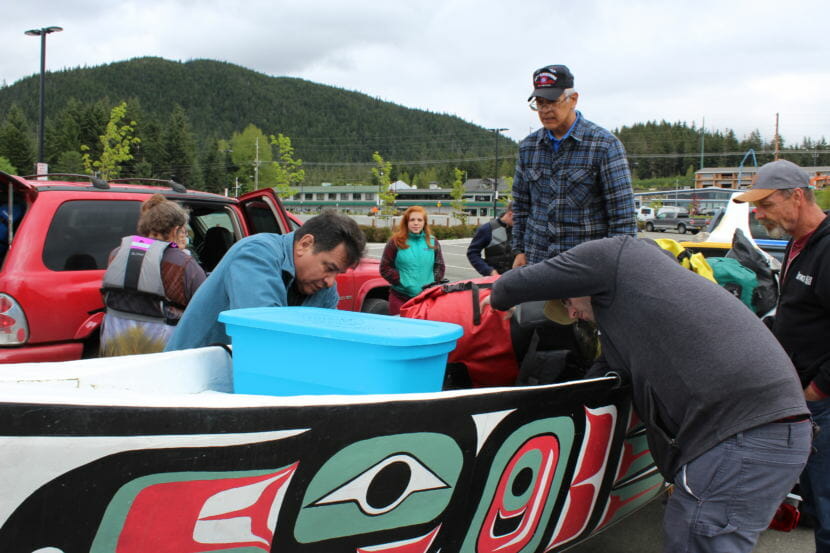 In the waters of Southeast, the members of the One Paddle Canoe Society will reach Juneau the same way their ancestors would have thousands of years ago.
On Tuesday, canoes representing six Southeast communities and Canada will arrive in Juneau. Their landing will kick off Celebration, a four-day gathering of Tlingit, Haida and Tsimshian peoples.
Before they departed last week, a few local paddlers gathered at Auke Bay for last minute preparations. They piled bags of supplies into a long, white canoe covered in formline design with an eagle painted on the bow.
The Eagle canoe is manned by Alaska Native veterans. Aside from the desire to travel their ancestral waters, this group also paddles to raise awareness about the high rate of post-traumatic stress disorder and suicide among veterans.
Alaska has the highest concentration of veterans in the nation, and Alaska Natives make up a high number of them.
"Most every village you come into in Southeast Alaska, you'll find a veteran," said Dennis Jack.
He's a combat veteran who served in Desert Storm and the Iraq War. He's from Angoon, and two years ago, he decided to organize a veteran canoe for the first time.
"At that time we had seven veterans and this year we have over 22 that are participating," Jack said.
According to a study released in 2016 by the U.S. Department of Veterans Affairs, the risk of suicide is 22 percent higher among veterans compared with the rest of the U.S. population.
Jack said the response after their first trip two years ago was extremely positive. The governor's office and other state politicians reached out to ask how they could help. This year, Safeway and Fred Meyer offered support, as well as the Department of Veterans Affairs out of Anchorage and the National Guard in Juneau.
"Through the veteran canoe journey we've managed to get some help for a couple veterans that slipped through the cracks and they're now getting help," Jack said. "Even if we help just one person, it's well worth the trip."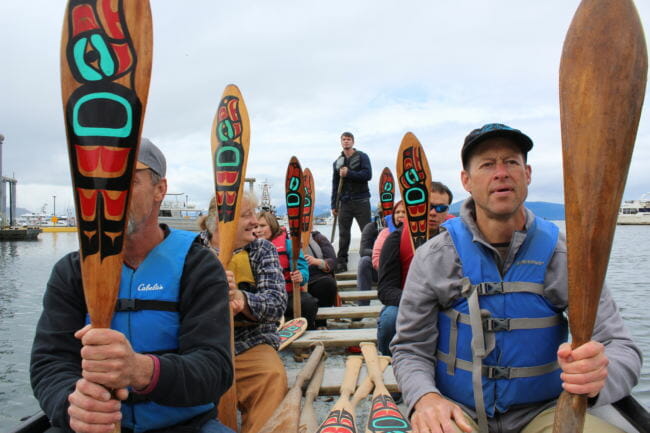 Val Cooday is paddling for the first time. During the Vietnam War, Cooday served in the Women's Army Corps out of Fort Sam Houston in Texas.
She's originally from Petersburg and she's witnessed the effects of PTSD firsthand.
"I had a daughter who went to Afghanistan twice. She came back, very extreme PTSD and it's been a five-year struggle trying to keep her wanting to live, " Cooday said.
Jack has his own reason for paddling.
"For me, I started out because my father was a World War II veteran," he said. "He always wanted to be on a canoe trip, but with his age … I decided to do this in his name, in honor of my father."
The canoes are due to arrive in Douglas Harbor between 2 p.m. and 3:30 p.m. Tuesday. There will be a welcome party waiting for them.
Editor's note: 360 North is under contract with Sealaska Heritage Institute to produce television and online video coverage of Celebration.