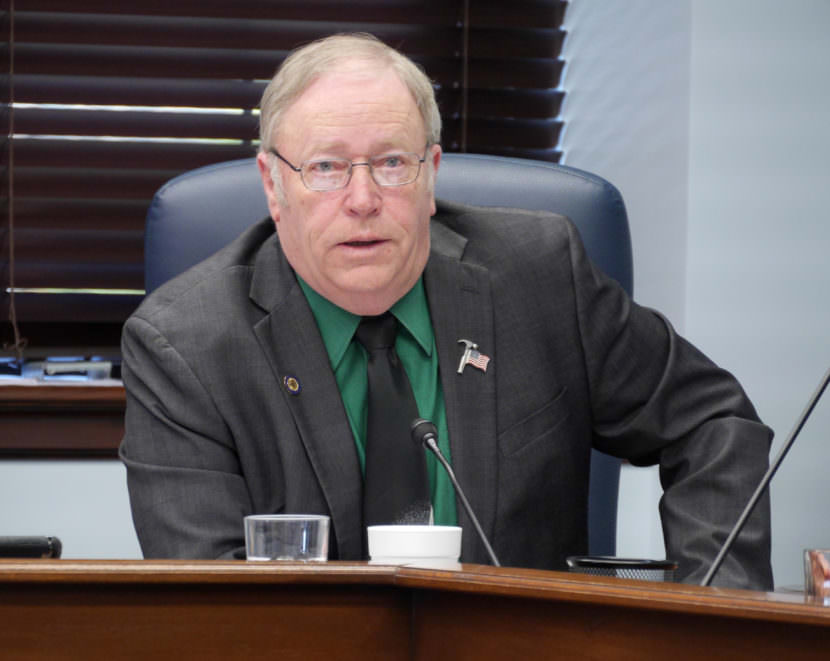 Sitka's Chamber of Commerce got its first taste of election-year politics during its luncheon meeting this week. Rep. Mike Chenault is running in the Republican primary for governor. He paid a visit to the chamber and gave the group some background on his story in Alaska.
"I've lived on the Kenai Peninsula for 50 years," Chenault said. "I'd tell you the long story, but the short story is that I met a gal, been married for 40 years. I have five kids and four grand dogs. I've been involved — not only as a businessman, for a number of years we ran a family construction business that at any one time employed up to 525 employees. So I do know about making a payroll. I know how business works. Also I have a second career: I was elected to the House of Representatives in 2001, and I've served in that body until this year. I was the co-chair of the operating budget for four years, and I was also speaker of the House for eight years. So I know how government works, or how it should work."
Chenault lost his job as speaker in 2016, when three of his fellow Republicans aligned with Democrats to create a bipartisan majority. In 2014, Alaskans also put an independent in the governor's office, Bill Walker, and Chenault doesn't think it's been going that well.
"I'm running for governor because right now I think we have a lack of leadership," he said. "You can have any agenda that you want, but if you don't have the ability to work with those that are in the building, that being the Senate and the House, you don't get much of your agenda accomplished. So I think I have the ability to do that, and that's one of the reasons I'm putting my name forward to run as governor."
In fundraising, Chenault trails far behind the other major Republican contender for governor, former Wasilla Sen. Mike Dunleavy . Dunleavy resigned his senate seat in January to pursue the nomination, and has raised $105,000 to Chenault's $33,000.
A fringe Republican candidate Michael Sheldon, of Petersburg, has raised $325.
State Democrats will likely concede their nomination to the incumbent Gov. Walker. One fringe candidate, Tom Gordon of Wasilla, has filed but not reported any campaign revenue. Gov. Walker, however, leads all comers with over $277,000 raised toward his reelection.
Prior to the start of Wednesday's chamber luncheon, Sitka assembly member Richard Wein  introduced himself as a "candidate for House District 35," the seat currently held by Sitka Democrat Jonathan Kreiss-Tomkins.
No documents or disclosures on Wein's candidacy were available yet from the Alaska Public Offices Commission — including his party affiliation. So far only one Republican challenger has filed for the seat, Karl Skaflestad of Hoonah. Skaflestad did not file a campaign report this spring. Incumbent Jonathan Kreiss-Tomkins reported raising just over $7,000 toward his reelection.
The filing deadline for statewide offices is June 1. State primary elections will be held on Aug. 21.