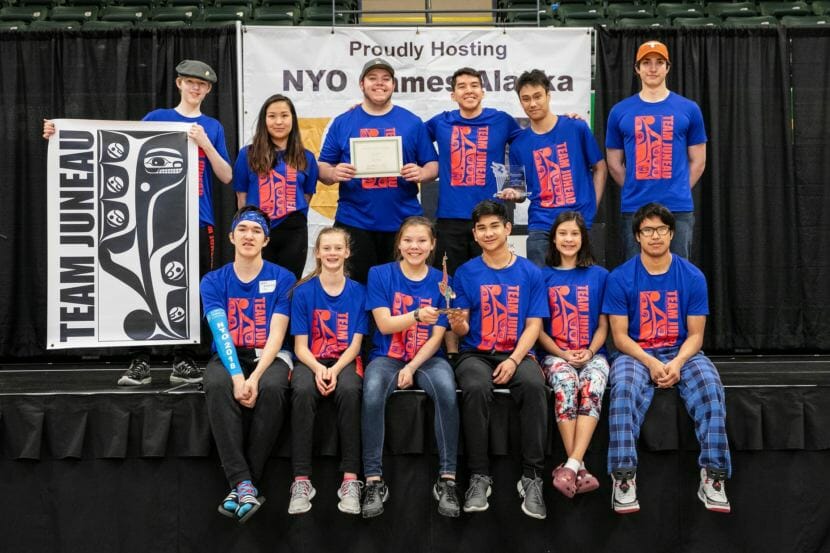 The Native Youth Olympics wrapped in Anchorage on Saturday, with Juneau athletes setting new personal records and placing in one event.
It's the first team from Juneau to compete at the statewide competition in almost 30 years.
Juneau sent 10 athletes. The games celebrate Alaska Native culture, but middle and high school students from all backgrounds compete.
Coach Kyle Worl said he was extremely happy with the team's debut.
"People were really excited to see a new team from Juneau, especially since Juneau is the capital and it's one of the larger cities," Worl said. "It's kind of surprising we haven't had a team there in so long."
Juneau-Douglas High School senior Derrick Roberts took third place in the Eskimo stick pull. The event simulates pulling a harpooned seal up out of the ice during a hunt. Two competitors sit across from each other on a mat and try to wrestle a stick from their opponent's grasp.
Worl won the Healthy Coach Award, voted on by other coaches and officials in recognition of his efforts in reestablishing Juneau's team.
"Everybody knew Juneau's presence at the event and how kind of monumental it was to have a new team that hasn't showed up for 27 years," Worl said.
Worl is a seasoned athlete who competes in traditional games internationally at the World Eskimo-Indian Olympics and the Arctic Winter Games. He said he'll now be training for WEIO, which takes place in Fairbanks in July. Some of the seniors from his team may even join him.
"I usually do my own training but this is really nice that I have people to train with now that they're experienced athletes," he said. 
Worl began recruiting students from Juneau for the team last fall. They practiced weekly and held tryouts for the official team in March. He said students are already excited to continue practice over the summer.
"They're already talking about scheduling their own practice, because they know that NYO season is done, but they had so much fun they're trying to figure out how they can keep practicing," Worl said.
The team held fundraisers and received contributions from a variety of community organizations that helped pay for their trip to Anchorage. Trickster Company designed the team shirts.
Worl said regular practices will pick up again next fall. He hopes to send an even bigger team next year.