Biologists are investigating a surprising connection between two animals that aren't exactly well loved in parts of Southeast. Gustavus locals suspect wolves are picking off deer at a popular hunting spot on an island near the mainland. The wolves started swimming over to feast on the deer about five years ago.
But on a recent camping trip, a Gustavus man realized the wolves weren't just eating deer. One notorious marine predator appears to be the prey.
Greg Streveler has worked as a field biologist all his life. He's retired now. But that doesn't mean he doesn't find plenty of work.
When he camped on Pleasant Island — just off the coast of Gustavus — he saw another opportunity to spring into action.
On his trip in March, he noticed numerous wolf signs and six dead sea otters.
"Well, it varied from bleached out bones … to blood on the ribs," he said.
He says it looked like the wolves were so hungry, they were eating everything they could find, and he wondered if scavenging sea otters was a last resort.
Then he noticed something else that could help answer his question.
"Concentrations of scats like I've never seen," Streveler said.
In that moment he knew how he could be of service. He asked his daughter to bring an entire box of plastic bags which kept him pretty busy. Thankfully, his family was OK with his unusual hunt. His daughter even helped out.
They collected more than 40 bags of wolf scat, but they still needed a place to send it. As a former employee of the Alaska Department of Fish & Game, Streveler felt like he knew the right place.
"Oh, I just put it in a five gallon bucket and put it on the airplane," he said.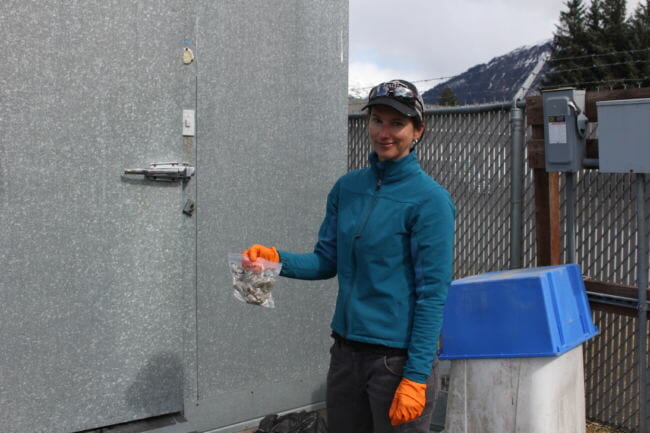 In an industrial area in the capital city, Gretchen Roffler fiddles with a lock on what appears to be a metal shed.
"This is a big freezer," she said. "This is where we store the animal parts."
Inside this freezer in Juneau there are goat skulls and moose jaws and Streveler's five gallon bucket.
Roffler, a biologist with fish and game, says she appreciated the find because she's been amassing wolf scat from areas around Southeast for about three years. Just looking at it, she can guess what the wolves are eating.
"So for example, here you can see these hairs sticking out of the edge," she said describing the contents of the plastic bag.
But to get a more detailed snapshot, you have to analyze the DNA of all the different prey. She plans to send these samples off for analysis in the summer.
Roffler knows what wolves eat for dinner varies seasonally and from place to place. Wolves are opportunistic. In some locations, they eat moose or deer. Around Point Gustavus, however, the common prey that's showed up in past lab results has been sea otter.
"It's not something we've seen so far in other parts of Southeast," she said.
Biologists aren't sure why that's happening. But better understanding the various prey species in scat could provide a clue and influence management decisions down the road.
Streveler says Gustavus hunters weren't thrilled when more wolves started swimming over to Pleasant Island to eat the deer.
"That was our main meat source," he said. "People are big time disgusted about it."
He wants to know if this is still one wolf pack swimming over. He doesn't think that would bode well for the island's deer. It's like finishing your dinner at one restaurant and moving on to the next. Chances are you'll want to go back to your favorite restaurant again.
"One thing we really want to know is what's the connection between the wolves on the island and the wolves on the mainland." he said.
The scat he collected could help make that distinction.
As for the gnawed on sea otters, Streveler acknowledges how people in Southeast could read that as some kind of poetic justice. If fisherman had to pick their most disliked marine mammal, sea otters might win. They've sunk their teeth into favorite fishing spots, and now the predator is becoming the prey.
But Streveler says both animals teach us the same thing about our ecosystem and ourselves: Everything has its up and downs. Streveler knows that.
He helped reintroduce sea otters to the region nearly sixty years ago.
"I'm not wearing it on my lapel. Let's put it that way," he said.
But now he's keeping plastic bags at the ready to document the unexpected places sea otters are popping up.