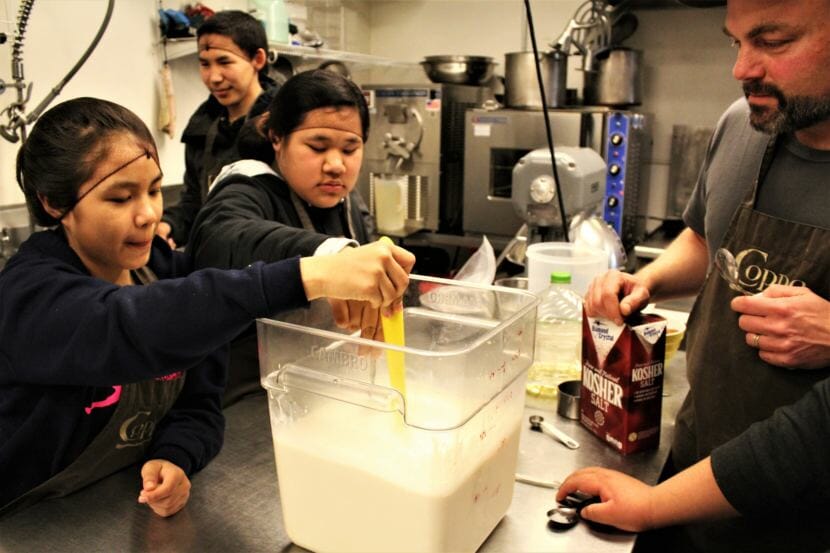 Four middle school students from Noorvik Aqqaluk School visited Juneau this week as part of the statewide Sister School Exchange program.
The program promotes understanding between Alaska's rural and urban communities by setting up cultural exchanges for middle and high school students. The Northwest community of Noorvik was paired with Dzantik'i Heeni Middle School.
On Thursday, the Noorvik students paid a visit to Coppa where owner Marc Wheeler taught them how to make ice cream. They got to choose the flavor — mint chocolate ice cream.
"What else do you think we need in there?" Wheeler asked the group as one student stirred in the mint.
"The chocolate!" said eighth grader Lindsay Schuerch.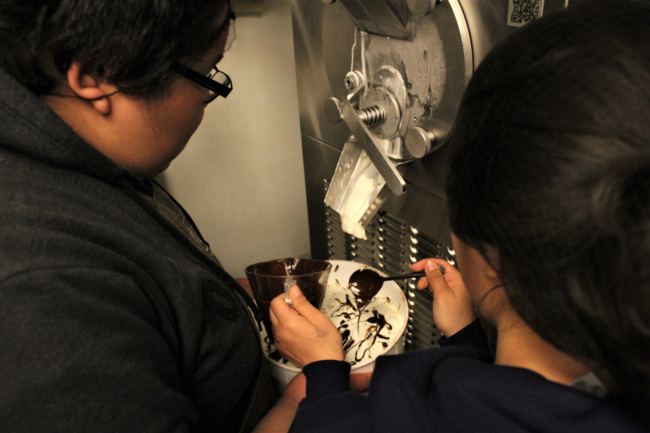 Wheeler's own daughter Celia, a middle school student at Dzantik'i Heeni, got to travel to Noorvik recently to experience life in rural Alaska.
"She came back and was just talking so much about riding on snow machines and eating muktuk and all the basketball they played there. She had a great time," Wheeler said.
The group arrived Sunday and is staying with host families.
Besides class, they've made the rounds of all the Juneau sites — a tour of the Douglas Island Pink and Chum, Inc. hatchery, a visit to the Alaska State Museum, the state capitol and cultural lessons at Sealaska Heritage Institute. They even met Gov. Bill Walker and Lt. Gov. Byron Mallott and had a pizza party at the Governor's Mansion.
Jeffrey Robinson is the teacher traveling with the group. He and other exchange leaders from across the state attended a training in November.
"I think it's just exposure and building relationships. So my students up in the villages are, obviously, a little bit more isolated and have a certain paradigm that they have," Robinson said. "Bringing them down into the cities, it's kind of an eye-opening experience for them. But it's still in the same state."
Later on, the Noorvik students would return to the shop for an ice cream social with the students from the Juneau exchange.
The four students will leave Friday after a whale watching cruise.