All residents at a century-old building and their pets are safe and accounted for after a fire Monday night in downtown Juneau.
Emergency vehicles blocked the streets around the mixed-use building at the corner of Second and North Franklin streets.
Some 40 firefighters responded, breaking through some siding, walls and ceilings amid the acrid air and flashing lights of emergency vehicles.
By about 10 p.m., they were mopping up the remains of the fire as water and soap suds flowed into storm drains.
Capital City Fire/Rescue Chief Rich Etheridge said the fire appeared isolated to a few places within the building.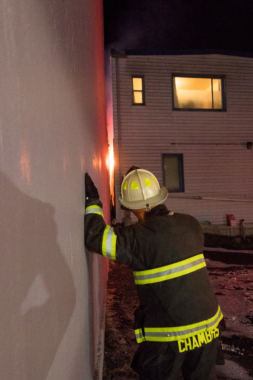 "The building's definitely not a loss. We don't have a dollar estimate yet," he said. "It's really heavy smoke throughout the whole thing, so, they're probably not going to want to stay in here for a couple of days until they can get it cleaned up and get the odors down."
The building has six apartments on its upper floor. Red Cross workers led a few displaced residents down the street into the Baranof Hotel. From the art deco bar, they ran them through questionnaires, offering blankets and possible accommodations.
Businesses affected include Barnaby Brewing, High Tide Tattoo, Franklin Street Barber, Lemon Tree Cafe, the Trail Mix office and lobbyists' offices.
"Right now, we don't know what the cause of the fire was or even exactly where it started," Etheridge said. "We found heavy fire in multiple parts of the building. So we're not sure if it started down low and burned up, or if it started high and kind of went through some of the chases and void spaces."
Christina Reid is with Juneau Real Estate, which manages the building. She said it is insured, and that there were fire extinguishers and smoke detectors throughout the building.
Liz Eilers was home as smoke started to reach her apartment and firefighters were showing up. She said she left before seeing flames. She stood across the street wrapped in a Red Cross blanket and watched the firefighters work.
"Yeah, it's just stuff," she said calmly.
According to city property data, the building was built in 1904.