Big greenhouse gas emitters in California are now able to buy carbon offset credits based in Alaska. The Southeast regional Native corporation Sealaska is using some of its lands for carbon sequestration. Thousands of acres of old growth trees will stay intact for over 100 years. It's the first carbon bank in the state to be approved for the market.
Sealaska says its another way of securing a future for shareholders.
On the fourth floor of Sealaska Plaza, there's a board room with an amazing view. A long glass window overlooks the Gastineau Channel. Beyond that, you can see a canopy of evergreens.
Anthony Mallott gestures to the landscape.
"We think we live in a very protected, amazing sacred place on this Earth," Mallott said. "But there's room for economic activity."
Mallott is Sealaska Corporation's President and CEO. At 42 years old, he's one of the younger leaders. This morning he went skiing. But he jokes he doesn't always feel so youthful with a bad knee.
Mallott began working at Sealaska over a decade ago.
"I started in a time period where we could see effectively the end of our timber harvests without getting additional news lands," he said.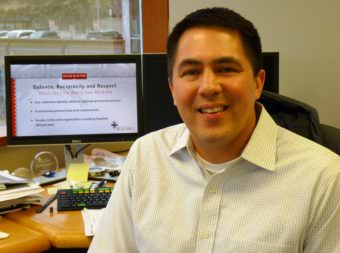 The corporation manages around 360,000 acres in Southeast Alaska, and Mallott says developing the natural resources, like timber, was an important part of creating the first dividends for its shareholders.
But he says the original land allocation Sealaska received only represents a small part of the region.
"It wasn't the be all and end all," Mallott said. "It was something that allowed us to move forward. But it hasn't fulfilled all the expectations."
The corporation is expected to make money for its shareholders. But it's already cut close to a third of its trees, and not all of the sites left are ideal for logging, like old growth stands next to salmon streams.
So, Mallott says the corporation faced a challenge. How do you protect those sensitive areas and still make money for shareholders?
"It was really the need to stretch our harvest and diminish our harvest from a higher level that put us in this framework thinking, 'OK, what really is sustainability for Sealaska?" Mallott said.
Enter the California cap-and-trade program. 
Basically, big polluters in the Golden State receive an allowance to release a planned amount of carbon each year. To account for each metric ton of carbon, companies can use that allowance or buy carbon offset credits. Those credits represent an actual, tangible thing: carbon stored in trees — in this case, trees belonging to Sealaska.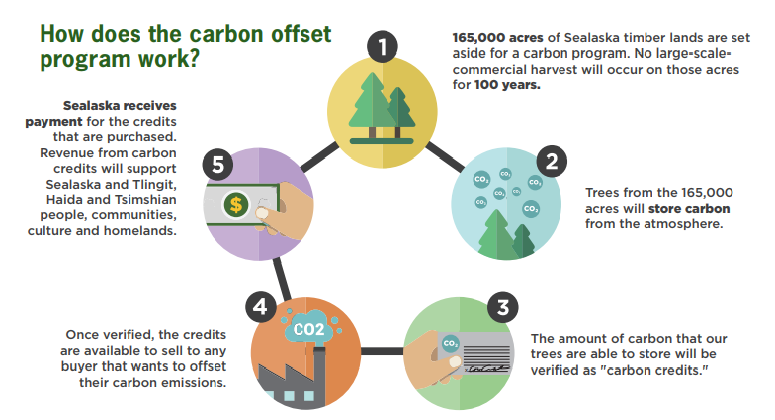 Mallott says carbon sequestration looked like the right opportunity. The money generated would help shareholders and nearly half of the trees on Sealaska land could stay in the ground.
He's quick to point out this land isn't locked up. The corporation can can still develop parcels for tourism or mineral exploration.
He says the project has already attracted a buyer. It's too early to put a dollar figure on the deal. But he thinks the amount could be huge.
"Multiple millions," Mallott said. "The financial benefit of this is very significant for Sealaska."
In the past, conservation groups have been critical of the rate Sealaska has clear cut its forests.
Buck Lindekugel is a grass roots attorney for the Southeast Alaska Conservation Council, and he says that old model of logging doesn't make sense for the region's economy today. He welcomes the corporation's new venture.  
"We're excited that Sealaska is seizing this opportunity to explore those options," Lindekugel said. "We think it's good for their shareholders, and it's certainly good for all of us who care about the forest."
But Mallott says Sealaska has always cared about sustainability and the bottom line.
"The carbon project. Is it a shift? It's a recognition in the way we've always thought," Mallott said.
He says the corporation isn't going to stop logging on its remaining land. But it's also planning to allocate more acreage to carbon sequestration in the near future.
As for what happens to the trees after the 110 years is up, Mallott says that's up to a younger generation to decide.
Editor's Note: The explanation about the California cap-and-trade has been updated. A spokesperson from the California Air Resource Board said companies aren't allowed to go over the set cap, even with  allowances and carbon offset credits.