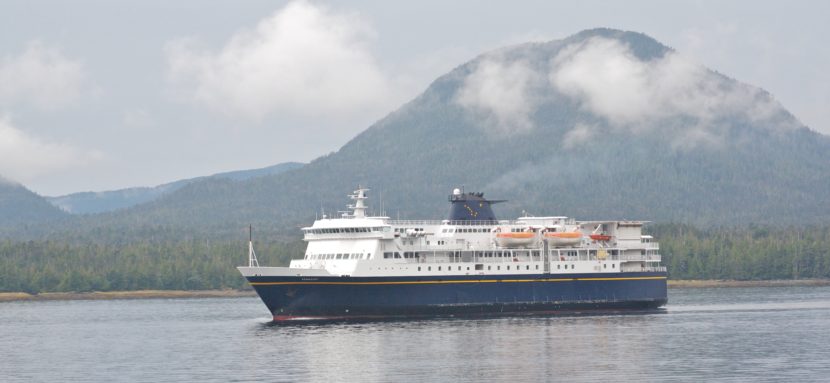 Mechanical issues canceled a Saturday sailing for the state ferry Kennicott. Several people and their vehicles may be stranded in Homer for two weeks.
The vessel remained docked in Kodiak for 33 hours before arriving in Homer for its Sunday sailing, but several passengers with reservations for Saturday are asking why the ferry service can't schedule another sailing.
Alaska Marine Highway spokeswoman Aurah Landau said mechanical issues with the Kennicott's elevator, responsible for loading vehicles on and off the vessel, and computer problems caused the delay in Kodiak.
"There have been $29 million in total funding cuts from FY13 to now, and two boats have been removed from the fleet," Landau said. "There's not a lot of flexibility in dealing with weather or mechanical issues throughout the system."
The Tustumena, which sails from Homer down the Aleutian chain, is in Ketchikan for its annual layover and was not able to pick up the slack.
Landau was not able to say how many passengers were affected by the cancellation and does not know how much an extra sailing would cost in total.
She said staffing costs would run about $80,000, which the Marine Highway System deemed unfeasible.
The Kennicott, which supplements the Tustumena's service in Western Alaska, was supposed to leave Homer for Kodiak about 2 a.m. Saturday.
Several passengers in Homer said they were notified about the delay Friday.
Several slept in their vehicles, stayed with friends or paid for hotels.
Brandon West, his fiancée and two kids are moving to Kodiak Island. He said they weren't notified about the cancellation until Sunday morning.
"For a family like us, we've already spent $2,500 to move from Palmer to here. We don't have that expense. We're pretty much out of cash and everything. We even had to stay in a hotel here and everything," he said. "There should have been a lot better communication for sure."
West and his family were scheduled on two separate sailings Saturday and Sunday. He said they were able to get their U-Haul with all their belongings on the ferry Sunday, but they will likely have to leave their personal vehicle behind.
"If our vehicle don't get on, it won't get on until May," West said early Sunday afternoon. "We're going to be stuck without a vehicle."
Other passengers were told they could either walk onto the Sunday sailing and leave their vehicles or wait until April 21, the next available sailing for Kodiak.
Landau said the Marine Highway is not charging customers for leaving their vehicles at the Homer terminal and that there is space for them on the sailing later this month.
Evi Monay-Yonemura and her kids also are in the midst of a move to the island.
Her car was loaded with personal belongings and pets. She said her dog, which just gave birth, died while she waited because she couldn't find a vet over the weekend.
"Had I been able to get on the ferry, I would have been able to get to a doctor," she said as she waited near the terminal. "We've just been stuck out here for two days now. I have to leave my car behind."
Landau said several people with non-essential travel plans late Sunday evening canceled their trips.
Landau added several passengers on standby and their vehicles were able to fit on the Kennicott Sunday evening. She did not have an estimate for how many passengers were forced to wait for the sailing later this month.