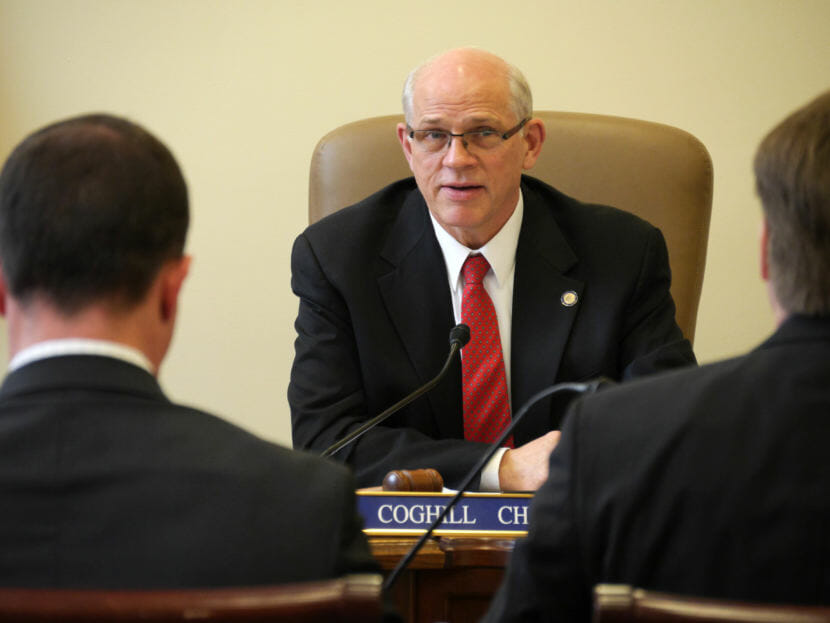 Three pieces of legislation were scheduled to receive a hearing Saturday in the Senate Judiciary Committee.
Only one received brief consideration, after which Committee Chairman Sen. John Coghill, a North Pole Republican, abruptly ended the hearing early.
The meeting was scheduled to consider a resolution to put Alaska Permanent Fund dividends in the state constitution.
Another bill sought to repeal the 2016 law that made changes to Alaska's criminal justice system and a third, House Bill 214, would have renamed crime legislation after murder victim Bree Moore.
But when Anchorage Democratic Sen. Bill Wielechowski made a motion to pass Senate Joint Resolution 1, to amend the constitution to mandate a full PFD under a legal formula used until two years ago, Coghill ended the meeting.
Because Coghill brought down the gavel to adjourn the meeting, the two other bills on the agenda weren't heard.
Those bills would have repealed the criminal justice law known as Senate Bill 91 and rename a portion of the Alaska Safe Children's Act as Bree's Law.
The meeting was unusual in the first place.
It occurred only after three senators banded together to force Coghill to hold the hearing.
Wielechowski, Anchorage Republican Mia Costello and Wasilla Republican Mike Shower used a rarely invoked rule that allows bills to have committee hearings even if the committee chair doesn't want to hold them.
Coghill said the use of the rule was fair.
"I have been reluctant to hear this and so you guys twisted my arm," he said. "I think it's appropriate."
But Coghill wasn't willing to have the committee advance the PFD amendment.
Costello said she wishes the Senate Bill 91 repeal she sponsored — Senate Bill 127 — had been heard.
SB91 changed the state's criminal sentencing, bail and probation laws and has been the subject of a lot of public criticism.
"I think it's a vital conversation that we have to have with the Legislature and the public, because, in my community, people are not able to walk out their front doors even with a feeling of safety," she said.
It was not immediately clear after the meeting if any of the legislation would be scheduled for a future hearing in another meeting.