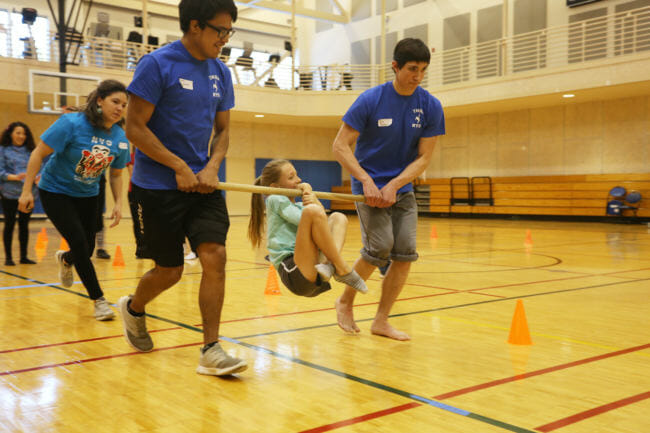 Juneau is getting ready to send its first team to the statewide Native Youth Olympics competition in almost 30 years.
At least 10 middle and high school athletes will travel to Anchorage in late April to compete, but as their coach says, their biggest opponent will be themselves.
The athletes competed against one another and community members at the 2018 Traditional Games at the University of Alaska Southeast Recreation Center last weekend.
Native Youth Olympics has brought together young people from across the state for more than 45 years. The event celebrates Native culture with games adapted from traditional hunting and subsistence practices.
It's open to all middle and high school students.
Athletes who will represent Juneau at the state competition gathered at UAS to see who would compete in which events.
Native Youth Olympics features 10 official games, each testing competitor's strength, agility and flexibility. Some even test their pain endurance.
Like the wrist carry, where athletes suspend themselves by just their wrist from a pole. Two people run in circles around the gym, carrying them until they fall off. Sometimes it only takes a few steps, but the state record is 730 feet.
"We're going to look at the results from the past two days and that will decide which athlete will do which game at the competition," coach Kyle Worl said.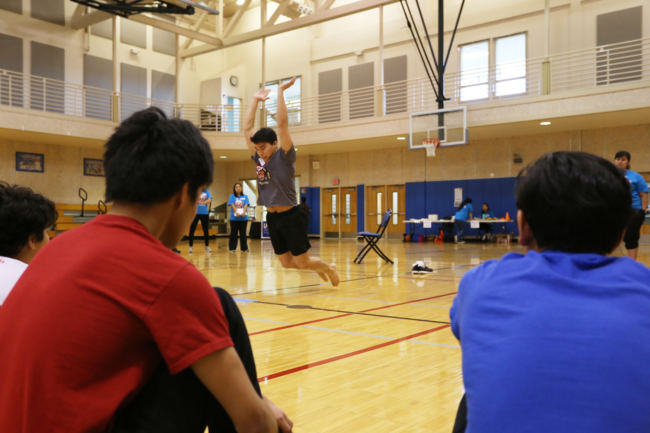 He spent the past couple of months building Juneau's team from the ground up, which meant recruiting athletes, holding weekly practices to work on technique and finding sponsors to help get them to the games.
Now he has enough athletes to field not one, but two teams in Anchorage.
"The most important thing I try to instill in them is this is a competition between yourself and you are competing to reach your personal best, or improve your personal best," Worl said.
As the athletes competed, they took time to cheer on their competitors, pushing one another to kick higher, jump farther and even offering tips between events.
That's part of what makes the sport unique.
Dzantik'i Heeni Middle School seventh-grader Trinity Jackson is headed to Anchorage with the team.
She plays volleyball and basketball and runs cross-country, but says the Native Youth Olympics is different.
"Even if you lose, your friends are like 'oh, it's OK, you're going to hit it higher next time.' Or they'll give you some pointers," Jackson said.
Her friend, teammate and fellow Dzantik'i Heeni seventh-grader Skylar Tuckwood has been to the statewide competition before.
She competed for Dillingham, where the games are a big deal, before moving to Juneau.
"I like how other coaches from other teams will give you tips," Tuckwood said. "They're like 'oh, if you swing your hips more, you'll be able to hit higher' or like, 'if you bend your knee you'll be able to hit higher.' They're all really helpful."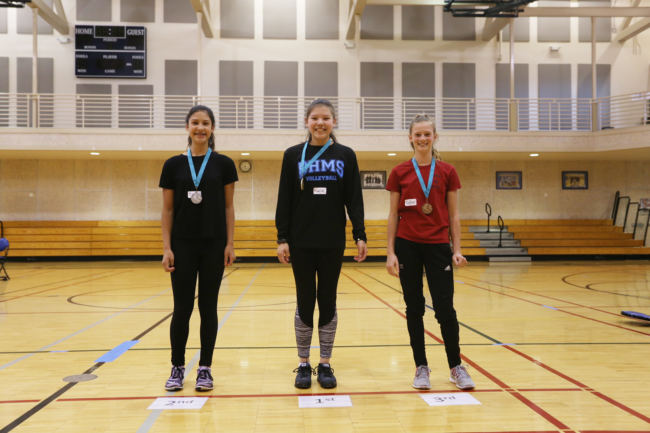 Both Jackson and Tuckwood hope to compete in the one-foot high kick, where athletes kick a small, furry ball hanging from a string as it's gradually raised higher and higher.
Tuckwood came in first among middle school girls, beating her personal best with a height of 76 inches.
Jackson got second place. Her best is 72 inches.
She said she's nervous to compete in front of so many people in Anchorage for the first time. But she's also excited.
"Here, we're kind of all a team, really," she said. "We're all in the same sport and we're all trying to beat our own goals."
Worl wants his athletes to keep practicing and improving up to the event, but he's not worried about bringing home medals.
"I'm just concerned about them having a good time, giving it their best effort," he said. "Native Youth Olympics is a really fun event where you don't have to be really competitive to be able to have fun. It's just fun to meet these students from all around Alaska and it's fun to celebrate our culture in this way."
The weekend competition included an Indian taco and T-shirt fundraiser, which raised almost $2,000 for travel, Worl said.
The team is sponsored by Central Council of the Tlingit and Haida Indian Tribes of Alaska and Sealaska Heritage Institute. Goldbelt Heritage Foundation, UAS student group Wooch.Een and local design brand Trickster Company have also lent support.
The statewide competition takes place April 26-28 at the Alaska Airlines Center.