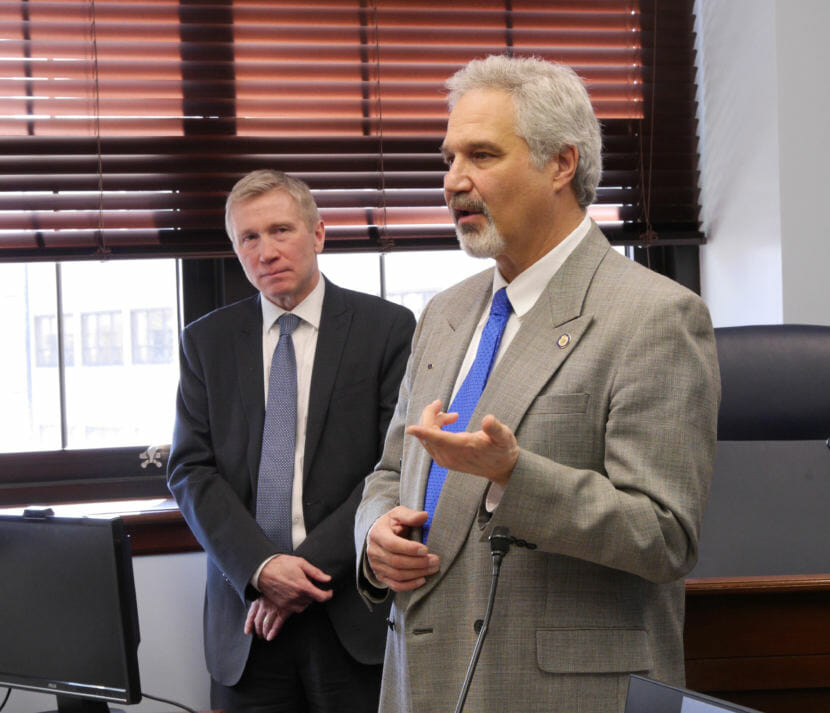 A small group of Alaska corrections officers are spending more time getting to know inmates, with a goal of helping them reintegrate in society once they're released. That's one of several reforms Alaska officials are drawing from the example of Norway, in making changes to how prisons in the state operate.
When Dean Williams was being confirmed as corrections commissioner, Senate President Pete Kelly remembers asking him this question:
"Is there a place on planet Earth that has got prisons right? And he said, 'I don't know, but if I find it, I'll let you know,'" Kelly said during a March 23 presentation in the Capitol. "And he did find it and it was in Norway."
In the last two decades, Norway has made a series of changes to lower their recidivism rate — the rate people convicted of crimes reoffend.
These changes include making life in prison look a lot more like normal life.  Corrections officers act more like social workers, assigned to a limited number of inmates who they serve as coaches, motivators and role models.
The changes have contributed to a sharp decline in the recidivism rate. Instead of 66 percent of inmates reoffending — a rate similar to Alaska — now only 20 percent do.
Kelly, Williams and other state leaders saw what Norway is doing firsthand last year, when they visited the country on a trip paid by California-based prisoner rights organization the Prison Law Office. Williams said he wants to replicate what he saw.
"I commonly get the question: 'Why don't we just make a prison a hellhole? That way people won't want to go there.'" Williams said. "The problem is, it doesn't work."
The Department of Corrections has started a pilot program at Wildwood Correctional Complex in Kenai.  A small group of officers act a little like social workers, with a goal of connecting inmates with programs that will help them reintegrate into society.
"The way you sort of change the system is one place at a time and pilot and see how it works and see how the staff adapt to it," Williams said.
Williams noted that Norway's approach is woven into how its corrections facilities are built. They're more like apartments surrounded by leafy, walkable grounds than traditional concrete-block-and-steel-bar prisons. But the commissioner said Alaska can make changes without constructing new buildings.
"You can take what you have and adopt some of these principles and start to change dynamics," he said. "You can use the buildings you have and start to repurpose them for the efforts and the purpose that you want."
Williams said the department can do a lot just by changing policies. For instance, some inmates spend time performing music and making murals in prisons, an approach that Norway has found to be effective. Another program at Hiland Mountain Correctional Center in Eagle River benefits inmates who have shown good behavior and are nearing the end of their sentences. Volunteers take the prisoners outside of the prison to go to church and to have a meal.
But Williams is also looking for support from the Legislature. That includes a request for money for retraining officers. And he's asking for legislation — House Bill 325 — that would allow inmates nearing the end of their sentences to use a computer.
Sen. Kelly, a Fairbanks Republican, is a leading conservative. He's enthusiastic about the potential benefits of the Norway model.
"It was, like, so rare that you see a problem that in your experience is not fixable, and then you go somewhere else and you see it's fixed," he said. "And it's not only fixed, it's getting better."
Kelly noted that Ireland has made changes inspired by Norway that haven't cost the country additional money, that have led to former inmates being productive after their release.
"If they're punished, fine, but I want them to be able to get out not just getting out of prison – that's not the end result – I want them back in our community," Kelly said. "I want them to be integrated. I want them to be one of us. I want their time in prison to have counted."
Kelly said the effort will begin with the corrections officers, or C.O.'s.
"These are good people," Kelly said. "They want to do a good job. I believe we've given them the wrong job to do. And it is extremely difficult for them. The key to this thing is at the C.O. level. If you change the C.O., we can change the system and we will get a lower recidivism rate."
Williams said if the pilot programs are effective, he'll look to expand them.