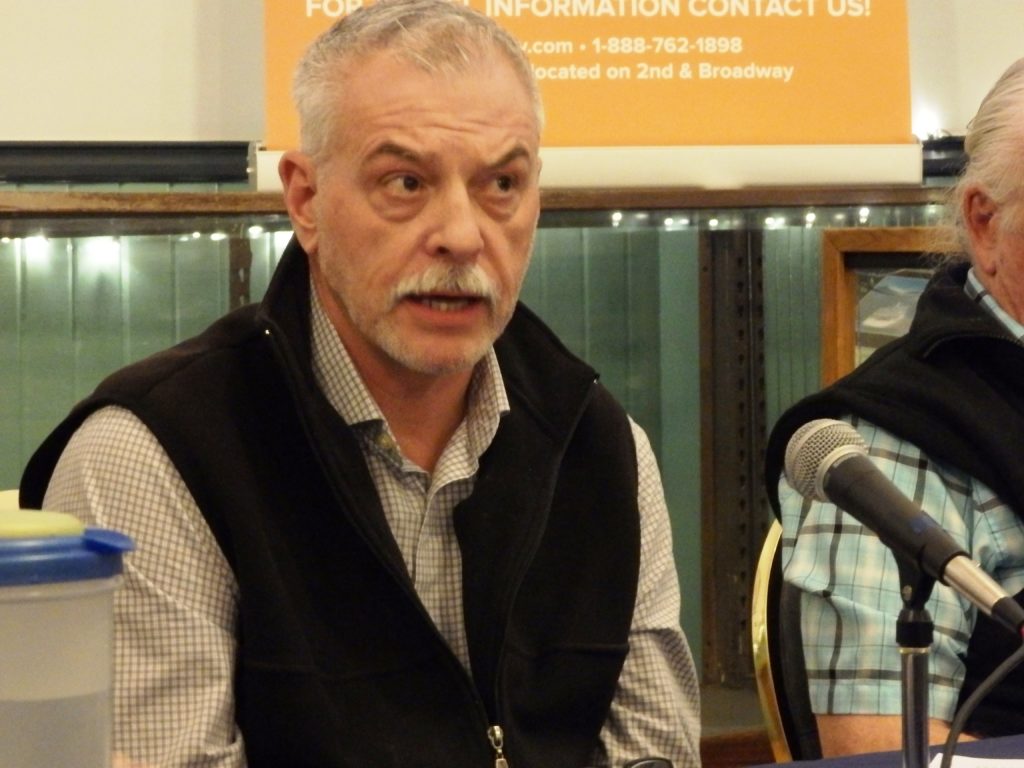 The Alaska Public Offices Commission has decided Skagway Assemblyman Dan Henry did not violate state law by failing to document gifts on financial disclosure forms.
APOC said hotel stays weren't gifts to Henry, but to Skagway.
Henry has been on the Skagway Assembly for the better part of the last two decades.
The complaint APOC took up – filed by Skagway resident Roger Griffin — stems back to 2013 and 2014.
Henry traveled to Florida during waterfront lease talks between the municipality and White Pass and Yukon Route Railroad.
He and other Skagway representatives met with the railroad's parent company TWC Enterprises.
Griffin's complaint said Henry didn't disclose gifts of travel – lodging and meals – on financial disclosure forms in 2014 and 2015.
Free rounds of golf also were in question.
APOC staff determined TWC covered at least about $500 in hotel costs for Henry in 2013. His 2014 disclosures didn't include that.
There wasn't enough information to figure out if that was true in subsequent years.
State law says gifts more than $250 in one calendar year need to be disclosed.
The staff recommended a penalty of about $1,300 – a 90 percent reduction from the maximum fine.
The commission addressed the complaint at the end of February, and issued a written decision.
What commissioners concluded is: no, Henry did not violate financial disclosure requirements in this case.
The decision reasons that the hotel costs were not a gift to Henry.
Rather, they were given to the municipality. It says the expenses would have been paid by Skagway if TWC hadn't picked up the tab, not Henry himself.
In terms of food, the commission said meals for immediate consumption do not fall under the definition of a gift in state law.
It did say that the cost of golfing and golf balls would be considered gifts.
But, there isn't a record of those costs being more than $250 in one year. So, it doesn't constitute a violation.
In an email to KHNS, Griffin, who filed the complaint, says he follows APOC's reasoning. But, he still contends Henry received gifts on Skagway's behalf. Griffin says gifts influenced lease talks.
Henry couldn't be reached for immediate comment. But, speaking by phone at APOC's meeting last month, he expressed a similar sentiment to the commission in its final order.
"I know one thing for sure," said Henry. "I was not going to pay a penny. It was either going to be the city, or White Pass, or somebody else. But it wasn't going to be me.  So I'm not going to be gifted at any point in time."
He also said it was wrong to think lease negotiations were influenced by White Pass in any unethical way.
This was the second complaint filed against Henry in 2017.
He was fined $220 by the commission late in the year for not reporting substantial debt on 2017 disclosure forms.
That debt stems back to 2016. Henry was fined $22,000 for not reporting income on public official disclosures statements. He has said that debt wasn't reported in 2017, because the decision is under appeal.
That omission was discovered when Henry pleaded guilty to federal tax crimes earlier that year. He served time in prison and was ordered to pay $600,000 to the IRS.
Henry returned to Skagway in time to be reelected to the assembly in 2017.