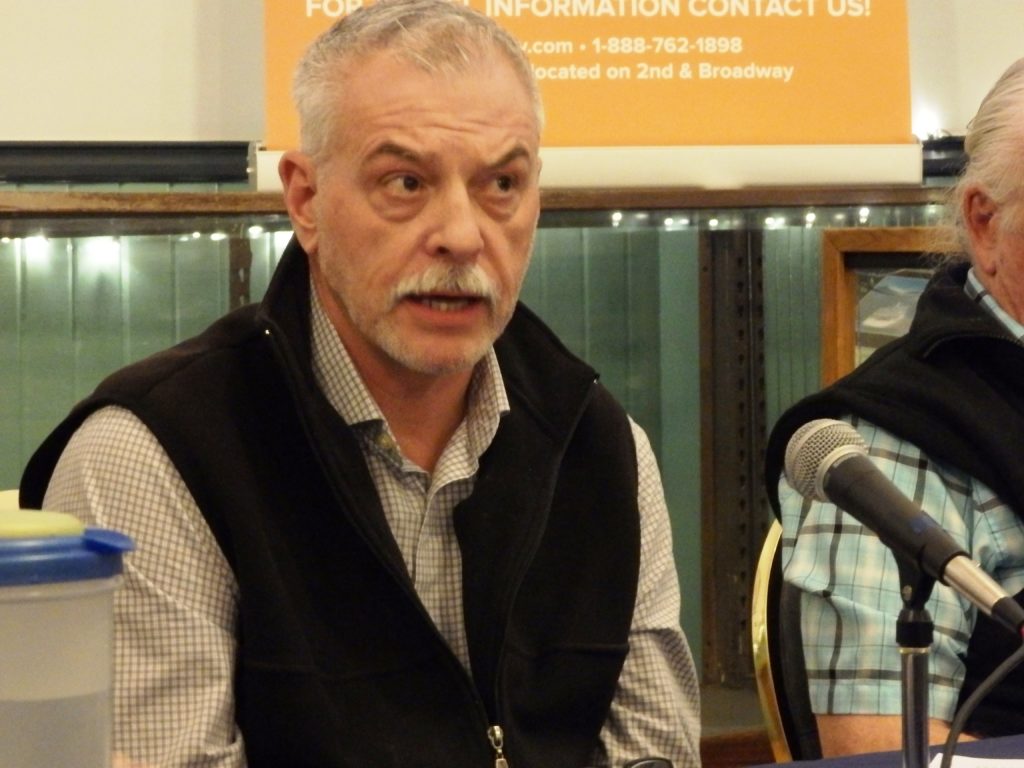 The Alaska Public Offices Commission has not yet decided how to resolve the most recent complaint lodged against longtime Skagway Assemblyman Dan Henry.
The commission addressed the issue at a regular meeting Wednesday.
The complaint was filed by Skagway resident Roger Griffin in Sept. 2017. It claims Henry violated state law by failing to disclose two things on his candidate financial forms over two election cycles.
APOC only took up one.
The assertions stem back to trips taken in 2013 and 2014, related to a tidelands lease between the Municipality of Skagway and White Pass and Yukon Route Railroad.
Henry and other Skagway representatives traveled to Florida for talks with the company that operates the railroad, TWC Enterprises.
Henry addressed Griffin's complaint at the APOC meeting.
"I don't know how much more crystal clear I can make it," said Henry. "Mr. Griffin thinks there's some sort of nefarious, behind-closed-doors negotiating going on that's being influenced by White Pass. Nothing could be more ridiculous than that assertion."
First, Griffin claims Henry didn't disclose gifts of travel provided by TWC, exceeding $250 in 2013 and 2014. Second, that Henry failed to disclose debts to the IRS and APOC from 2016 when he was running for office last year.
APOC staff said the second allegation had already been addressed by another Skagway resident who lodged a complaint. APOC fined Henry $220 in 2017 for not reporting substantial debt.
That debt was because he was fined $22,000 in 2016 for not reporting income on disclosure statements. Henry has said he didn't report that amount because he's appealed the APOC fine. It was discovered when Henry pleaded guilty to federal tax crimes earlier that year. He served time in prison and was ordered to pay $600,000 to the IRS.
In this most recent complaint, APOC staff concluded Henry violated state law by failing to disclose gifts – travel lodging – paid for by TWC in 2013. Henry's 2014 disclosures didn't include them.
They said there wasn't enough information to determine if this was the case in subsequent years.
APOC could only verify a little over $500 in hotel costs paid by TWC in 2013.
These kinds of violations incur a penalty of $10 per day. There were 1,276 days between when Henry filed his incomplete 2014 disclosures and when this complaint was filed. Meaning the maximum penalty is $12,760.
APOC staff said the nearly $13,000 penalty was out of proportion. They recommended reducing that by 90 percent, to about $1,300.
Staff also said the 2014 filings should be amended and said Henry should attend a candidate disclosure training session within a year.
Complainant Griffin encouraged the commission to adopt the staff's recommendations.
"I do, however, take issue with the calculation for the proposed fine," said Griffin. "I believe that reducing the fine by 90 percent for a repeat offender sends a message that Alaska's election laws are of little consequence and can be safely ignored. I urge you to calculate the fine to a standard more consistent with Mr. Henry's status as a repeat offender."
Henry challenged the findings.
"I know one thing for sure," said Henry. "I was not going to pay a penny. It was either going to be the city, or White Pass, or somebody else. But it wasn't going to be me.  So I'm not going to be gifted at any point in time."
He also pushed back on the way his visits to Florida are described in the APOC staff report. He said the term 'negotiating' should be removed.
"Nothing was ever negotiated," said Henry. "No influence could be waged by the other side."
The commission voted to take the complaint under advisement. They will issue a written decision.
Henry served on the Skagway Assembly for nearly two decades before going to  prison. He returned to Skagway last summer and was narrowly re-elected to the local government.
You can read the documents associated with the APOC complaint here.