The Juneau Arts and Humanities Council held its first board meeting on Wednesday since controversy broke at the one of Juneau's biggest arts events of the year.
About 100 people showed up. The board had invited the public to comment in response to complaints that one piece at the show was racist or culturally insensitive.
On social media, the controversy took toxic turns. But in person the discourse went differently.
The Juneau Arts and Humanities Council board sat silently and listened as about 20 people spoke about what happened at Wearable Art 2018.
"Who gets to tell my story? Who would you like to tell your story if you're a person of color? Someone who is Caucasian?" said David Abad, addressing the room.
Abad attended the show on Saturday night and saw the geisha-themed piece called "Doragon." He's Filipino-American and said he felt the need to share his perspective.
"Is the culture that is being presented, is it being respected?" he said.
The debate blew up on Sunday. The JAHC apologized and pulled the entry from Sunday's lineup, but judges still awarded it third place.
The response on social media was immediate and wide-ranging.
Many people argued the piece should never have been allowed in the show. There was outrage that a white artist had been allowed to represent a minority culture without permission, also known as cultural appropriation.

Some felt pulling the design was art censorship and reverse racism. They said the decision to remove the piece was unfair to the model and the artist, who had spent months on the design.
In many cases, things got ugly.
"I haven't been on Facebook because I was told by my family and friends not to go there," said JAHC Executive Director Nancy DeCherney.
"I'm not gonna make excuses. I may or may not have made the choices that I would like to make, but I made choices and I did that with other people," she said.
Speakers at the meeting called her out for not properly addressing concerns about the design before and during Saturday's show, including artist Freda Westman. She had a design in the show inspired by her Alaska Native heritage.
She felt the piece was racist when she first saw it at the tech rehearsal and told an event staffer.
"Dress rehearsal came and the piece was still in the show and the evening show came and the piece was still in the show," Westman said. "That's how it was met."
Among all the speakers in the room, there appeared to be consensus an error was made. Westman said that surprised her. Based on social media, she expected to hear from people balking at political correctness and angry that "Doragon" was pulled from Sunday's show.
"And so I was also very heartened to see that there were many people who were talking about the harmful piece and why it was harmful to them and that the response was also harmful," Westman said.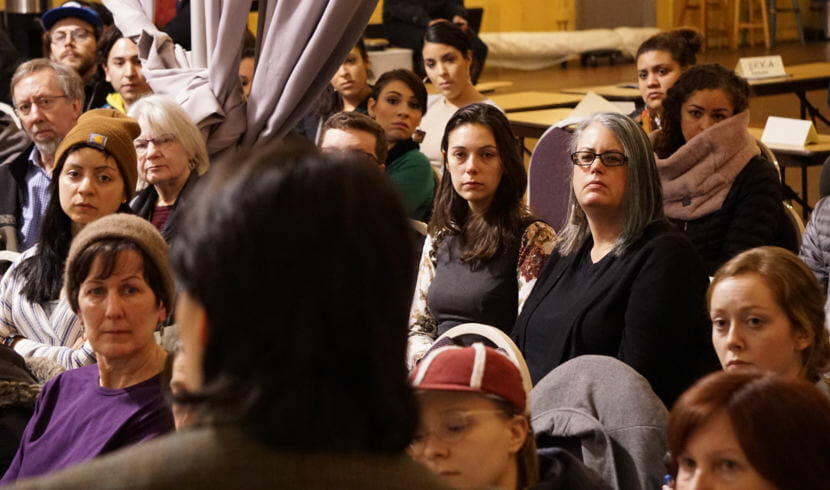 Another person who spoke at the meeting was artist Melissa Griffiths. Griffiths, who is white, said she had personal experience with cultural appropriation after being accused of it herself when she attended an Asian-themed party in 2013.
"And I got called out. At first I felt really resistant," Griffiths said. "It hurt my feelings to be kind of lumped in as participating in racism."
She hadn't thought about who she was hurting by putting on a costume that represented someone else's culture. But now, she says they were right.
"You know, the tough thing is, a lot of the time when we do something like this, it's rooted in ignorance. We don't know that we're doing something wrong," she said. "And you don't know that you're doing something wrong so you can't fix that. But once you do know, then you can make different choices."
The JAHC board thanked everyone for coming and moved on to other business.
But the conversation is far from over. DeCherney is working with cultural educators to set up a series of discussions and workshops around the topic of cultural representation and respect.
"You know I'm a white woman, and an older one at that," she said. "So I have trouble and I need to be helped with that sort of stuff and I hope that we can all help each other."
She said the first one will be held March 10.
UPDATE | Listen to the full public comment audio (57 minutes):
Scott Burton contributed to this report. 
KTOO has an underwriting contract with the Juneau Arts and Humanities Council to broadcast the Wearable Art show Thursday at 8 p.m. on 360 North television. "Doragon" was removed from the broadcast. Additionally, KTOO's assistant general manager for arts and culture is a member of the JAHC board.