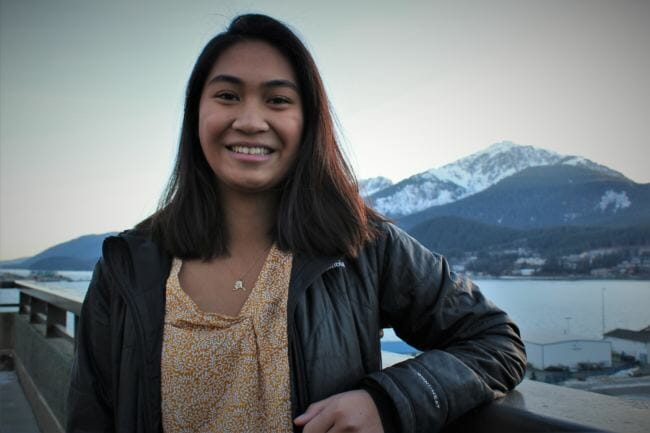 Since Tasha Elizarde graduated from high school last spring, she hasn't been sitting around her parents' house here in Juneau.
The 18-year-old was chosen last fall to represent her community and state on the international stage as an Arctic Youth Ambassador.
"That means going out and speaking with different leaders from different countries and different people in the U.S. and just being able to share our stories about living in Alaska and living in a different place, " Elizarde said.
She's one 13 young Alaskans serving the two-year term.
The communities they represent range from Anchorage to Shishmaref.
For the next 18 months, they will travel to other Arctic nations and to Washington, D.C., to raise awareness for Alaska's changing landscape.
Elizarde and her fellow ambassadors met in Anchorage for the first time in January.
This is the second class of Arctic Youth Ambassadors.
The U.S. Fish and Wildlife Service and the U.S. State Department created the program in partnership with nonprofit Alaska Geographic.
Elizarde and her fellow ambassadors have a diverse range of priorities, such as rising sea levels and the ecological impacts of climate change on the tundra.
"Going in I knew I was interested in energy development," Elizarde said. "I think that our state is very poised to take a new position on energy development, whether it's through taking the lead on renewable energy or figuring out what to do about being an oil state."
Elizarde decided to take a gap year between graduating from Juneau-Douglas High School and college.
She worked in the fall at a law firm outside of New Orleans. This spring she's interning with an Alaska legislator.
"It's really important to recognize that, yes, it's important to look at data, but it's also important to hear the personal side of things and the personal stories," she said. "Because things like climate change are impacting real people and so those stories are super important."
Elizarde plans to attend college out of state next fall.
She said she's grateful for the opportunity to represent her fellow Alaskans and their interests.