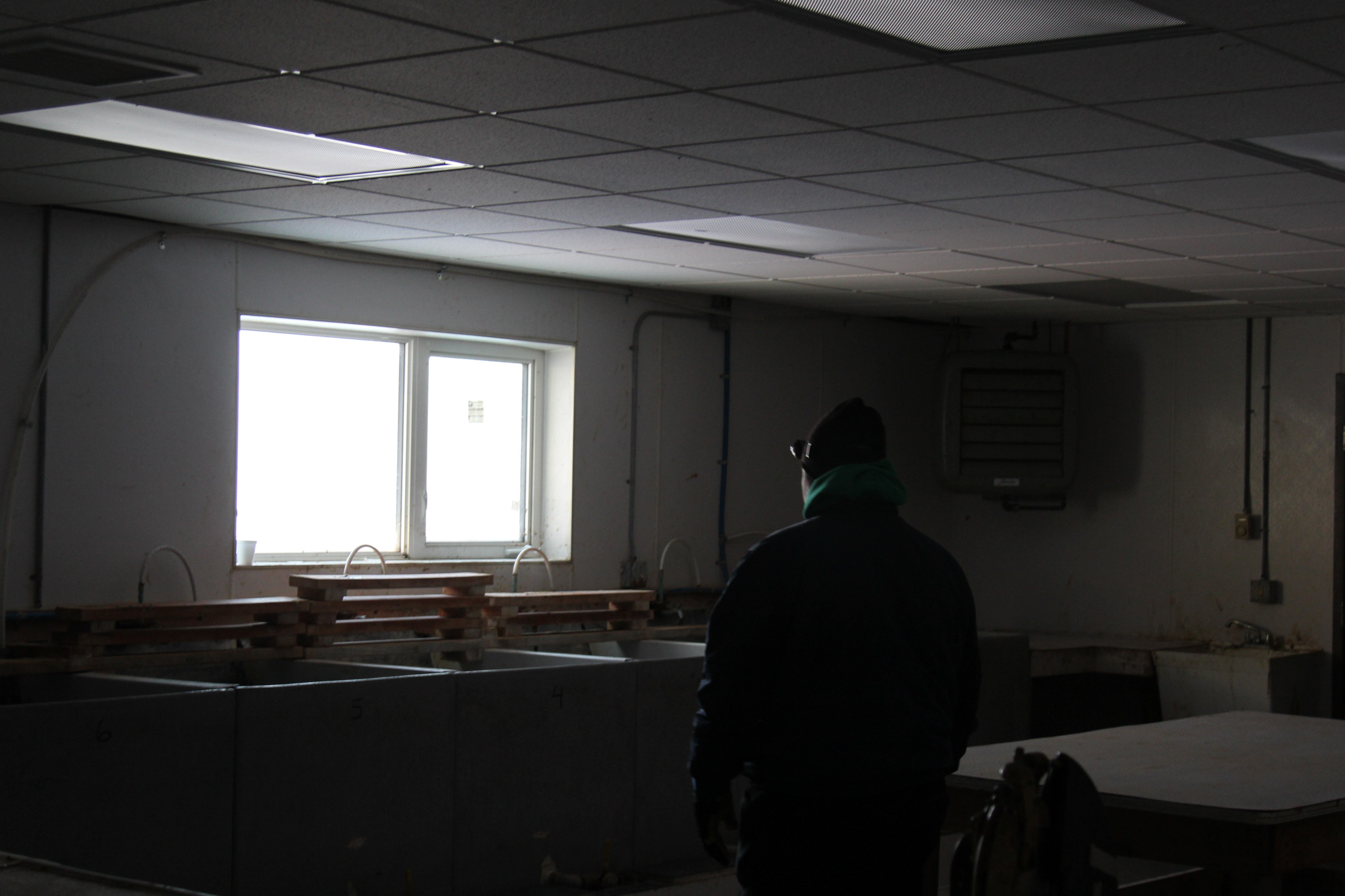 In the small community of Shishmaref, there's a local business like no other. It's a tannery, set up to process hundreds of seal hides a year sent from subsistence hunters.
After fits and starts, it closed down for several years. Now, the tannery is back in business. But not without challenges.
"This is a Shishmaref slipper," 65-year-old Percy Nayokpuk explained, holding up a single slip-on shoe made of shimmering gray seal skin with black beaver trim and blue beadwork.
"Good slippers for up north, I tell you. Don't get no Crocs if you're gonna live around here, get a pair of these," Nayokpuk said, returning the slipper to a shelf in the corner of the store his family has run since 1960.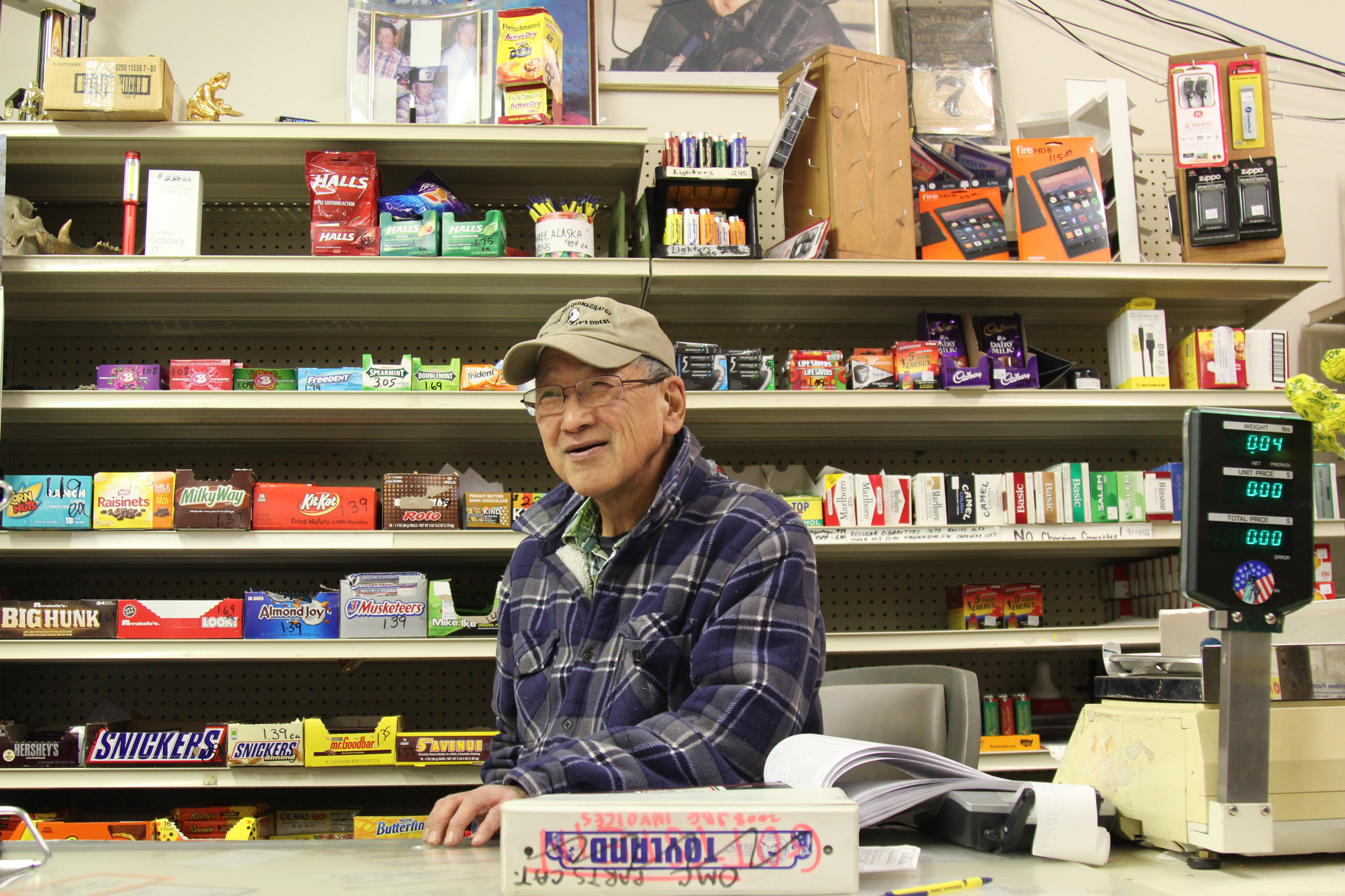 There is plenty else for sale. Walrus ivory earrings are near the candy bars behind the counter. Draped casually below a stereo speaker is a wolf pelt.
But the seal products are extra special.
Families here have long relied on hunting ice seals, in part because the fur is exceptionally good protection from the cold, used to make beautifully mottled hats and thick outer mittens.
These house slippers were sewn in Shishmaref.
And on the other side of town, in a squat one-story building, is a place dedicated to fur crafting.
"This is the work area," Dennis Sinook said, standing in a dim, chilly room lined with work tables and tanks. "When people first come in, they come in and drop the seals off here. First we'll invoice them, count how many seals they have, what kinds of seals they are."
Sinook manages the business for the Native Village of Shishmaref, which owns the tannery.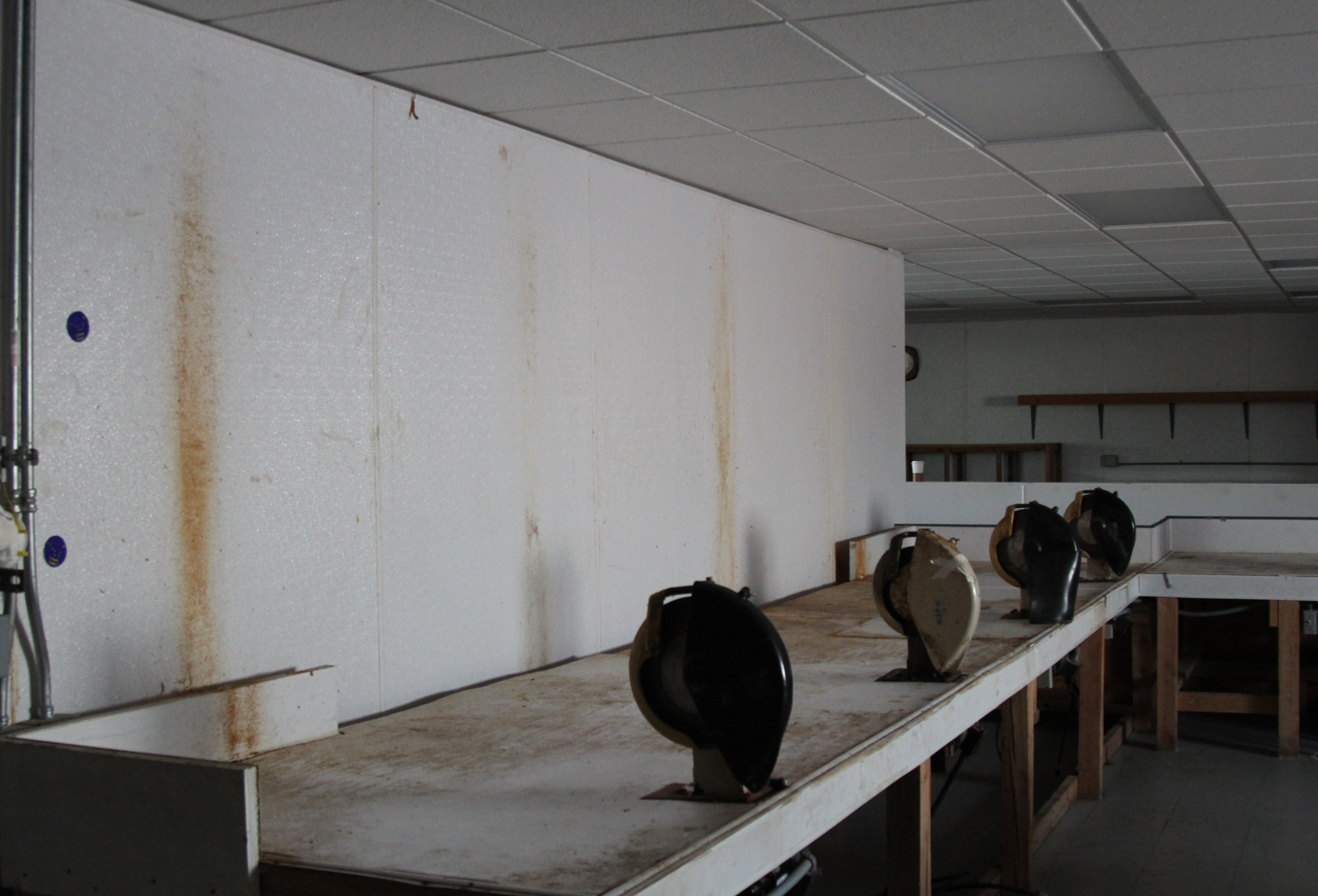 On the white walls are a few yellow marks, splatter kicked off from what look like circular saws mounted atop work-tables.
"These are fleshing machines," Sinook said. "It fleshes the fat right off of the seal."
In essence, tanning hides is a process of taking some oils out, and putting others back in, until the material is pliable enough to refashion into garments.
The going rate is $19 per linear foot. And though they'll tan some other types of animal hides, according to Sinook, seal is the most cost-effective.
After being closed down for several years, the tannery reopened last fall.
It's set to now be a seasonal operation, getting underway in October amid the fall seal hunt, and running to early January.
This year there were seven employees, and Sinook is pleased with the run.
"We did 850 seals in three months," Sinook said. "That is the most I've ever seen them do."
According to Sinook, the business took in $25,000-$30,000.
This is the only tannery of its kind in Alaska right now, and there's enough pent up demand that Sinook had to put a limit of 10 hides per family.
But all over the building are signs of just how hard it is operate a business in a town this far off the road system.
The ceilings are extra low to cut down on heating costs.
There's a small wind turbine outside to add supplemental power.
In a backroom are giant wooden drums that spin the hides dry as a last step in the tanning.
Next to them are giant bags of sawdust shipped from the Lower 48.
Sinook buys each bag at $10.11, but by the time its been freighted all the way to Shishmaref the per-bag cost is $70.
Salt, which they also use in quantity, is cheaper.
"We get that from Costco," Sinook said matter-of-factly.
Like much of western Alaska, Shishmaref's lack of critical infrastructure is a barrier for business opportunities and local economic development.
As we spoke, Sinook was worried because a check he mailed to his bank still hadn't cleared. Mobile deposits aren't an option because the tannery has no Internet, an expensive extra utility. The
town doesn't have piped water, so Sinook has to haul 600-800 gallons a week from the Washateria.
"I been using a four-wheeler and a trailer with a 200-gallon tank," Sinook said. "It would be a lot easier if we had running water here."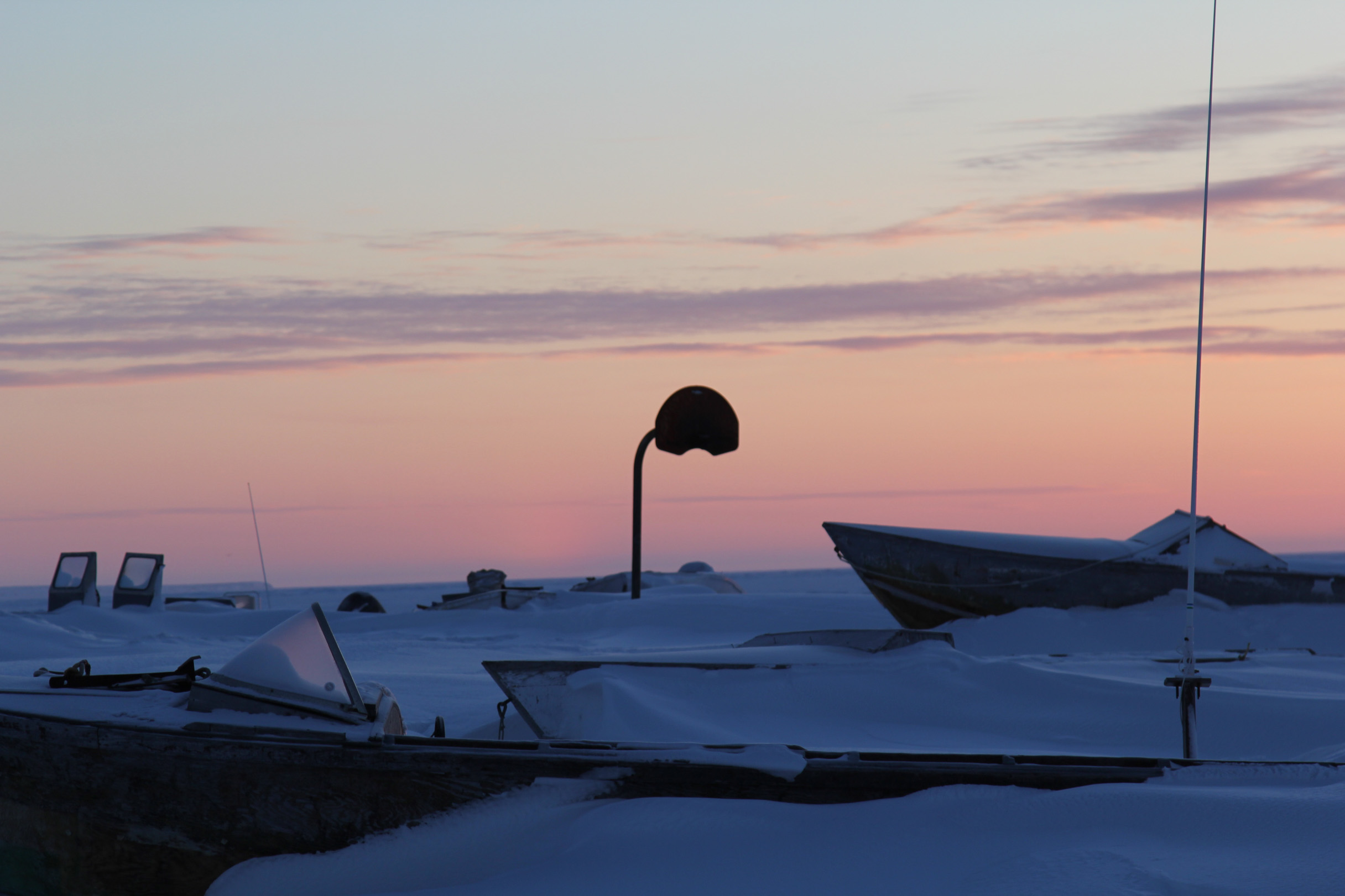 Many of these are the same problems that hampered the tannery from its beginning.
Tony Weyiouanna was a much younger man in the 1980s, when the community started looking into the idea of a tannery.
"From the time we started talking about it to when it opened the doors it probably was about four years," Weyiouanna recounted at his office in Nome, where he now works for Kawerak, the Bering Strait's regional non-profit.
Back then, Shishmaref's village council wanted to find economic opportunities that made use of their local resources.
Among them were many traditional skin sewers who knew how to turn animal hides into good-looking, practical garments, along with ample hunters who remain experts at harvesting ice seals from the waters of the Chukchi sea.
The idea was to take the tanning and sewing that was happening in homes and replicate it on a commercial scale, creating efficiencies in the traditional methods by pooling resources.
Some of the finished hides went back to the families that brought them in, like taking wool to be spun into yarn you can use at home.
Others skins were purchased by the tannery, and sewers were employed to turn them into gloves, slippers, hats and more.
When Weyiouanna started managing the tannery in 1991, he expanded business, advertising to hunters and trappers across Alaska, telling them to mail their hides to Shishmaref.
"We needed our tanners to be busy all the time, from morning till quitting time," Weyiounanna said.
The advertising worked, and the tannery was receiving all kinds of furs: Beaver, wolf, sea otter, bear.
Weyiouanna hired elders to teach younger women how to sew traditional garments, and had buyers for the finished products across the state.
According to Weyiouanna, in the mid-'90s the tannery was an economic engine, handling hides from across the state and bringing in hundreds of thousands of dollars — much of which stayed in Shishmaref and the region.
"It made an impact," Weyiouanna said.
But it was never an easy business to keep running. Weyiouanna left the tannery in 1995, and wasn't keeping tabs more than a decade later when things got rocky.
"I didn't really pay attention too much on why it shut down," Weyiouanna said. "Maybe mismanagement."
Now that it's back, Dennis Sinook thinks the tannery can thrive again in Shishmaref.
But the time commitment has been a drain on his personal life.
Sinook is an accomplished subsistence hunter — and that's part of what he loves about living here.
He had bright-red caribou haunches curing in the sun outside his house from a successful trip out into the country a day earlier.
A massive polar bear hide hangs on his living room wall.
It's hard giving up subsistence opportunities for all the headaches that come with running a business, and he's weighing whether he'll return to the job next fall.
Regardless, Sinook hopes years from now Shishmaref's tannery is still in business.
"Hopefully someone can see what I see," Sinook said. "To keep it open. To keep it alive. To keep people sewing."
The craft of making things from seal is something he doesn't want to see go away.
Sinook is not alone. At least one other community in the region, Brevig Mission, is thinking about setting up a tannery of its own.
This journalism project was made possible by a fellowship from Marguerite Casey Foundation, which supports low-income families in strengthening their voice and mobilizing their communities to achieve a more just and equitable society for all.