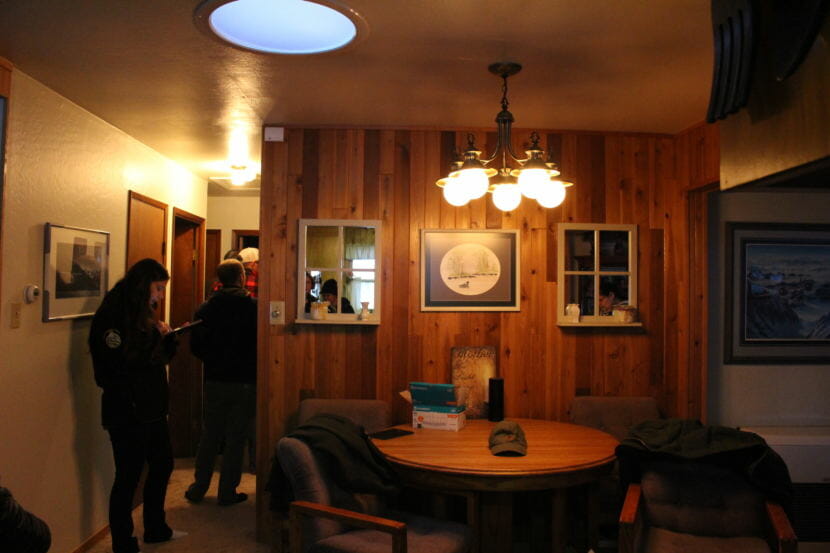 In diesel-powered villages, electric bills can climb to several hundred dollars a month, especially in the winter.
So a batch of new energy assessors — who live in those communities — are being trained to spot areas of improvement around the home.
Alexis Wagner is looking down at a shiny black Samsung tablet. On it, there's a list she'll spend the next two hours filling out.
"When we go through the house, there will be appliance inventory, other plugins, windows," Wagner explains.
Before we take off our shoes to enter this Juneau home, Wagner fills out the occupancy: there's a woman who lives here with two small dogs. Even body heat is taken into consideration when evaluating energy efficiency.
She says just scrolling through this list, she's getting her own ideas.
"I have to make a lot of changes to my own house," she says with a laugh.
Wagner works at the Metlakatla Indian Community as a grant writer. But after today, she'll be able to do another task, and she's not alone. Five people are in the group with her — learning this new skill.
"We call them energy leaders but privately I think of them as energy champions," said Shaina Kilcoyne, an education and outreach director at REAP — the Renewable Energy Alaska Project.
The nonprofit invited residents from Kake, Angoon, Hoonah, Yakutat and Metlakatla to participate in the new program. It's part of a joint-effort with Southeast tribes to make household energy assessments more accessible and affordable.
An energy audit from a private company can cost thousands of dollars. So while these energy assessments aren't quite as detailed, Kilcoyne says for $25 it's a great value.
"Some of the upgrades can be expensive," Kilcoyne said. "We're starting with the low hanging fruit."
In the home's kitchen, Austin Pajak, who lives in Yakutat, is eyeballing the lights.
A gold retro-looking fixture hangs above the kitchen table.
Pajak inputs the wattage of each bulb into the spreadsheet on his tablet, and Kilcoyne walks him through it.
Replacing these light bulbs with LEDs could save the homeowner around $45 a year.
But Kilcoyne says not every energy vampire is so obvious. Take your coffee maker, for example. Some models have a burner plate which keeps the pot of coffee warm all day and uses electricity. So Kilcoyne suggests swapping out a glass coffee pot for an insulated one.
Jennifer Hanlon, an environmental director at Yakutat Tlingit Tribe, says those small household fixes are the best option for now.
Addressing the little things doesn't solve the bigger problem, though: that these communities are powered by diesel.
But she says Yakutat is still a ways from tapping into alternative forms of energy, like tidal.
"You know, we're not going to get that up and running anytime soon," Hanlon said.
So having a few trained people in Yakutat who can offer energy assessments could at least ease some of the financial burden.
And, Hanlon says, make it easier for people to stay in Yakutat.
After a few hours of scanning the Juneau house from top to bottom, the energy assessors are ready to make their final recommendations and explain to the homeowner how much they could save.
With a few simple adjustments, the household electric bill could be reduced by close to 10 percent.
One of the newly minted energy assessors said they were excited to go back to the village and share with they learned. They already had a list of homes lined up.
The Home Energy Leader Program runs through July 31.