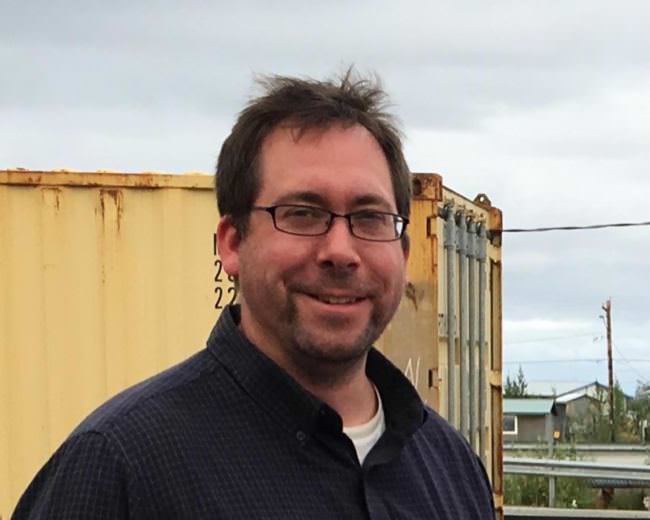 A story published Saturday afternoon by the Juneau Empire details accusations of a violent attack by a state legislator on an unnamed Juneau woman.
According to Empire reporter James Brooks, Bethel Democrat Zach Fansler allegedly slapped the woman in his room at the Alaska Hotel on Jan. 13 as she attempted to put him to bed after a night out drinking just before the current legislative session began. She later learned she had a ruptured eardrum.
Immediately after the story published, House Speaker Bryce Edgmon released a statement calling on Fansler to resign. Fansler's lawyer has said he denies the allegations. 
The victim reached out to Brooks with her story. She had been in a relationship with Fansler before the alleged incident. She shared texts exchanged with Fansler afterward and photos of her injured eardrum from the doctor. Brooks also spoke with people who knew about the relationship.
Brooks sat down with KTOO's Adelyn Baxter on Saturday to share how he reported this sensitive story and what it means for the investigation.
---
Q: Tell me about how you came to find out about this incident.
This happened because I had met this woman once at a Democratic fundraiser here. On the night before session there's fundraisers all over the place and I made the rounds and I ran into her. She mentioned she had a ruptured eardrum and I commiserated with her but she didn't mention why. Then after about a week she called me up and said "Hey do you have some time to talk?" And just that simple phone call, just that simple message, started the whole thing.
Q: And how did you go about verifying the different elements? I know there's a lot of detail in the report.
With something like this it's always really hard because the person involved, or the people involved, don't always want to talk on the record, they don't want their names out there. Because especially in the Capitol, there are — I won't say there's people actively looking to punish others, but if you come out and speak publicaly you're less likely to get rehired by another legislator. You've kind of broken the code of silence. So there's an incentive if you want to keep your job; you stay quiet, you don't make waves, don't make difficulties for others. In this case, the woman asked that her name be withheld, and I've done that.
I also asked around and talked to other people who knew of the relationship that they had. They had been flirting for a while and been pursuing a romantic relationship. And so that was known by some acquaintances of both, people who were friends of both, and they were able to explain different aspects of it.
The woman involved, she kept text message records of their conversations. And so she was able to do that and she was very open with me, even though she didn't allow me to use her name, she said "Yes you can look at my medical records, share these pictures, share these text conversations to help explain the story."
Q: The story said you waited to publish. What has the timeline been like?
One of the things I wanted to make sure was that since she had gone to the police, I wanted to make sure the police had first priority because they're doing something that's important as well. I'm not going to get in their way if I can help it. In this case, I sat on the story for a week. She asked me to not interview anyone, not talk to anyone, while the police did their work. And I did that.
And the reason it came out now as it did, was because the Department of Law had started alerting people that this story was out there, that they were investigating. And so once it started coming out, started becoming known — and the woman's name didn't necessarily become known. I don't know how many people know that still. But once the story overall, the accusations became known, that's when we decided to publish.
Q: Do you know who is investigating Fansler besides the Alaska Department of Law?
I'm not sure of who exactly is doing the investigation and what everyone's role is in it. I just know that there is a criminal investigation. I don't know how far that is. I do know that his cohorts in the Alaska House Majority have called on him to resign. I don't have a statement from him saying whether he will or he won't, and that's the next thing to look for. Will he decide to resign? Will he say, as his lawyer told me, that the allegations are untrue and fight them? And that's where we go from here; will he fight back? Will he say "No, I think this is wrong, that this wasn't accurate?" Or will he say "Yes, I did something wrong" and own up to it?
Q: What implications do you think this will have for the House in light of former Rep. Dean Westlake's resignation due to sexual misconduct accusations?
So, it's important to remember that that takes second fiddle to the personal harm that someone suffered. But if we're going to talk about that, keep in mind that the House Majority has just 22 members. A bare majority, the minimum you need to have a majority in the house, is 21. Once Westlake's replacement comes in, they'll be back up to 22. If Fansler resigns, they'll be back down to 21 and they'll have to search for a replacement as well. And so that puts, it makes things very tight for that coalition in the House.
Q: Did the victim tell you why she reached out to you with her story?
She said she wanted it to be known and she wanted him to have responsibility, to have some sort of responsibility for what had happened. She didn't want this to just pass into the night. It was very interesting talking with her because she said it's a tendency in these types of cases for people to say "It really wasn't that bad" or "It can't have been as bad as I remember." But she said she took notes for herself and that she didn't want herself to underplay what had happened.
And so after some thought she said "Yes, this is serious enough. I've talked to my doctor. I have a ruptured eardrum. There's a hole in my eardrum. I'm going to go to the police, I'm going to talk about this to the newspaper."
Q: How long was it between the incident and when she reported it to police?
So, it was within a week. She had a business trip in between and she needed to see the doctor as well. So that is part of the timing on this. The incident happened on a weekend, she saw the doctor, immediately had to go on a business trip out of Juneau and then came back and filed the police report.
Q: Have you heard from her at all today?
I have, I have. She's spending the day with friends. I've kept her informed on when the story was going to go, because that's the absolute least I can do. So I've tried to keep in touch with her and make sure at every step of the way she knows what's happening. Because in something like this, one of the biggest things for the victim is uncertainty, so you try to give them as much certainty as possible.
Q: Thanks for speaking with me James. Is there anything else?
Sure, and I'd just say that you can read the whole story on juneauempire.com and obviously I'll be following this as it develops. If he comes out and has a statement, if he comes out and says "I'm resigning" and just for the rest of the session, what's happening next. I'll be covering that.