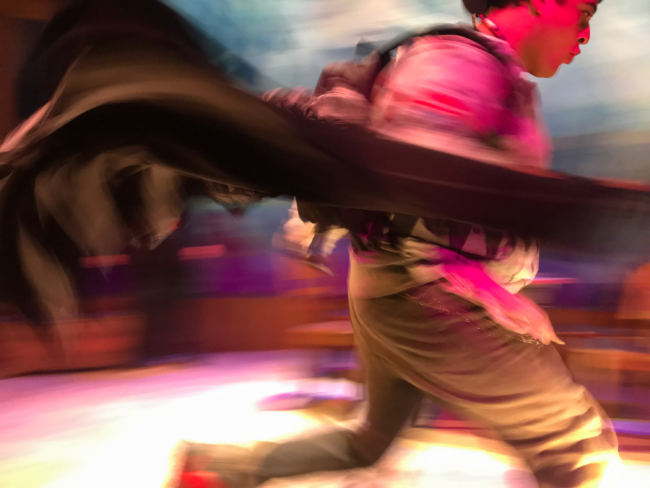 The world premiere of "William, Inc." is tonight at Perseverance Theatre. The dramatic comedy focuses on the life of an over-worked Alaska Native substance abuse counselor.
The title character, William, creates a Native corporation in his head to help cope with the stress of his job, a failing marriage and his own substance abuse.
The corporation's board members include archetypes — or typical examples of certain types of people — like Shadow (James Sullivan), Joker (Alec Shamas, Chickasaw) and Traditional Woman (Erin Tripp, Tlingit). Joker and Shadow have a knack for appearing at what seem to be the most inopportune times.
This is Inupiaq playwright Lucas Rowley's first major staged play.
"When I was in grad school I really enjoyed Jungian psychology," said Rowley on the phone from Anchorage. "And that's kind of where I took these ideas of archetypes and the collective unconscious."
Rowley now works as a mental health therapist, but he's also worked for Native corporations, where he says he's had negative and positive experiences.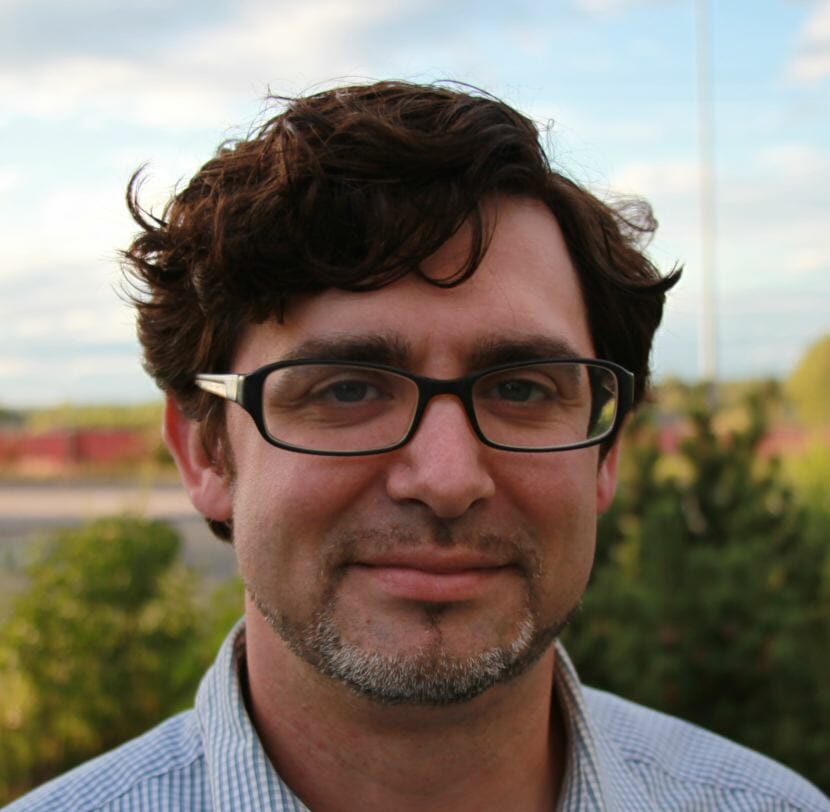 "It's kind of an alien structure when you compare it to the kind of the traditional culture and values that Native peoples had," Rowley said. "And then you kind of thrust them into this corporate-suit-and-tie type of deal and it's just kind of a funny transition that I had fun with," said Rowley.
And fun it is. Imagine a scene where William, who is arguing with his very-frustrated wife Cindy, (Erika Stone, Iroquois) answers a call (bad move) from a belligerent Shadow and Joker. Joker is man-twerking on Shadow as bumping club music and disco ball lights flash (lighting by Tom Onitveros). The two holler through a toyish, lightly amplified phone (Betsy Sims, audio engineer) as they try to convince William to ditch the wife, and come party at the club. The tension, and absurdity of that scene alone made me belly laugh.
"You know, it always helps to have humor when you're dealing with heavy topics like this," Rowley said.
Substance abuse, mental health, generational trauma and recovery are among them. Rowley says the play is loosely based on his life.
"I've been sober now for 13 years, and recovery is very important to me," Rowley said. "I like to help people out that way, and I've also been a substance abuse counselor several times before. It is just such a big issue people struggle with that I wanted to make that a part of the play and give a positive message about that as well."
"You see. That's why we need a drink. Now give us a drink! It's medicine we need," exclaimed Shadow in one poignant scene.
"That isn't medicine, this is," responds Traditional Woman as she begins to drum and sing — underlining the play's main theme.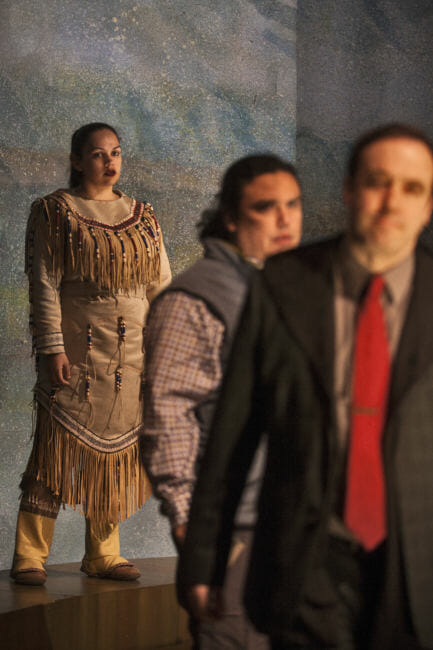 Brian Westcott (Athabascan and Yup'ik) plays two characters: Walter, an alcoholic seeking treatment, and Gary, William's uncle and fellow treatment counselor.
The play is directed by Randy Reinholz (Choctaw) of Native Voices at The Autry, who readers may remember from last season's "They Don't Talk Back."
The set's floor is a massive therapeutic sand box, the kind counselors like William use with figurines to analyze their patients. Akiko Rotch created that witty parallel, and its mountainous background.
Tom Onitveros produced projections made from videos of clouds that soar, like northern lights, over Rotch's mountains. Costumes, like Joker's parachute-pack raven wings, are by E.B. Brooks (Sami, Abenaki, and Wampanoag). The original music is by Ed Littlefield (Tlingit).
I asked Rowley what he wants people to think about as they walk out.
"That there's always hope, and just the power that traditional culture can have in our modern life and our world," he answered.
How tradition and modernity play together is a theme he plans to explore in his next play, too. "Raven One" is about an Alaska Native corporation that funds a trip into deep space.
For now, we don't even have to leave Douglas to feel the healing powers of humor and traditional Alaska Native ways.
"William, Inc." opens 7:30 tonight at Perseverance Theatre and runs until February 17 before it goes to Anchorage.