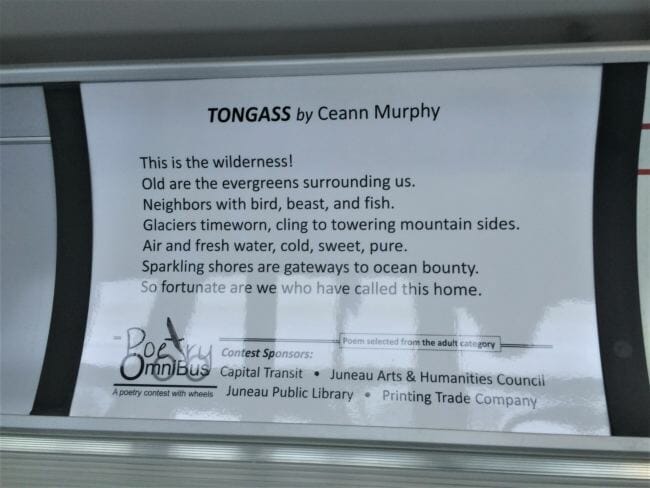 Poetry Omnibus, the poetry contest that displays locally written work in our Capital Transit buses, is now accepting submissions from both youths and adults.
The program is in its 11th year, program coordinator Ceann Murphy said on A Juneau Afternoon.
She read a past winner's poem, "The Life of a Cherry Blossom" by Acey Wall.
"It will fall off
the tree and it will
float and float and float
and come down like
a parachute. There
it waits and waits and waits
until a girl comes and picks
it up and eats it.
That is the life
of a cherry blossom."
Each poem must be 10 lines or less, and each line must not exceed 60 characters. Individuals can enter up to three poems.
"It's on the buses so just a really diverse population of people get exposed to reading poetry," Murphy said. "A lot of tourists comment on it. And then just people here in our community, so it gives them something fun to contemplate or be introduced to."
To help compose poetry like "The Life of a Cherry Blossom," join Emily Wall and Monika Haygood for a youth poetry writing workshop focused on ages 8 to 17 at 5:30-7:30 p.m. Wednesday at the Douglas Library.
Youths can also join Christy NaMee Eriksen at the Downtown Library from 3 to 4:30 p.m. Saturday.
The submission deadline is Jan. 31. Click here for a link to the entry form.