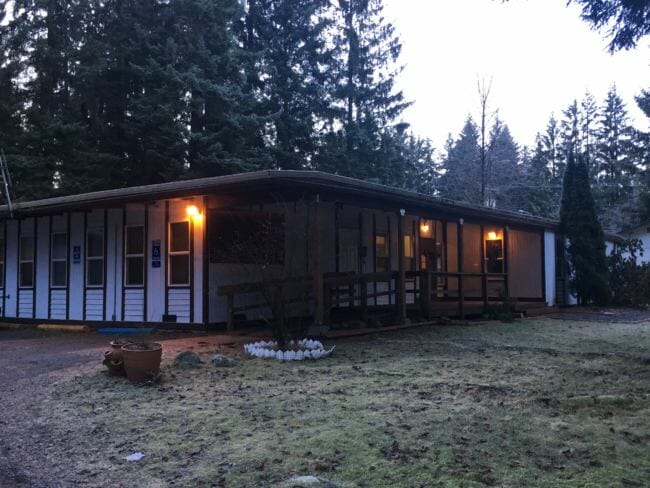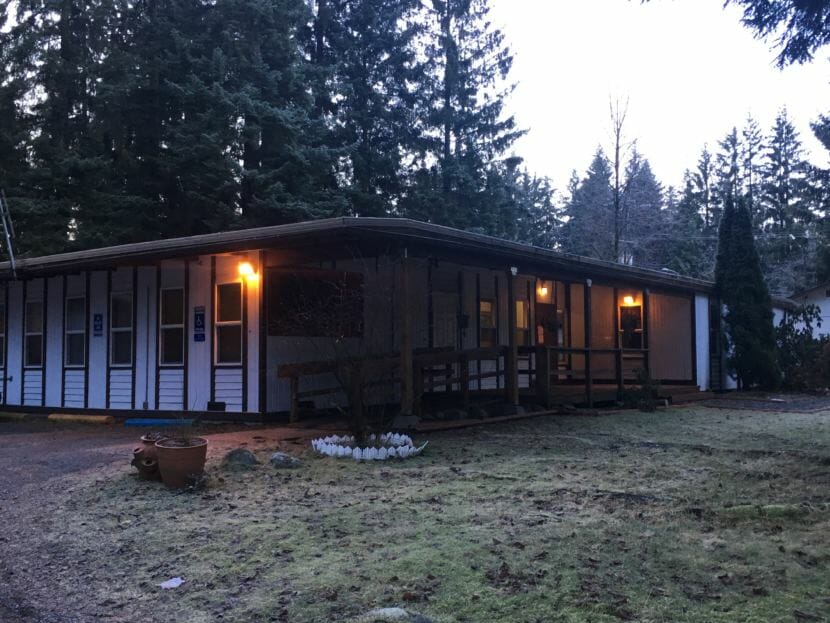 The City and Borough of Juneau hopes to find a new tenant or buyer for a property that has served as a youth shelter for more than 50 years.
Juneau Lands and Resources Manager Greg Chaney led tours Monday of the city-owned complex just off Egan Drive in the Mendenhall Valley.
"It's a building from the 1960s. It wasn't built to a real high quality institutional standard, so any organization that comes in is going to have to expect to do some upgrades, maybe some maintenance, you know, that kind of thing," Chaney said. "But basically it's in pretty good shape."
The lot at 9290 Hurlock Ave. is surrounded by tall trees. The single story, 6,400-square-foot facility there includes a newer portable classroom attached to the main building by a walkway and two small out-buildings used for storage.
It served as an emergency shelter for runaway, homeless and at-risk youth for decades. The city leased it to Juneau Youth Services for only $1 a year.
"We've had a wonderful partnership with the city and borough at the Hurlock campus for over half a century," said JYS Interim Executive Director Walter Majoros. "That being said, the buildings on that campus, particularly the shelter, is old and requires a lot of ongoing maintenance."
Juneau Youth Services decided to consolidate the program into its existing campus on Montana Creek Road to cut utilities and maintenance costs and streamline services. They notified the city and were out by New Year's Day.
Chaney said it's rare for a city-owned property like this to become available. He said the city hopes to see a similar community-oriented organization take over the space, such as one providing child or elder care.
"It depends on the program," Chaney said. "The idea of $1 a year was basically in exchange for Juneau Youth Services providing a program that the city didn't have to provide and really augmented what's available in our community. We're excited about that type of a program."
Bruce Van Dusen is the executive director of Polaris House, a nonprofit that works with people with mental illness. He toured the facility Monday.
"The only con I can see, in one sense, is it's very large," Van Dusen said. "But if we give some considerations to other types of programs we can put here, then it's the right size."
Polaris House currently leases space in Willoughby Place downtown, but Van Dusen said the possibility of subsidized rent made the Hurlock property appealing.
"That would allow us to hire another staff person actually so we could do better, we could do more," he said.
If the city does not receive enough interest, the property could be sold at fair market value. Chaney said the property was recently appraised at $350,000.
Applications to lease the property are due by 2 p.m. Tuesday, Jan. 16. City staff will review lease proposals and make a recommendation to a Juneau Assembly committee Jan. 29.
The final decision on who takes over 9290 Hurlock Ave. will be left to the full Assembly.