Peninsula Crime Stoppers is asking for help after a pair of pet deaths recently.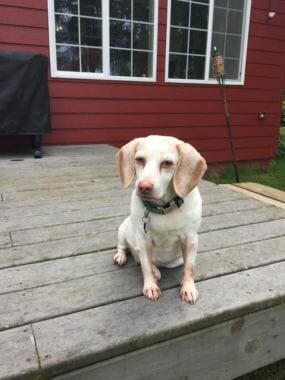 A dog was shot in November with a high-powered BB gun in Kenai and later died.
Last week, Lizzie, a 14-year old beagle, was shot with a small-caliber rifle in the early evening in her family's yard off Ciechanski Road.
Ashley Landess was getting ready for a move to Arizona with Lizzie.
"On the back of her head, there was this heart-shaped marking," Landess said. "When I was 7, I said, 'Mom, that's where her mommy kissed her when she was born.' And I still have the pictures of me picking her up for the first time and I had to hold her in a towel because she was dirty."
Peninsula Crime Stoppers volunteer Ed Beddow worries about the fact that acts of animal abuse can sometimes be indicators of future violent behavior.
"The question is, are these two incidents linked together? Are they separate?" Beddow said. "For me, if somebody can go around and do that, it can escalate. So we have to take it seriously."
More than $3,000 has been raised as a cash reward for information law enforcement can use for an arrest.
In the meantime, Landess said that, while Lizzie can't really be replaced, she is looking for a new rescue pup. You can call Crime Stoppers at 283-8477 with information.