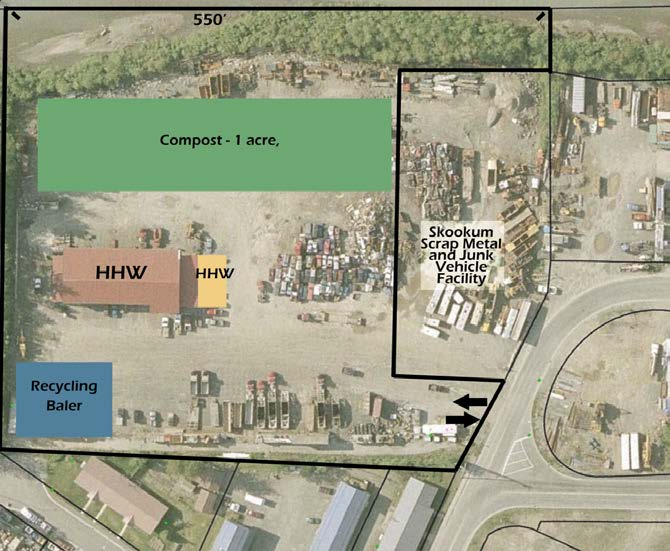 A complex project to consolidate the city's recycling center and add a composting operation has moved a step closer following its approval from a key Juneau Assembly committee. But that would mean raising utility rates on homes and businesses.
Juneau's landfill is privately owned. Curbside garbage pickup is also handled by a private company. The landfill is expected to run out of space within 20 years.
Juneau Assemblyman Loren Jones said that presents a complex and expensive challenge where the city has limited control.
"Since we don't own the landfill and we don't own the garbage collection we still need to divert product from the landfill," Jones said Tuesday.
That's why the city is looking to beef up its recycling operations on a single site.
"By diverting waste from our landfill, we are extending its life and reducing future costs to the community for solid waste disposal," said Michele Elfers, coordinator of the city's RecycleWorks program.
There are a lot of moving parts to the expansion proposal which she laid out in a memo this week.
"So it's selling CBJ property, buying another property," she said Tuesday. "It would be relocating the household hazardous waste from the parcel that's being sold to a new parcel. It would be moving recycling to the new parcel and then starting a pilot composting program on the new parcel."
The plan also calls for the the city to sell four Lemon Creek area parcels assessed at $2.6 million that are adjacent to Juneau's largest brewery.
Alaskan Brewery Company spokesman Andy Kline said the beer plant has already expanded to the east.
"But we've never been able to expand westward," Kline said Tuesday. "And that would allow us to expand our brewing operations much more efficiently than moving those somewhere eastward. So that's why we're keenly interested in the property to our direct west."
That land sale would help offset the city's cost of buying a warehouse on 5.4 acres listed for sale for $3.3 million.
Jones, who made Monday evening's motion to move the plan forward, said the city could move its recycling drop-off site from the privately run landfill property to its own facility nearby.
"This provides us the ability to get a site that will be big enough to do all of this and at the same time allow for the brewing company to expand," Jones said.
The Anka Street property being eyed by the city would include a hazardous household waste facility that accepts things like batteries, used oil and old television sets.
Elfers said the city could also use the extra space to begin accepting green waste for composting. That would mean lawn clippings, tree branches and food waste.
"We would have a pilot program to start off with, you have to really get your technology going, work on your recipes, make sure you have a smooth and efficient system to produce the product you want," Elfers said.
That product would be a dark, nutrient-rich soil that would be sold for gardening.
There's the question of how to pay for all this. The land deal is the first part of the plan. The second part involves raising rates for the first time in 13 years.
Juneau homeowners currently pay $48 a year towards funding RecycleWorks. That could double to $96 within four years.
Rates for most businesses would rise to $100 annually. Then in four years, businesses that generate more than 3 tons of garbage would pay even more. The rare operation that generates more than 50 tons of waste would be billed $5,000 a year.
Assemblyman Loren Jones said the project still has some hurdles but he sees it as a win-win opportunity.
"We can consolidate all of our recycling and we can provide for the expansion of a major business and industry here in Juneau," Jones said.
The real estate deals and the rate hikes would still need to be approved by the full Assembly. And there may be push-back from those who oppose the rate hikes.