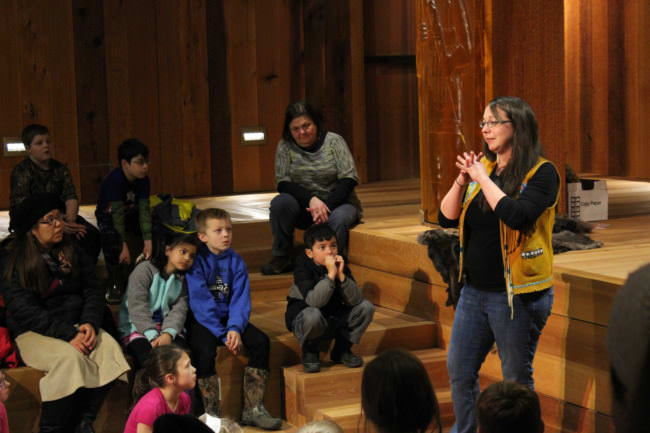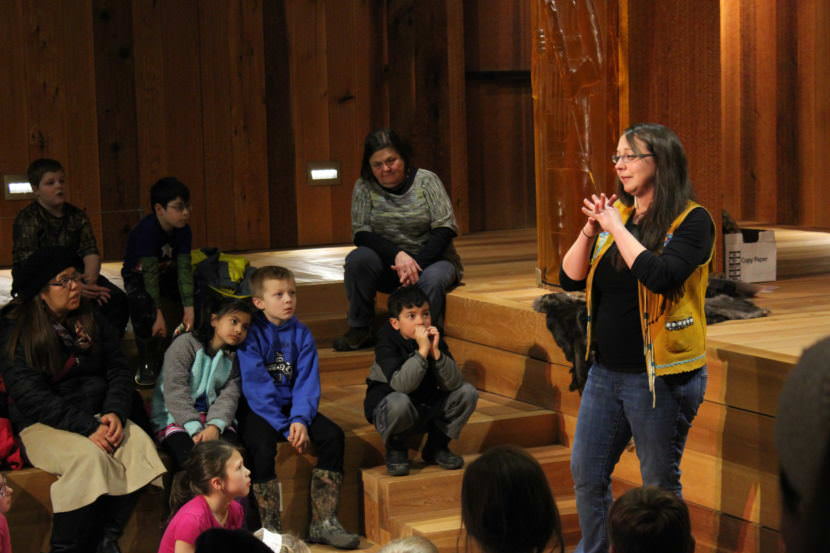 At the Walter Sobeloff Building on Thursday, Sealaska Heritage Institute Culture Bearer Daaljíni Cruise started off a visit from Juneau second graders by reviewing some concepts they learned in class.
"And what usually happens in our Tlingit culture, we have what we call moieties," Cruise said. "Say moiety."
"Moiety," replied the students gathered around her.
"Moiety means half. OK? So we have two moieties. We have the Eagle and the …"
"Ravens!"
"Very good!"
For the third year in a row, more than 300 Juneau second-graders visited the building's clan house and exhibit for a cultural excursion.
The field trip is part of Any Given Child Juneau, an initiative to expand arts education locally and backed by the John F. Kennedy Center in Washington, D.C. The program's goal is to provide equitable access to the arts and cultural opportunities for all Juneau students.
Jennifer LaRoe is the Juneau coordinator for Any Given Child. She said the program is determined to provide excursions like this to all grades K-8, but that they're looking for ways to expand.
"We're still trying to understand how we can meet these kinds of goals for high school students, so that's something that the community input is really valuable for," LaRoe said.
In addition to the second grade excursion, students in fifth grade attend a performance of the Juneau Symphony in February. For the last two years, eighth graders have gone to Perseverance Theatre. Sixth grade students will see the Juneau Dance Theatre's spring showcase and plans are being made with the Alaska State Museum for a fourth grade field trip.
The second-graders also listened to Cruise tell traditional stories in Shuká Hít, Sealaska's model clan house. Before their visit, students designed their own clan house screens based off Shuká Hít's glass screen designed by Preston Singletary.