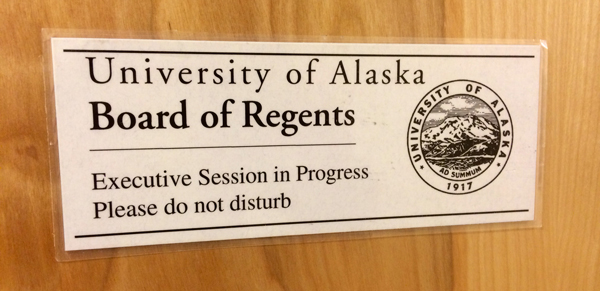 Most University of Alaska students will see a 10 percent tuition increase during the next two academic years.
The university Board of Regents approved the hike with a 9-1 vote at Thursday's meeting in Anchorage.
A 5 percent increase will take effect for most campuses in both the 2019 and 2020 academic years.
At the University of Alaska Southeast, the cost per credit will increase by about $10 each year. Currently, lower-division courses cost $202 per credit hour.
Student board member Joey Sweet called the decision a "bitter pill."
"I'm not necessarily thrilled about that," Sweet said. "But I think in terms of the long term this is a responsible course of action for us to be taking, and I support it."
Tuition at Kodiak College and Prince William Sound College will increase by about twice as much as other campuses in order to even out tuition rates across the university system.
Regents also approved the university's operating and capital budget for the 2019 fiscal year, including a request for $50 million from the state for deferred maintenance projects.
The likelihood of receiving any of that money from the Alaska State Legislature this year rides largely on its ability to address the state's deficit.
Associate Vice President of Government Relations Miles Baker said the upcoming legislative session poses "major cause for uncertainty."
He said legislators will face a $2.6 billion deficit, and revenue alternatives are few.
The current special session is unlikely to pass Gov. Bill Walker's proposed tax of 1.5 percent on wages and self-employment income.
"We're not going to come out of the special session with a long-term revenue solution even in the unlikely event this wage bill passes," Baker said.
Several regents raised concerns about enrollment at the meeting. The system has seen a 15 percent decline since 2014.
Most campuses saw even lower enrollment this fall, including University of Alaska Southeast.
Regents also approved an extension to University of Alaska President Jim Johnsen's employment contract. They heard reports on Strategic Pathways cost-cutting measures and Title IX compliance for sexual discrimination, harassment and assault.
The regents will conclude their meeting Friday afternoon.