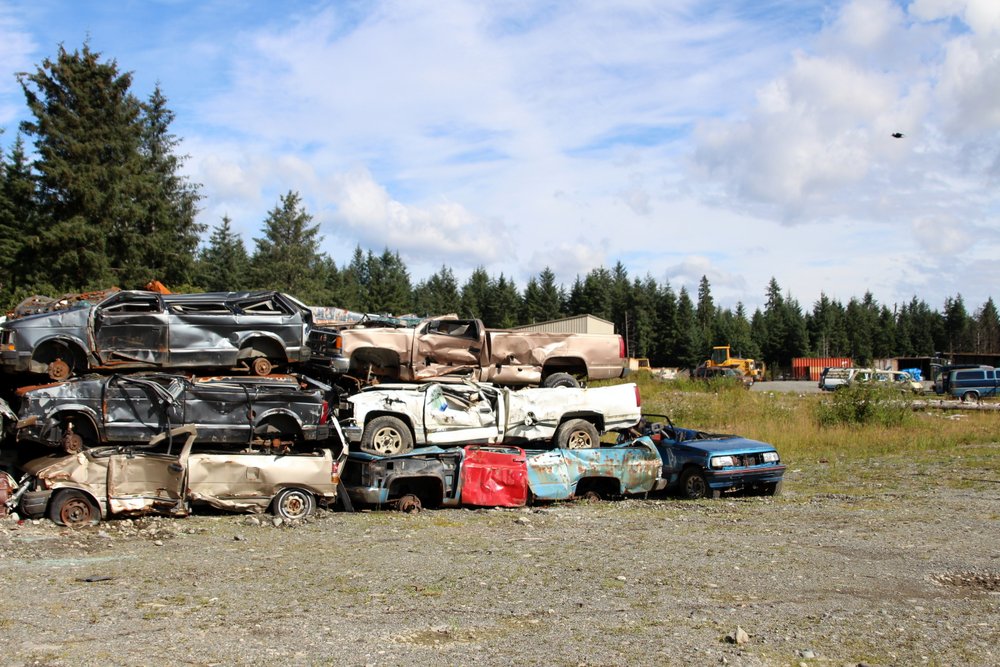 As far as dump make-overs go, Yakutat has the ultimate Cinderella story.
The remote fishing community is hundreds of miles from any other city.
Barging trash away is too expensive. So, as the dump filled to the brim, what was Yakutat to do?
There was a time when dumping your trash in Yakutat meant dodging bears.
Kris Widdows describes it as part of the evening's entertainment.
"You'd come out to the dump at night and watch the bears get in the garbage. It was like going to the movies," she said, a movie where a burning pit of garbage became a watering hole for bears.
Locals and visitors alike would pull their cars up to the edge and toss everything — their plastic bottles and dirty diapers, food scraps and oil — into the same pile.
The town bears would feast.
Widdows, who helped form Yakutat's solid waste committee, remembers one encounter in particular.
"We were out here watching the bears and had one climb in the back of our pick-up truck looking for garbage," she said. "That was common."
This is how it was in Yakutat for decades.
The Department of Environmental Conservation wasn't happy, but the city didn't have the necessary funds to bring the dump into compliance.
That started to change in 2006 with federal grant money through the Yakutat Tlingit Tribe.
Widdows recalls how tribal environmental officers Maryann Porter and Violet Sensmeier worked with concerned citizens like herself to tidy up the dump.
That also meant finding a way to pay for it.
"In villages and small towns like this, everybody has a unique challenge. You can't send it out and you don't have as many people to help with the cost," Widdows said.
To bring revenue into the solid waste fund, Yakutat now dedicates 1 percent of its sales tax to the solid waste fund.
This boost, combined with new staff phasing in safer practices, created the award-winning landfill you can see today.
I step inside a wide open yard.
There's trucks busily sorting trash into piles: one for washers and dryers, one for refrigerators, one for cars, all squished and neatly stacked like Jenga blocks.
Everything is marked with a hand painted sign, as if we are inside a trash museum.
Widdows and I are sitting at the bottom of a mountain of giant tires. There are flies circling our heads, but otherwise, it doesn't smell at all.
Kwong: This is quite a dump, but I mean that in a good way!

Widdows: (Laughs) That could have come out two ways!

Kwong: How is it not stinky?

Widdows: It doesn't sit there where the public has access to it. Half an hour and he takes it away.
The "he" in question is manager Aaron Gray, who drives one of the trucks moving boxes into a trench for burning later that night.
Widdows tells me he lights the match when certain weather conditions align, so smoke won't hang in the air.
Wearing a baseball cap and layers of T-shirts, Gray said he's not a neat-freak person by nature.
"I'm just getting paid to do my job and do my work, so that's what I do. There's a lot of little things out here to keep you busy."
When we spoke it was August, with sport fishermen and summertime construction creating more waste for Gray and his team to organize.
They have their system down pat: cardboard is burned daily; glass is crushed; and recyclables are sorted in marked shipping containers.
Everything is dealt with in-house, except for the occasional shipment.
The City and Borough of Yakutat makes money from batteries and aluminum, but Gray says that's the only trash of value.
"The glass and the cans and the plastics and stuff like that, we don't make a profit," he said. "It's going to cost us money to send it out."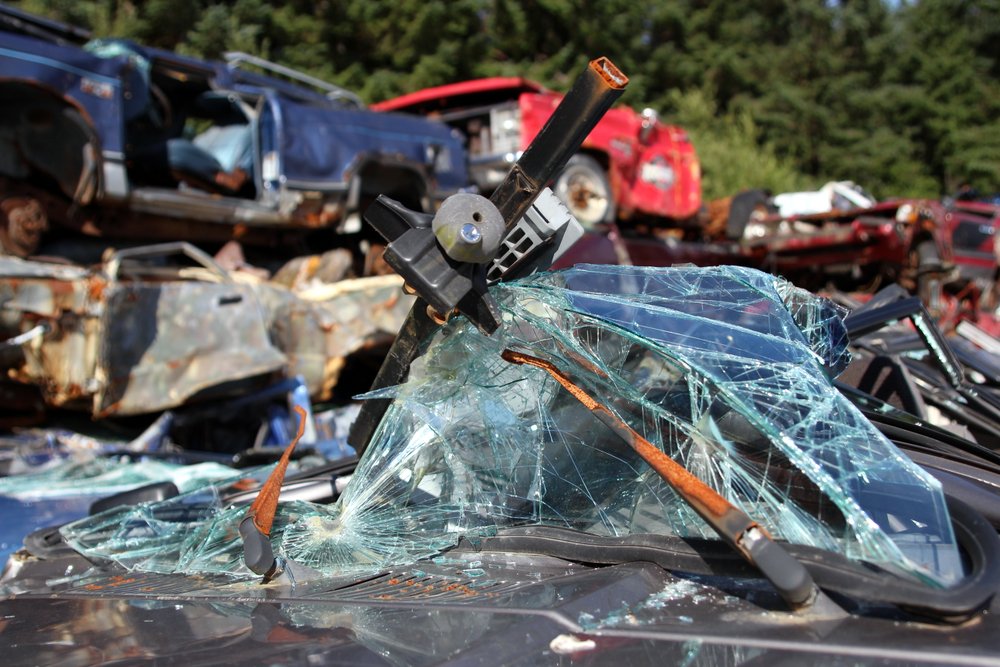 The city recently paid for a decade's worth of e-waste, or electronic waste, to be barged out of Yakutat.
Alaska Marine Lines shipped it to Seattle for free, but it still cost $17,000 to recycle.
"Particularly where we're located there's nothing free," said City and Borough Manager John Erickson.
Leaning back in his chair, Erickson lays out the challenges for budgeting solid waste removal into the future.
The city will have to dig a new cell for the landfill in five years, a $200,000 cost, he estimates.
Yakutat also will run out of space to house old cars.
The city used to get its scrap metal picked by for free by the Juneau-based Channel Construction.
With the price of scrap metal in decline, they stopped coming. Yakutat is an expensive trip for a barge.
"We're 225 miles from Juneau. 220 miles from Cordova. We're very remote," Erickson said, lightly knocking his knuckles against the desk. "We just have to wait. Those cars piling up out there at the dump, they're going to be there a long time I think."
Yakutat is definitely on the map for Sandra Woods, the state landfill inspector for Southeast.
When she first came to Yakutat in 2008, she was afraid to get out of the car for the sheer volume of bears.
She gave it a failing grade of 44 percent (080804 inspection).
Now, the landfill is close to full compliance with a score of 87 percent (2017 Inspection Report) and has earned two awards from the Department of Environmental Conservation's solid waste program for its meteoric improvement.
Woods said it's people on the ground like Gray who make all the difference.
"I just remember meeting him and knowing that he was the one that put this into place," she said over the phone. "Yakutat has really changed the way they do things without having to really ship their waste out."