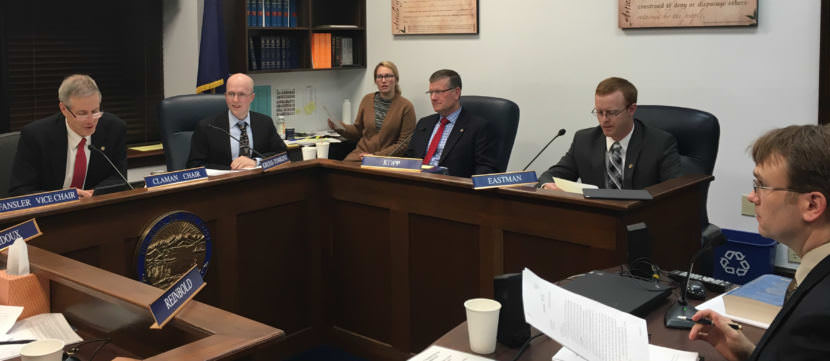 Lawmakers are making some changes to a bill aimed at revising the state's criminal sentencing laws. But these changes haven't dramatically changed the main provisions of the bill, or its cost.
The House Judiciary Committee passed six amendments to Senate Bill 54. It voted down 17 others, through 3 p.m. Wednesday.
Anchorage Republican Rep. Chuck Kopp has proven to be a key vote on the amendments. The retired police officer has voted for some.
But he's voted against most, and largely stuck to the recommendations of the Alaska Criminal Justice Commission included in the bill.
One amendment that was defeated would have increased penalties for drug offenders. Kopp voted no, citing the fact that prosecutors had not asked for it.
He said prosecutors' work is difficult.
"You have no capacity to appreciate that it leaves scars on their soul, protecting us," Kopp said. "When they come here and tell us this is what we think is right I defer to that. They suffered to get to the wisdom they have to tell us this. And it is to our peril that we ignore and we mock them."
The hearings have been testy. Eagle River Republican Rep. Lora Reinbold questioned the testimony of John Skidmore, who directs the state's criminal prosecutions.
"I recognize that you're here on behalf of the attorney general, representing the Department of Law, not necessarily fighting for the prosecutors," she said.
Skidmore took exception.
"I need to correct that misrepresentation," Skidmore said. "I am sitting here fighting for prosecutors. I am sitting here trying to make sure they get the right tools."
Skidmore said it will take more time for the department to make recommendations to change the law.
Whether Senate Bill 54 becomes law may depend on how much it's amended.
The more it's changed, the more difficult it may be for both legislative chambers to agree to a bill.  And there has been some concern that amendments to the bill could increase spending.
The bill is one of two items Gov. Bill Walker included in the special session that's scheduled to end by Nov. 21. The other bill would institute a 1.5 percent payroll tax.