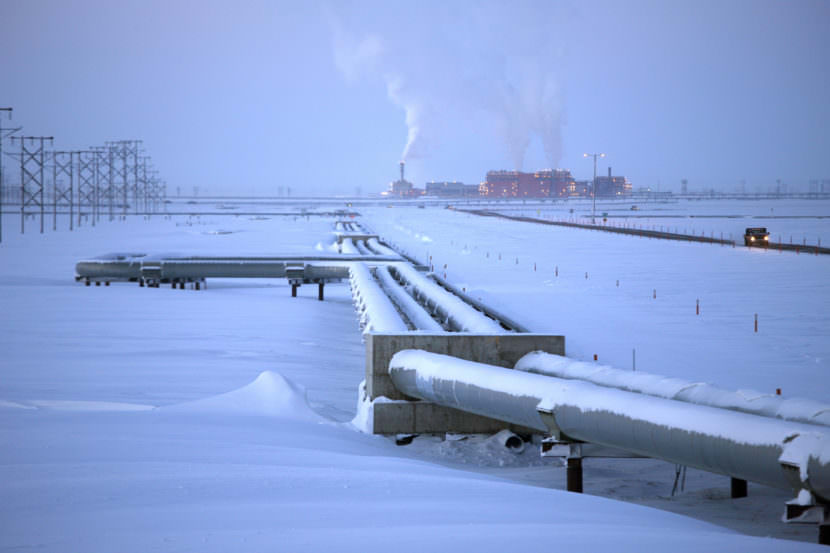 Lawmakers got some good news in Juneau on Tuesday, as the state's Department of Natural Resources unveiled the fall production forecast.
Oil production is up. And they expect it rise again next year.
It was a difficult year for the North Slope in 2016.  After the drop in oil prices, operators cut 44 percent of their spending. They let drilling rigs go idle and laid off hundreds of workers.  
At Alaska's Division of Oil and Gas, Ed King said they were surprised when they started putting together this year's production forecast.
"When we read the news of rigs getting laid down and kind of this global contraction of the industry, we kind of expected that to manifest itself in reduced production," he said. "So, yeah, it is a little bit surprising to see how much they've been able to do in this low price environment."
For the year, King said production was up about 3 million barrels, and the state is predicting that it's going to be up next year too.
King said a big part of that prediction is coming from the companies.
"You know, last year they told us, the Prudhoe Bay operator (BP) at least, they told us that they were expecting to be able to hold production relatively flat and we were a little bit skeptical and this year they told us the same thing – now we have a tendency to want to believe them a little bit more," King said.
And, this isn't new oil. At least, it's not coming from new fields.
ConocoPhillips brought another portion of its Colville River oil field online and that increased production. But the increases mostly came from places like Prudhoe Bay.
King said the oil companies trimmed operations, cut costs and found ways to squeeze oil out of old fields.  
"A lot of it is just facility optimization and just management of the resources and that's really something that they weren't paying as much attention to, I think when they were out there trying to find new places to drill and new oil – now they're focused more on the assets that they do have and getting the most out of them," he said.
In some places, like ConocoPhillips' Kuparuk River Oil Field – operators drilled new wells.  In others, like the Oooguruk offshore oil field in the Beaufort Sea, Caelus Energy has been fracking.
And Hilcorp took over operation of three fields, Endicott, Milne Point and North Star.  The company's business model is to find ways to get new oil out of old fields. 
But, it's not all good news. Alaska's Department of Revenue also put out a forecast today.  This one, an early look at oil prices.  Analysts are saying that oil prices won't increase as quickly as previously thought.
They predict oil won't climb to $75 per barrel until 2027, and they attribute most of that increase to inflation.