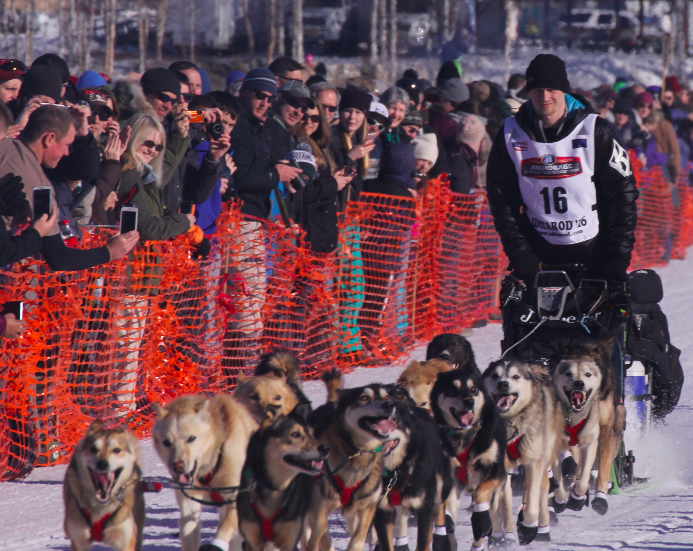 After weeks of speculation over a top Iditarod contender doping sled dogs, the race's governing body has announced the name of the musher. Four-time champion Dallas Seavey's team had four dogs that tested positive for the banned substance Tramadol, a pain-reliever, according a release from the Iditarod Trail Committee.
On social media, Seavey wrote that he has withdrawn from the 2018 Iditarod race, and in a video posted online denied intentionally doping his team.
"I have done nothing wrong," Seavey said. "I have never knowingly broken any race rule. I have never given any banned substances to my dogs."
A request for an interview with Seavey was not returned in time for broadcast. In the video, Seavey said he expects further sanction from the Iditarod for speaking out against what he sees as a flawed process and callous mistreatment — including potentially being banned from all future races.
"Out of the blue, I can be thrown under the bus this quick by the Iditarod," Seavey said. "And they will do nothing to protect you."
When the Iditarod Trail Committee originally announced they'd found a positive drug test from among the top teams in last year's race, it was in the context of a change to rule 39. That shifted the burden of proof onto the musher, which ITC said is a less ambiguous and more easily enforced standard for keeping banned substances out of the sport.
Officials said the way the rule was previously written they did not have enough evidence to justify sanctioning the offending musher. But in the process they'd refused to name the team in violation, fueling what race officials called "unhealthy speculation" about the incident. Earlier today a group called the Iditarod Official Finisher's Club, wrote a letter signed by dozens of race veterans demanding the musher be named within 72 hours.