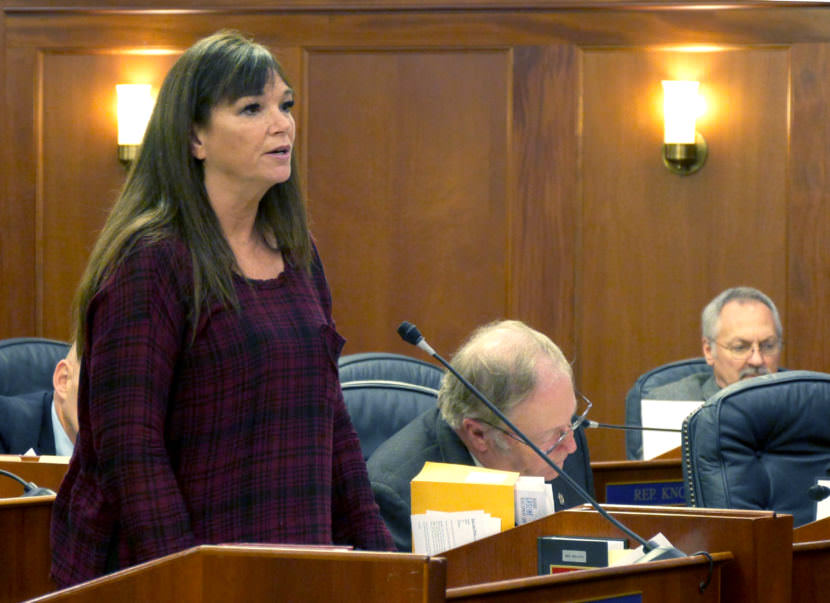 The Legislature started its fourth special session of the year Monday in Juneau, with two items on its agenda. One bill would make changes to the state's criminal justice laws, while the other would introduce a new tax. But lawmakers have differences over the bills.
Of the two items on the special session agenda, there appears to be more urgency to pass the crime bill. The Senate has already passed the bill. The House moved quickly to skip one of the three committees that was scheduled to hear it.
Anchorage Democratic Rep. Chris Tuck said passing the bill is a priority.
"Crime is on the rise here in Alaska," Tuck said. "Alaskans do want a fast fix. And much like the governor, I can't stomach going another day, jeopardizing public safety."
Seven Republican House members, mostly from Matanuska-Susitna Borough, voted against considering the bill. At least some of these lawmakers would like to fully repeal Senate Bill 91. That's the state law passed last year that changed the state's criminal sentencing, bail and probation laws.
Anchorage Republican Rep. Charisse Millett said the House should take more time considering what it should do regarding crime.
"This is the biggest issue facing my constituents in Anchorage," she said. "Crime is out of control, whether it's because of SB 91 or not. Mr. Speaker, I believe that this bill deserves a full vetting."
The House Judiciary Committee has scheduled up to three hours of public testimony on the crime bill on Tuesday night.
Senate Bill 54 would increase the penalties for class C felonies and petty thefts. It would also increase penalties for people who violate conditions of release.
The tax bill, SB 4001, may face a more difficult road than the crime bill. Anchorage Democratic Sen. Berta Gardner said the two bills are connected. She said funds from taxes will pay for behavioral health care, police and prosecutors that will reduce crime.
"We want a state in which Alaskans feel secure and comfortable and safe in their homes and communities," she said. "And we want people to feel proud, continue to feel proud, of living in Alaska. We have to support it. Talk's cheap. Funding public health and public safety is not."
Senate President Pete Kelly, a Fairbanks Republican, said there are other ways the Legislature can fund public safety. He favors a bill that would draw money from Alaska Permanent Fund earnings to pay for state government.  Both chambers have passed the bill, but the House tied its version to a tax increase.
"If you want to make that linkage, then what we need to have on the call is SB 26," Kelly said. "Because SB 26 funds everything."
While the House will stay in Juneau for the special session, most senators are going to reconvene in Anchorage to hold committee meetings. Kelly said that with much of the focus on a crime bill that the Senate has already passed, it doesn't make sense for the Senate to remain in Juneau.
Kelly said the move to Anchorage would save money and prevent disruption.
"There's no reason for us to be down here waiting for the House to act on a bill we can do nothing about," Kelly said, referring to SB 54. "We've already voted for it."
The Senate did take one set of actions today. It removed Palmer Republican Sen. Shelley Hughes from three of her four committee assignments, after she left the majority caucus.
Kodiak Sen. Gary Stevens will take her place on the budget-writing Finance Committee. Soldotna Sen. Peter Micciche will sit on the Labor and Commerce Committee, and Fairbanks Sen. Click Bishop will be on the Resources Committee. All three of Hughes' replacements are Republicans.