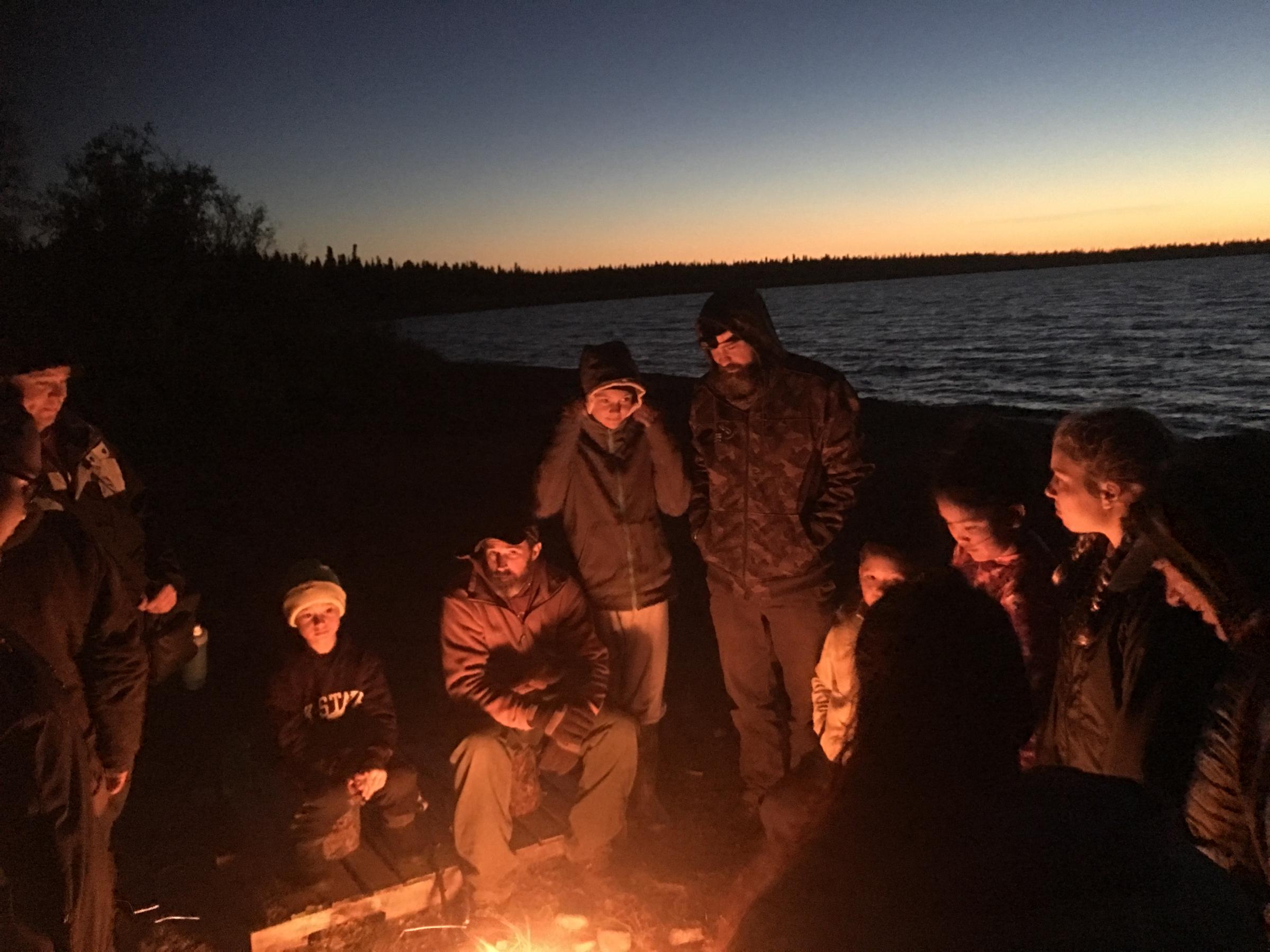 Igiugig is more than half way through their local foods challenge.
The village decided to try eating only locally produced food for six weeks when the students read about a similar project in Australia.
They also incorporated a traditional hike into the experiment.
Big Mountain, 23 miles east of Igiugig, is a customary meeting place between people from Igiugig and Kokhanok.
Fifteen adults and students from elementary to high school braved the four-day hike in the wind and rain.
No dehydrated camping food lightened their packs. Since the walk was a part of the food challenge, their menu included moose, dry fish and fresh produce.
"It was tough because some of us had to carry apples and heads of lettuce and stuff like that instead of just packing Mountain House (freeze dried food)," eighth-grader Kaylee Hill said.
All seemed to agree that one part of the trip was most difficult — swimming Belinda Creek.
"That was our biggest obstacle," said Tate Gooden, one of the adults leading the trip. "After walking most of the day along the beach that was flooded due to the wind, so we were walking through waves, we were already wet. Then at the end of the day, we had to swim across a frigid creek. It was a little daunting, but everybody rose to the occasion."
The first group that swam across got a fire going so everyone could dry out quickly. It provided an opportunity for the adults leading the hike to talk with the students about preventing hypothermia.
The sun came out on Saturday for the final stretch of the hike.
The hikers celebrated with a traditional foods feast at Big Mountain.
People who stayed behind in the village brought the meal by skiff.
After the meal, because there is a runway at Big Mountain, everyone was able to fly home.
"Part of the goal was to connect to the landscape that we inhabit and then also connect more to our bodies, and I think we did that. I think at the end everyone was empowered by the fact that we made it," Gooden said.
Back in Igiugig the local food challenge continues.
Moose meat dipped in seal oil, bone soup, dry fish and berries are just some of the foods Igugig has been dining on for the last few weeks.
Many have made accommodations, participating in the challenge with differing degrees of rigor. Some have decided to eat only foods produced in Alaska.
Some have resolved to stick with minimally processed whole foods.
Hill has made eating whole foods her goals. Pizza is the food she misses most. But almost four weeks, into the challenge she feels the benefit of eating well.
"I feel like I'm getting a lot more sleep than I used to get," Hill said.
Her father, Karl Hill, is the only one in Igiugig sticking to the most rigorous version of the challenge, eating only foods produced within a 100 mile radius of the village. He too has noticed that he is getting better sleep.
"One of the main things I've taken away is that it just takes a lot of preparation to be able to eat this way," Karl Hill said.
Overall, he noted that the communal nature of the project has kept people motivated.
"I think doing it as a whole community is key to having more people stick with it at one level or another. We have different levels of participation, but I think everybody is having a positive experience of it," said Karl Hill, adding with a laugh, "We do talk about food a lot."
The six-week project wraps up Oct. 28. Residents of Igiugig have been taking their weight, blood sugar and heart rate every month during 2017.
When they finish the food challenge they will compare the results to see what affect their participation had on their health.