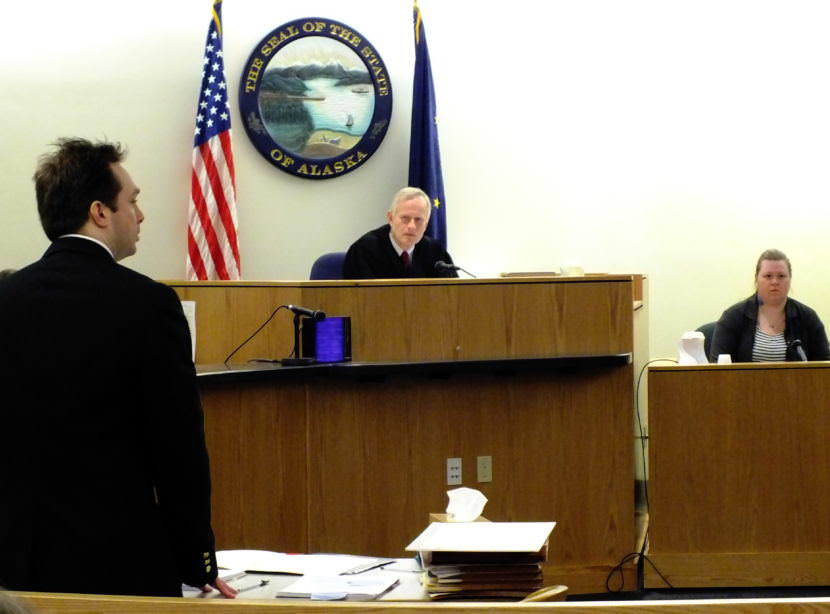 When Tiffany Johnson retook the witness stand Tuesday morning to face cross examination by Christopher Strawn, the tension was so thick that an ordinary knife wouldn't do. You'd need a two-man crosscut logging saw.
Strawn is on trial again for the death two years ago of Brandon Cook in Johnson's new trailer at the Kodzoff Acres Trailer Park. He's accused of firing a shotgun at Cook, from close range and from behind as Johnson witnessed the event.
The last jury trial ended in a mistrial eight months ago, thanks in part to his public defender. For some reason, the day laborer Strawn has ditched his professional criminal defense attorney and is trying to defend himself. He has no legal experience. Strawn can consult a professional attorney, Nicholas Polasky, who is serving as stand-by counsel during the trial.
That's the background for the awkward and tense scene that played out in Juneau Superior Court on Tuesday. It was pin-drop quiet as the accused shooter of Brandon Cook stood up and asked questions of the only person who witnessed his alleged crime. She was sitting on the witness stand about 20 feet away.
"Hi, Mrs. Johnson," said Strawn, as he started his cross-examination. "Is it true you used to be called Mrs. Albertson?"
"Yes," Johnson answered.
The tension dissipated as Strawn continued with his confusing or poorly-phrased questions. Sometimes it seemed he was testifying instead of asking questions. Other times he'd miss opportunities for follow-up questions, start to veer off on irrelevant tangents, or skirt close to inadmissible testimony.
Strawn and Assistant District Attorney Amy Paige, the prosecutor in the case, were frequently called up for bench conferences or impromptu meetings with Superior Court Judge Philip Pallenberg. Sometimes the jury was sent out of the courtroom for extended discussions.
Finally, after four hours on Tuesday, Strawn finally asked Johnson about the shooting in the trailer's kitchen.
"When I heard the loud boom, I froze for a second and I turned around, and that's when I saw Brandon (Cook) looking at me right before he fell to the ground," Johnson remembered.

"And, was there any further conversation?" Strawn asked.

"I screamed, 'What did you do?' a couple times, and then you stated to me 'Don't worry. I don't have to kill you, too," Johnson said.
Johnson stuck to her story and maintained her composure. She cried just a little when Strawn played a portion of the 911 call again. At first, she wouldn't look at him.
Strawn's questioning of Johnson occasionally put the rest of the courtroom back on edge. For example, Strawn tried questioning her about tattoos worn by her then-fiancé Brandon Johnson. Strawn wanted to ask about a connection to the supposed gang "The Southeast" as part of his alternative perpetrator defense.
Judge Pallenberg ordered Strawn not bring it up, unless he provided evidence that any "gang" — and, yes, he used air quotes at one point — engaged in criminal activity that included murder.
"If Mr. Johnson and someone else in the area have similar tattoos, you know, maybe they both belong to the Audubon Society and are bird watchers and they have a bird tattooed on their arm. So what?" Pallenberg said. "There needs to be something more than that, I think, for this to be relevant or admissible."
With the jury out of the courtroom, Strawn was warned not to ask Tiffany Johnson about a 911 call she made after she and her fiancé had a fight about a month before the shooting. But Strawn could ask about the couple's supposed quarreling a week before the shooting.
Another "rabbit-hole" included Strawn questioning Tiffany Johnson to suggest Brandon Johnson killed Brandon Cook out of jealousy. But Strawn back-filled the hole and trapped himself when he asked Tiffany Johnson if she knew where Brandon Johnson was at the time of the shooting.
"Can you tell me where that is, please?" Strawn asked.
"My husband was at home in the apartment we were renting out with our two kids," Johnson answered.
At the time, Tiffany Johnson's children were 3 years old and 1 year old.
In other testimony on Tuesday, a state medical examiner who performed the autopsy on Brandon Cook said she determined the cause of death was a brain injury due to a shotgun wound to the head. The manner of death was homicide.
Paige said they have 15 more witnesses lined up and their testimony might run into the middle of next week.