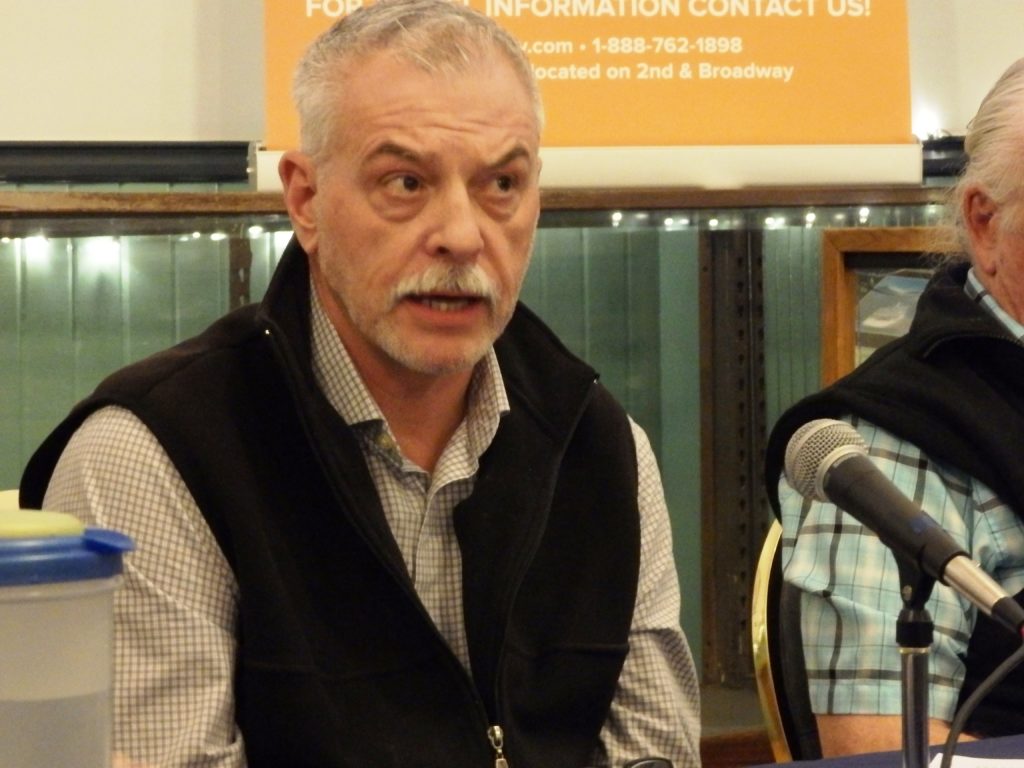 A longtime Skagway Assemblyman who in 2016 was sentenced to a year in prison on federal tax charges will return to the dais.
He won by just five votes. And, the city has its first female mayor in two decades.
It was too close to call on election night.
But, after 79 absentee ballots were tallied, Dan Henry narrowly beat out write-in Philip Clark for an Assembly seat.
The race came down to just five votes.
Henry previously served on the Assembly for 19 years. He recently returned to Skagway after serving out a prison sentence for failing to pay income taxes.
Twice the Alaska Public Offices Commission has found Henry in violation of candidate disclosure laws.
Henry is appealing one decision, and a third complaint is pending with the commission.
Henry did not return requests for comment by deadline for this story, but he did address the violations in a candidate forum before the election.
Henry said he did not purposely leave out information about his income and debts. He said the first case was a misunderstanding and the second was an oversight on his part.
"Does anyone base their voting choice on whether I do well or not so well with my business? No, they are going to vote for me if they believe I am an active member of my community who is willing to sacrifice time from that business," Henry said.
Henry was the only Assembly candidate on the ballot. He was challenged by four write-in candidates.
Clark, a political newcomer, was one of them. He filed as a write-in to give residents more voting options.
"It was a close call but, I was actually thinking about this at the assembly meeting last night – how cool it was to see the political system in action in a local setting and just be a part of that," Clark said. "I'm fine with the election results."
Clark said as the campaign went on, he identified specific issues he wanted tackle in office.
"Things like housing shortage issues, things like long-term infrastructure development," Clark said.
He hopes to continue to pursue these concerns in other areas of the local government.  And, he said  while it's too soon to make any commitments, he could "easily" see himself running again.
The tidelands lease with White Pass and Yukon Route Railroad took center stage during this year's election.
In 2015, voters rejected a 35-year waterfront lease extension with the company. Though it wasn't on the ballot again this year, the lease was on voters' minds. The Assembly is currently negotiating a shorter, 15-year, agreement with the railroad.
Two candidates who want Skagway to control the port prevailed in the election.
Monica Carlson unseated two-term mayor Mark Schaefer. Write-in David Brena earned the most votes for Assembly by a wide margin.
Roger Griffin, who ran unsuccessfully for an Assembly seat, said he's pleased to see Carlson and Brena in office. Griffin also opposes the lease. He fell 25 votes short of Henry.
Henry has not said where he stands on the new lease.
At the candidate forum, he said his opinion doesn't matter, because the new agreement will be brought to voters. But, he said if the new contract is rejected he'd work toward building a new floating dock for larger cruise ships.
"I would put my effort into trying to do anything that would facilitate business in a positive way for the city of Skagway as we keep moving along in this industry," Henry said. "We are as good as any community is in the tourism business. And that is our lifeline at the moment."
Carlson is Skagway's second female mayor.
In recent years, the town's elected government has been male dominated. Carlson will lead an entirely male Assembly.
Outgoing Mayor Schaefer held the position for four years, and supports the developing contract with White Pass.
At Schaefer's final Assembly meeting, port commissioner Tim Bourcy thanked him for his years in office.
"For all his hard work and dedication," Bourcy said. "And doing I think and exceptional job as mayor for the municipality of Skagway. He kind of came in and was handed the White Pass lease situation that had been going on with two mayors prior. And I think Mark worked diligently to try to bring this to a conclusion."
Carlson, Brena and Henry will attend their first Assembly meeting in their new positions Oct. 19.