Voting is underway in the City and Borough of Juneau. There are three Assembly seats and two school board seats in play. There are also two ballot propositions.
At a downtown polling precinct inside the Northern Light United Church, chief poll worker Terry Cramer said 40 people had voted in the first hour.
"Polls are open until 8 o'clock tonight. We hope everyone comes before then," Cramer said.
There are 13 polling precincts. City Clerk Laurie Sica says that registered voters can vote at any polling place in the municipal election.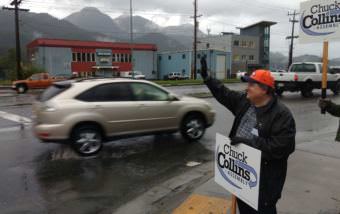 "If people are running late and can't get to their home polling place, they can go to any location and vote a 'questioned ballot' and that will be reviewed and counted and thrown into the mix on the Friday count after the election," Sica said.
From 7:30 p.m., the Juneau Assembly chambers will act as the central hub for early returns. Unofficial results are expected to be announced after 9 p.m.
People with questions about where to vote can call 1-888-383-8683. KTOO's 2017 election guide has information on candidates and where they stand on the issues.