For the second time in two years, a Skagway political figure has been ordered to pay a fine for incomplete financial disclosures.
Assembly hopeful Dan Henry failed to disclose substantial debt on his candidate paperwork.
He will still be able to run for office in the upcoming election.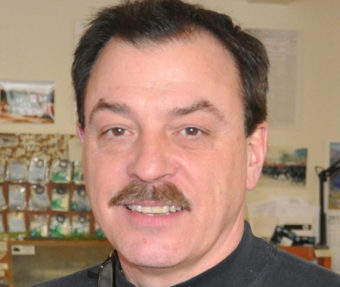 Dan Henry's troubles with Alaska's campaign finance watchdog started last year, when he was on the assembly.
His candidate financial disclosures, also called POFDs, were used as evidence in a federal investigation. In that case, Henry pleaded guilty to not paying his federal income taxes over a number a years.
He was sentenced to more than a year in prison and fined about $600,000 in restitution to the IRS.
The Alaska Public Offices Commission launched its own investigation after a citizen complaint. APOC found that Henry did not report his income on multiple campaign finance disclosures. For those violations, he was fined $22,000 – a decision which he is appealing.
Henry served his prison sentence and returned to Skagway at the end of the summer, in time to file as an assembly candidate. As required, he filled out a new financial disclosure form.
And Skagway resident Lynne Cameron noticed that it didn't provide a complete picture.
"I wanted to see someone who wanted to run for office (who) would volunteer their financial information fairly," Cameron said. "I could make a judgment about whether they would be an appropriate candidate.
Cameron filed a complaint with APOC, saying Henry did not disclose the debt he owed the IRS and APOC. And the commission said Cameron was right, Henry violated state regulations with his incomplete disclosures.
Henry says it was an innocent mistake.
"It was an oversight on my part," Henry said. "I don't think there's any gross negligence there … due to (KHNS) reporting, the Skagway newspaper, KTOO. I think everybody is pretty much fully aware. I don't think it's anybody being kept in the dark in any way shape or form."
When asked why, after the 2016 APOC case, he wasn't more diligent in filling out his POFD, Henry said, "I guess I should've sent the POFD to my attorney and my accountant just to make sure."
"Because of the 2016 situation, no that didn't turn me into a perfect person," he said. "It was an oversight."
Henry says said will pay the $220 fine and turn in a new, complete financial disclosure form.
Cameron, who filed the complaint, asked APOC for a harsher penalty.
She said Henry should not be able to run for office in the upcoming election.
But the commission did not address that request in its final order.
Cameron said she's not disappointed and respects APOC's process. But she plans to vote for write-ins on Election Day. Henry's only challengers for assembly are write-in candidates.
"If someone says they represent me, then I want to make sure that's true, and I want to make sure they're representing the values that I believe should be held up by any candidate," Cameron said. "That is my job as a voter."
Henry is facing one more APOC complaint, from Skagway resident Roger Griffin.
Griffin makes the same allegation as Cameron, and an additional one. Griffin says Henry didn't report gifts in financial disclosures from previous years.
Henry calls that accusation 'dead wrong.' APOC will decide within the next few months.