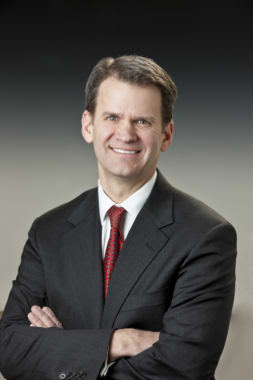 Gov. Bill Walker on Thursday announced he's appointed Sheldon Fisher to be Alaska's Department of Revenue Commissioner. Fisher is moving from being the Department of Administration commissioner.
Fisher said he didn't lobby to replace Randall Hoffbeck.
"The whole reason I'm working for the governor is because I believe in what he's trying to do, and I think this is an opportunity for me to serve," he said.
Fisher is an Anchorage resident who plans to commute to Juneau. Fisher worked as a business executive before becoming commissioner of administration after Walker's election in 2014. His most recent private sector position was as chief operating officer of McKinley Capital Management and he previously worked for Alaska Communications. The administration position was his first public sector job.
"In the private sector, when you want to make a decision, there's a more streamlined process," Fisher said of decision-making. "Where in the state, there's a lot of stakeholders that both — whether they're in government or influencing government — there's a lot of interested parties that you have to kind of work and manage and bring along to kind of carry your position."
Fisher said he'll draw on his private management background. He's also served on the Alaska Permanent Fund Corporation board of trustees, as well as on the Alaska Retirement Management Board.
"I think I've got a background that can provide some perspective that will be helpful, but I'm humbled by the opportunity, as well," Fisher said.
Deputy Commissioner of Administration Leslie Ridle will serve as the interim administration head until Walker names a new appointee.