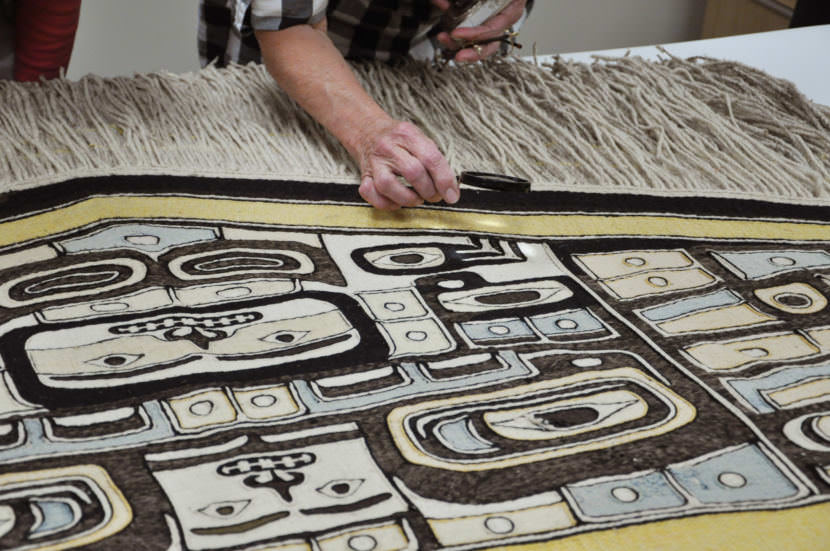 A 100-year-old Chilkat robe has come home to Southeast Alaska. A Seattle couple originally purchased the robe in 1995. Upon realizing its significance, they began reaching out to experts about its origins.
Alaska Native weavers, historians and area residents are eager to see the return of the sacred clan object.
Chuck Smythe directs the culture and history department at Sealaska Heritage Institute. He said bringing home sacred objects like the robe is extremely valuable.
"Particularly items like a naaxein, a Chilkat robe, because they were rare and they were made by only very wealthy families, clans, and designate usually clan history usually related to a place where a crest was acquired," Smythe said. "Just very important, sometimes they're associated with a personal name that's passed down and all that is kind of encapsulated in the design on the robe."
Smythe said Chilkat weavers will study the robe to learn how it was put together.
"Weavers can see things in them like the robe that's coming tomorrow. Delores Churchill and another weaver looked at it and they could tell that there had been an apprentice weaver assisting the master weaver who made it. They just said it was really a spectacular piece. The round circles in the middle were extremely well made and they saw the features of it were really beautiful."
The robe is considered to be at.óowu, or a sacred clan object or treasure.
Sealaska Heritage is celebrating the robes return in a homecoming celebration that begins at 1:30 p.m. Saturday at the Walter Soboleff Building in the Shuká Hít clan house. Sealaska Heritage also plans to stream video of the celebration on Facebook Live.