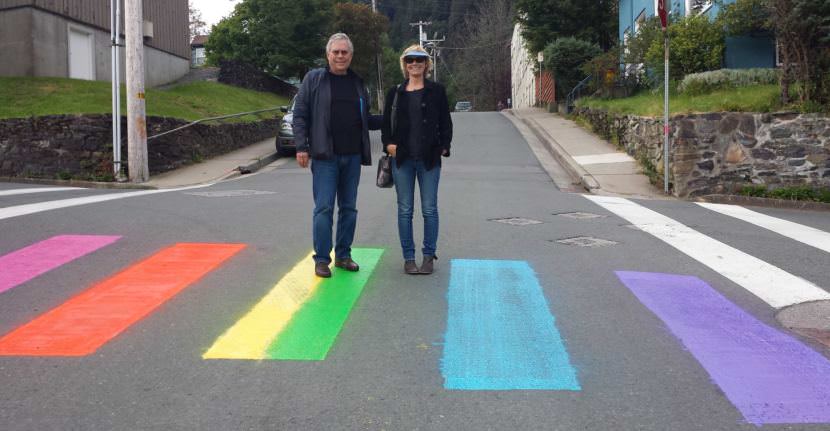 A crosswalk in a downtown Juneau neighborhood is constantly being painted over in rainbow colors.
Depending on who you ask, it's either an expression of creativity or simple vandalism.
The corner of 7th and Gold Streets isn't particularly busy. But one of its crosswalks has been getting a fair amount of attention since someone began painting a rainbow over the white lines.
Sue Warner lives two doors down.
"The first time I saw it, I was kind of having a hard time and I was walking to work on a sunny morning," Warner said. "It just was bright and cheerful and it made me smile. And then I've watched other people stop and take pictures and point to it. I see it makes everyone smile. It's a bright cheerful color."
The city had the crosswalk repainted. That was last summer.
"The manual for uniform traffic control devices doesn't give us an option. Crosswalk lines are to be white. It's in bold in the regulation," said Ed Foster, the city's superintendent of streets. "They have to be white and that's based on studies that they've done to determine that the white is more visible than any other color. So they have to be white."
It didn't end there. The rainbow has been reappearing.
Each time it does, the city has to repaint. It's happened at least three times this summer.
Foster said it's getting ridiculous — and expensive.
"We contract out the roadway to a contractor and they charge us $195 for every crosswalk," Foster said.
An email list maintained by the Downtown Juneau Neighborhood Association lit up this month with discussion about the fate of the rainbow.
It found many fans. There's been at least one offer to pony up hundreds of dollars for the city's expense to date if they'll just leave it alone.
Foster said people can petition the Assembly for a variance to allow multi-colored crosswalks, if they want. Otherwise it's vandalism.
"It's no different than someone takes a spray can and starts painting light poles, trash cans, power transformer," Foster said. "It's graffiti and we're gonna clean it up."
The identity of the guerrilla crosswalk painter or painters isn't known. There's been no claim of responsibility; no manifesto left at the scene.
Neighbor Sue Warner said she appreciates the effort whoever might be responsible.
"I don't know who's painting it … the more color in our lives in this gray town, the better," she said.
But the city's streets department isn't amused anymore.
Foster has this simple plea: "Please stop painting over the white paint."
Editor's note: The headline has been changed to reflect that a crosswalk has been painted rainbow colors. A previous version of this headline incorrectly referred to it as a sidewalk.