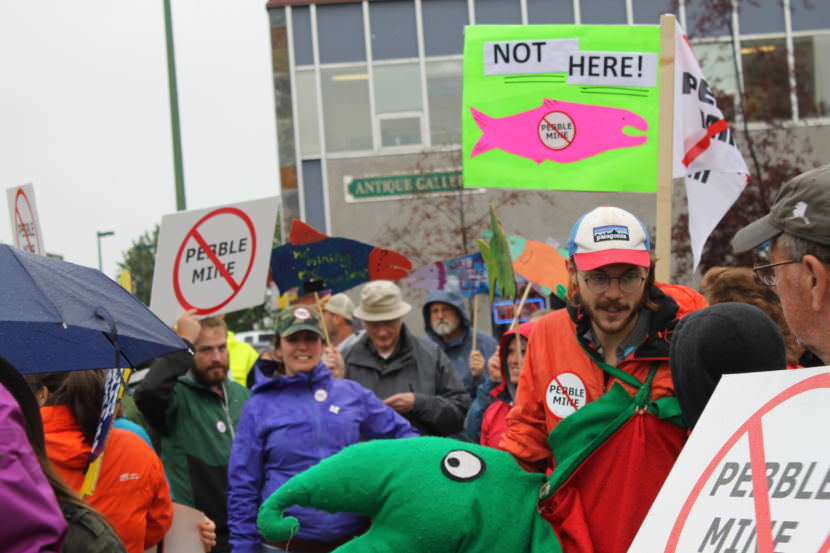 While the new advisory committee for the Pebble Partnership met for the first-time in Anchorage on Monday, opponents of the Pebble Mine gathered outside for a rally.
Alannah Hurley with United Tribes of Bristol Bay was invited to the meeting, but she said they declined because the tribal governments that she represents have already made their position clear.
"Why would the people of Bristol Bay waste our time to do this again so that the Pebble Limited Partnership could pretend that they're listening to the stakeholders, the people of Bristol Bay, and Alaskans?" she said. "If they were listening, they would have been gone a decade ago."
Hurley said the rally was meant to highlight unity against the mine across the political spectrum.
"We are really at a turning point in history where we're either going to trade the last great salmon sockeye fishery on the face of the planet for a foreign mining company to develop a gold mine at the headwaters of that fishery or we are going to choose a sustainable way of living and a sustainable economy," she said.
Mike Heatwole, a spokesperson for the Pebble Partnership, said the company formed the advisory committee to include local people in the conversation.
"That's really to give us a range of feedback, ask us hard questions, potentially offer ideas that we might not have thought of and really kick the tires aggressively, if you will, on all the things that a development at Pebble could be – the social concerns, the environmental concerns, the economic opportunities," he said.
The company plans to release a plan for the mine this fall, says Heatwole, along with a transportation plan to get minerals out.
With a more favorable administration in Washington and an EPA proposal to withdraw a determination blocking development of the mine, Heatwole says the company is forging ahead.
"The remaining goals are to file a permit by the end of this year along with having a longer-term partner to get us through that permitting window," he said.
The 90-day comment period for the EPA proposal to withdraw their opposition to the mine kicked off July 17. It officially ends on October 17.