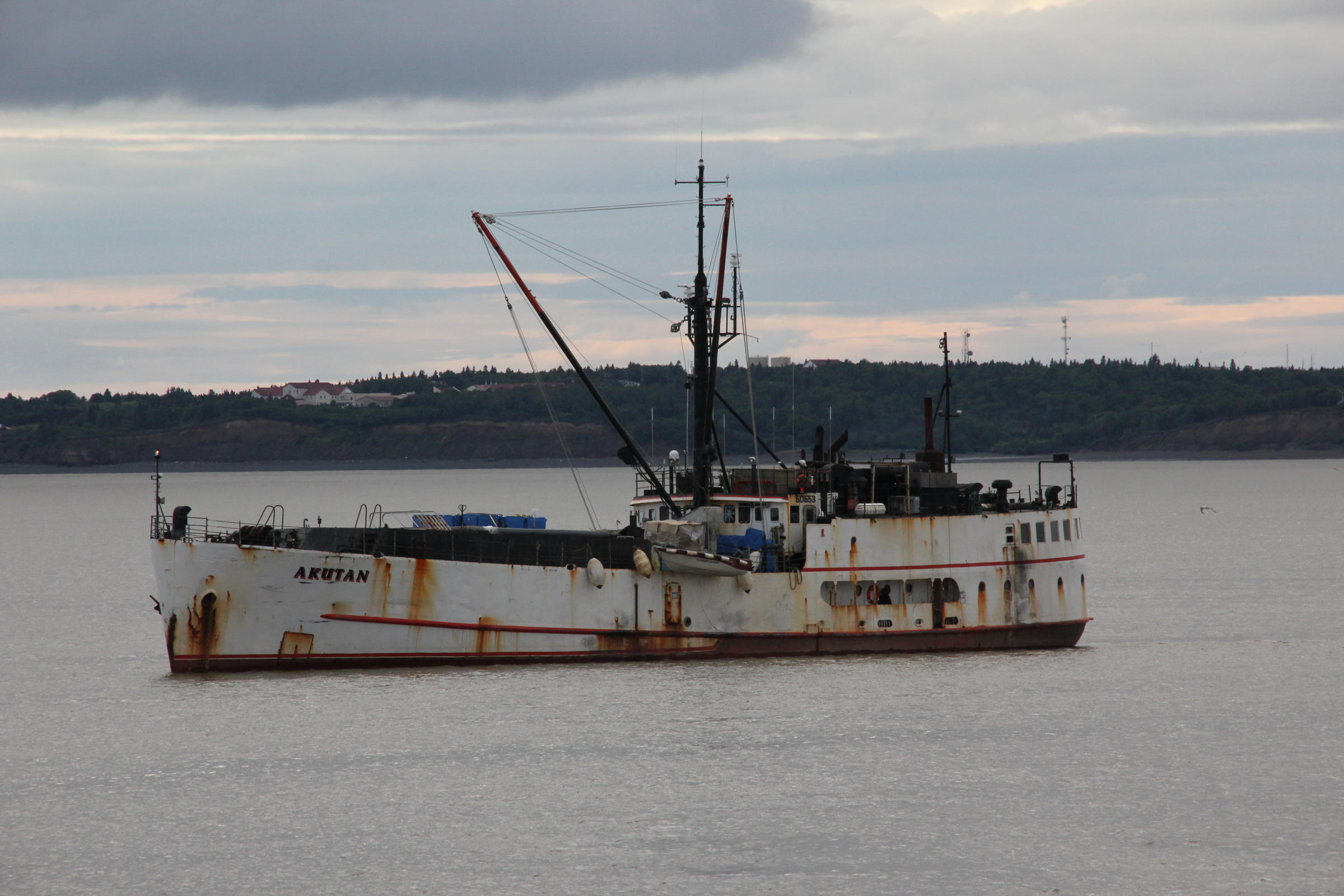 Fiasco. Disaster. Nightmare.
These are words used by those involved with the floating processor Akutan to describe a fishing season gone terribly wrong.
The Akutan, owned by Klawock Oceanside, Inc., was supposed to custom process up to 100,000 pounds of Bristol Bay salmon a day for a small fleet of fishermen under the banner Bristol Bay Seafoods.
After July 25, it was bound for the Kuskokwim to give local fishermen their only salmon market.
Nothing went right.
The owners, the fishing fleet, the lender, and the crew have gone unpaid or lost big sums of money.
Onboard the vessel sits 130,000 pounds of headed-and-gutted sockeye salmon, the only bounty other than the vessel itself that may eventually compensate the parties involved.
The owners, fishermen, and other parties filed liens against that fish as the 180-foot floating processor Akutan and a skeleton crew limped out of the silty, shallow Nushagak Bay Sunday to seek repairs at a blue water port.
"We're in peril," Captain Steve Lecklitner said Saturday. "We know we cannot stay in this river. It's breaking down our systems. The owners have basically abandoned the vessel. The mortgage holders and the lenders have not established contact. I'm trying to get parts for our generator, and as soon as that's done, it's our intention to move the vessel to Dutch Harbor."
Best laid plans
After last season a group of about 15 Bristol Bay drift boat fishermen decided to again pursue their own market. These fishing families are members of an Old Believer community in Homer and are commonly, and not pejoratively, referred to as the "Russians" in Bristol Bay's fleet.
Skipper Kiril Basargin, a leader of this group, has been vocal about his frustration with the "mega corporate seafood buyers" that process 99 percent of Bristol Bay's catch, faulting them for catch limits and low prices. In 2015 he brought his concerns to the state's board of fisheries, telling them that Bristol Bay's seafood companies promise "every year that they are going to keep up, and not holding there [sic] promises. Holding on, the commercial fisherman loses money every minute while they sit. We finally got tired of sitting and losing our seasons. The huge corporations control the markets and commercial fisherman. Finally in Bristol Bay in 2014 Wild Legacy Seafoods was born," he wrote.
What happened to Wild Legacy Seafoods is unclear. But ahead of the 2017 season, Basargin and others formed a new company, Bristol Bay Seafoods LLC, to be their own "buyer". They hired Klawock Oceanside to be their processor.
"And really they've lost their whole season to mismanagement and mis-operation of the F/V Akutan," said William Earnhart, an attorney for the Bristol Bay Seafoods fishermen.
Klawock Oceanside is owned by Larry Lang, who says his career in Alaska fish processing began with a job shoveling shrimp out of shrimp boats in Seward in 1963. From there, Lang worked in Ketchikan, then ran the Sitka Cold Storage Company till its 1973 fire, and went on to operate fish companies in Kodiak, Klawock, and floating processors at sea.
"The only thing I haven't processed is pollock," the 75-year-old says with a laugh.
Lang, who lives in Poulsbo, Washington, also ran tenders for a numbers of years, too.
"I lost so darn much money being a cash buyer in Bristol Bay, and I started to raise a big family, and I just had to get something that was a little more secure. So I tendered, and we did real well with that. And then uh, we decided tendering was boring," Lang says, neglecting to mention a July 2001 fire that sank his 72-foot vessel Excursion near Port Moller. He and three others were rescued at sea by the Coast Guard.
Lang says he leased a fish plant in Klawock for eight years before purchasing the 180-foot vessel Akutan four years ago. Built in 1944, the Akutan processed fish and crab in Alaska waters for many years, but Lang says had been "tied up" in Seattle for two decades before he got ahold of this one "heck of a boat." He sent the Akutan to buy salmon in Norton Sound for three years, then tried getting into cod in 2016. That did not go well.
"We lost our butt on codfish at Dutch Harbor. We just … I never lost money like that in my life."
Lang says he sold some property to help finance the Akutan's 2017 operations, but money was running low. His primary lender, Alaska Growth Capital, was tightening the purse strings, too.
Earnhart, the attorney for the fishermen, says his clients had by January firmed up their agreement with Lang, who was also planning to buy Kuskokwim salmon after Bristol Bay.
According to their contract, Klawock Oceanside would have the Akutan ready process 100,000 pounds of sockeye per day in Bristol Bay by June 15, and the season would end on July 25. Bristol Bay Seafoods would pay Klawock $16,000 per day for those 40 days, plus the same rate for four additional days for travel time from Seattle. That would total a little over $700,000 Lang would raise to run the boat, pay the crew, and turn a profit before heading to the Kuskokwim.
The fleet loaned $100,000 to Lang upfront last spring, which the contract stipulated would be paid back first. They purchased $70,000 in packaging, scales, and other supplies, and loaded them on the boat. Bristol Bay Seafoods loaned a further $230,000, according to their attorney, as it became clear the Akutan was in need some of important last minute capital.
In early June the fishermen told Icicle Seafoods they had their own market this year and would not be fishing for the company. Lang hired a captain and crew to run the vessel and crew members to process the fish, all of whom began trickling into Seattle before June 15. Fishing was already underway in Bristol Bay, and an unexpectedly large season was about to break wide open.
A really late start
As per the contract signed on May 30, the Akutan was to be on the fishing grounds by June 15. Unbeknownst to the crew arriving in Seattle, and perhaps unbeknownst to the fishing fleet, it was pretty clear that deadline was not going to happen.
According to Lang, his bank Alaska Growth Capital, a wholly-owned subsidiary of Arctic Slope Regional Corporation, had seized the boat for his failure to make payments on the principal loan.
"They had the boat for two weeks," said Lang. "We couldn't even get on it to work. We tried, but it took another week to get everything moving, so we were basically three weeks behind by the time we got everything in flux again."
AGC did not confirm the details of the arresting of the Akutan prior to the season, but did confirm that it did not have ownership post-season. Lang says the bank figured out it probably could not auction the Akutan for what he still owed on it.
"It was a bad decision to seize the boat," he said. "They came to us and wanted to give it back."
"We had a lot of problems getting off with the boat running," said Curtis Bischer, a 55-year-old from New Orleans, Louisiana, who signed on as the cook. Bischer said he got his kitchen prepped and food loaded while he watched the captain and crew clear remaining problems with the Coast Guard. Then they set out from Seattle.
"Little did we know a nightmare was coming," said Bischer, who says he has been working offshore since 1990, mostly in the Gulf of Mexico.
Just outside of the Strait of San Juan de Fuca, the Akutan lost a main engine, and Captain Lecklitner turned her around for repairs. What happened over the next two weeks is unclear, but the Akutan finally made it to Bristol Bay either July 7 or July 9, depending on differing accounts. The vessel took its first fish over the rail late on July 9.
By then, according to state Fish and Game records, the total run to Bristol Bay was already 38 million strong, and set and drift net fishermen had already hauled in more than 24 million sockeye. The Bristol Bay Seafoods fleet had thus far sat mostly idle as their fellow fishermen were having their best ever seasons, especially in the Nushagak where the run shattered all expectations and set previously unthinkable records.
"The season was pretty much over," said Lang, who stayed in Washington but posted his son Carson Lang onboard as the processing manager. "It was over. There was a little bit of fish left in Egegik, and a little bit of fish left in Ugashik. So we didn't have much of a season for these guys."
That the season was over is not quite accurate. From July 10 till July 30, the state went on to tally another 13 million sockeye harvested, and the total run climbed past 56 million, the fourth largest in Bristol Bay's history.
The run was so unexpectedly big that most of Bristol Bay's processors "plugged up" and put their fleet on catch limits or closures, just as Basargin complained they often do. The last thing any company struggling with the catch volume wanted was anymore fish or anymore fishermen. Icicle Seafoods did not take the Bristol Bay Seafoods fleet back mid-season, despite the urgent pleas from the fishermen for a market. The boats were able to sell some catch to Copper River Seafoods, but according to their attorney, this didn't amount of much.
The Akutan took its last delivery of fish on July 19, amounting to nine or 10 days' of fishing. Earnhart claims the Akutan was never able to live up to its contract with his clients to process 100,000 pounds per day.
"The Akutan did not appear in Bristol Bay until three weeks late, missing the heart of the season. When it did get there, it could only process about 20,000 pounds in 24 hours, and that never got appreciably better," he said. He attributed some of the shortcomings to problems with freezing and processing equipment.
"While we were in the middle of processing, the contractor of the vessel and the owner of the vessel started litigation against each for breach of contract," said Lecklitner, the captain of the boat. "And in the interim, the mortgage holder of Klawock decided to call the mortgage and all the financing dried up. Work stopped."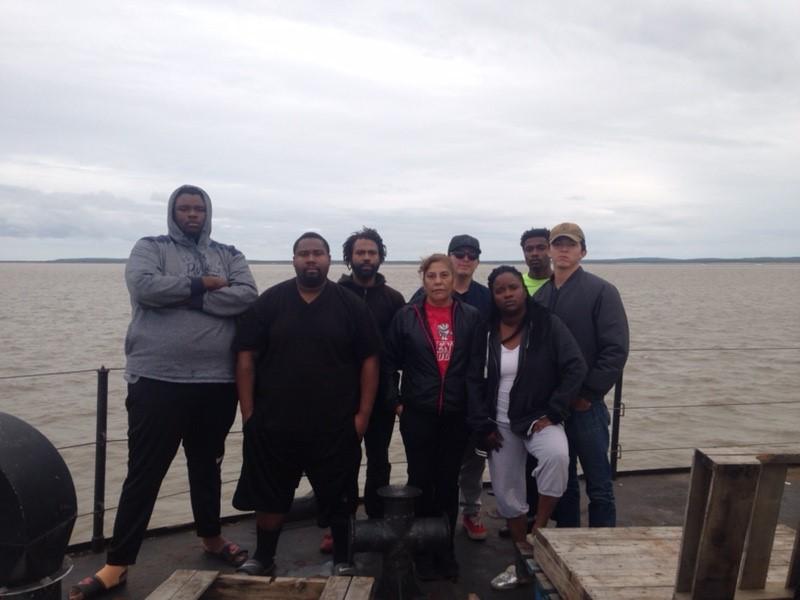 The unpaid crew and a vessel in peril
"As this trip went through, I kept checking my bank account," said Curtis Bischer, the chef, saying he never saw a deposit. "I was on 42 days, and I'm wondering, where's my pay? I'm supposed to be getting paid $125 a day, with a bonus on top of $125 a day upon finalization of the trip. Well, they breached their contract for non-payment. They were not paying me. I was working virtually for free, which the whole crew was also."
Most of the rest of the crew on the Akutan were working their first job at sea, and most had been out of cell phone and internet range for weeks by the time they realized no deposits had been made. For those hired to process fish, they had earned nowhere near the hours they expected, and as Bristol Bay's season wrapped up, were still not aware that the follow on work in the Kuskokwim was falling apart, too.
On July 23 the Akutan anchored up outside of the Dillingham harbor, presumably waiting for instructions on what to do with 130,000 pounds of frozen sockeye onboard. Darlene Drummer from Rosharon, Texas, says two days passed and the crew began to get restless. She said Carson Lang, Larry Lang's son who was onboard as the processing manager, still relayed optimism of more work in the Kuskokwim.
"He calls a group meeting and says, 'When we get over there, we're going to start processing fish, and it's going to be a lot of work. We're going to do at least a hundred hours per week, it's going to be continuous.' So we're happy because we know we're going to start clocking those hours we need to earn that income," Drummer said.
As the days went by, the crew grew more anxious. They were not privy to the specifics of the negotiations between the parties. Drummer says they heard the fishermen had backed out of the deal, the bank would probably seize the boat, and that there might not be more work in the Kuskokwim.
"But we're just processors, we don't know what's going on, and we don't even know that language," she said. "This is our first year doing it. All we know is we were contracted to do a job, we worked, we met our obligations, and we just want to get paid and go home."
To add to the misery, the boat was having an increasingly difficult time staying on anchor near Dillingham. An engine went down, as did a generator. Food was running low, and the water became undrinkable. Captain Lecklitner decided to move to Clark's Point where there is fresh saltwater available to make potable water and clean out the vessel's clogged up filters.
When he did so, the crew lost their cell phone service. That is when frustrations began to boil over, says Drummer.
"We're there for like three days and we're like, 'you need to take us back to Dillingham where we can have phone access and talk to our people. Because we're not getting no answers, you're holding us out here, and you know what we can't talk to anybody. And we can't get off this durn vessel!'"
These crew members say they had been promised a 90 day contract with unlimited overtime and were planning to make at least $15,000, hopefully more. Instead, the crew were learning of mounting financial woes back home.
"People have lost their homes, they can't pay their bills, I'm getting ready to lose my health insurance. Their losses are just devastating," said Captain Lecklitner, who had also not been paid when he spoke with KDLG on August 5.
"The story is what it is," said Drummer. "These people are stuck on this vessel, they want to go home, but it's like being held captive. No one is holding a gun to our head, but basically you're being held because you don't have the resources to go home."
A temporary solution
Negotiations between Klawock Oceanside, Bristol Bay Seafoods, and Alaska Growth Capital broke down while the Akutan sat anchored outside of Dillingham between July 23 and August 6.
"We just flat ran out of money," Lang said, pointing out that the parties could not agree on what if anything should be paid to Klawock, who owns the fish onboard, and whether or not the bank holds title to the mess alongside the mortgage.
"I guess this will all be sorted out in court, sad to say," said Lang, pledging that he will pay the crew first if any money is raised from the processing, sale of the fish, or the sale of the Akutan.
By August 3, the satellite phone was turned off, and the captain heard no more from Lang, the fleet, or AGC after the bank stepped in to get most of the crew off the boat and on their way home.
Ty Hardt, senior communications director for ASRC, said AGC bought tickets for 11 crewmembers and gave them $500 each as they passed through Anchorage.
"Because we had heard what had happened with these folks, and they would be stuck in Bristol Bay if that wasn't the case," Hardt said of why AGC intervened. "As I understand these employees have been very appreciative. We were glad to do it, and I think it was the right thing to do."
Ten left the Akutan and flew out of Dillingham on a rainy Wednesday, August 2. Curtis Bischer, the chef, did not take the ticket to go home, saying he really had no home to go to without his season's pay.
"Here I am, I was dropped off in Dillingham on the side of the road, in the mud. I'm scared for what's happened to me. I've been traumatized here. I've never experienced anything like this my life," he said.
Cameron Adams, a 35-year-old from Missouri City, Texas, chose not to get off the Akutan. He worked as hard as he could for two months, calling this summer of work a great opportunity to help get his life back on track.
"I gave up a job for this. I have to nowhere to go back to. All I ever did was work for him," he said, speaking of Larry Lang. "I didn't quit, never, and I still didn't quit. I'm still working for him, as you can see, still on this boat, in hopes on maybe getting paid when I get back to wherever this boat stops."
Adams and Drummer say they have no hard feelings towards Alaska's fishing industry, and would come back to try it again.
"I would love the opportunity to go with the same expectations of making that type of money in the short period of time," said Drummer. "We're working people, that's what we do. And I'm not even mad at anybody. But I want my money."
Captain Lecklitner steamed out of Bristol Bay jaded and worn, feeling terrible for the crew who had left the boat without their wages. Lecklitner has been a captain for 15 years, running boats in various industries both in the U.S. and abroad. He said he has never seen anything quite like the 2017 voyage of the fishing vessel Akutan.
"Never, and I've been in the middle of African nations fighting over boats, and it hasn't been this complicated. The graft and corruption and everything that goes on with these African countries is pretty incredible, but I have never been in a situation that this was stressful and difficult to manage."
He reached safer port at Dutch Harbor, and said on Monday, August 14, that he believes all parties have abandoned responsibility for the vessel and the fish on board. There is no money to keep the Akutan safely moored or powered, and the captain has notified authorities of his peril. He hopes to find someone to purchase the sockeye before he shuts down the freezers. This ship's captain from Texas does not know what will then happen to the 180-foot fishing vessel Akutan.