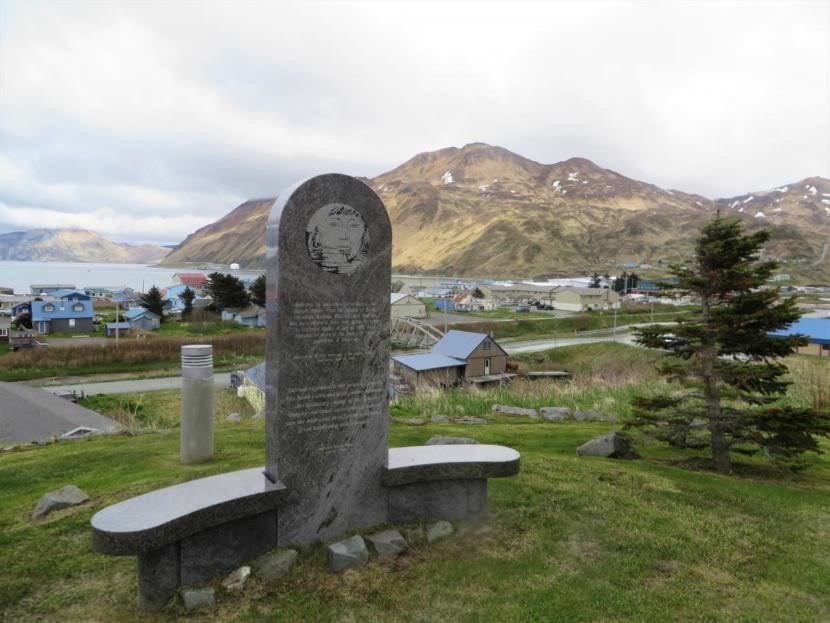 Before a small crowd at the St. George community center, Wes Kuhns said the U.S. Fish and Wildlife Service was ready to take responsibility for its actions.
"I'm here to deliver a long overdue apology for the tragedies that befell the Aleut people on our watch," said Kuhns, acting captain of a USFWS research vessel.
He was visiting St. George Island last month, to make amends in person for supervising the internment of the Unangan people during World War II 75 years ago.
In 1942, the agency removed St. George Islanders from their homes and sent them to internment camps, following the Japanese attack on Dutch Harbor. Almost 50 of them died from sickness and starvation.
"To the Aleut people interned at Funter Bay and their descendants, who continue to carry this burden, I am sorry," Kuhns said.
Anthony Merculief, a 78-year-old survivor, received the apology.
Merculief was sent to Funter Bay as a toddler, so he doesn't remember details from the three-year internment. But the experience stayed with him.
"It has an effect on you when you're treated the way we were treated," he said. "It never wears off."
Merculief said he accepts the apology. To him, the most important thing is to continue healing and keep this history alive.
"The suffering we went through, how many people died because of the poor conditions … hopefully, it'll never be repeated," he said.
That's why Merculief was glad his grandniece was at the apology ceremony. Leah Lekanof, 15, said the commemoration motivated her to learn more about what her people endured.
"When I get home, I'm going to ask my grandma about it more and my uncle," she said.
For now, though, Lekanof said she's happy to watch her Great Uncle Anthony receive an official letter of apology.
"I saw him smile so hard, in a way I haven't seen in a long time," she said.