The BBC and PBS are teaming up on a special series of live, prime-time nature programs showcasing Alaska's wildlife to tens of millions of people around the world. The first Wild Alaska Live show premieres Sunday, July 22.

About 30 cameras from the Tongass National Forest to Katmai National Park will pipe live shots to a temporary production village set up near Juneau's Mendenhall Glacier.
Wild Alaska Live schedule
4 p.m. Sunday, July 22
4 p.m. Wednesday, July 26
4 p.m. Sunday, July 30
The shows will air live on Alaska Public Television with a repeat at 7 p.m. The programs will also stream live at pbs.org/wild-alaska-live. More details on broadcast times in Juneau are posted here.
"We have a lot of equipment and we have cables running all over the place with these remote cameras. And we wondered whether we should be worried about bears digging up the cables or running through the cables" explains BBC Series Producer Adam White. "And we hadn't thought for a moment that actually our nemesis may in fact be porcupine. And we really hadn't banked on the fact that a spiky rodent actually may bring this entire production off air if it chews through the wrong cable. But whether that happens or not, you'll have to watch the show."
"You'll have to tune in." adds PBS' Senior Director for Programming and Development Bill Margol. Together they are leading a TV production team of about 80 in Juneau, plus others across the state. "We've got a great crew that's a combined crew from the U.S. and from the U.K. That's convened here and brought in everything we need to do and everything that we need to make this show. And it's quite an undertaking. We've had to bring in our own power, all the way from North Carolina, right?"
"It has come, yes," confirms White. "Juneau is wonderful, but you don't have a lot of this kit here. So pretty much everything you see here, we've had to bring in."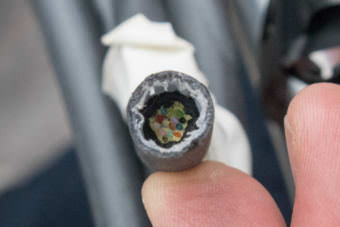 That generator truck keeps everything humming. Inside the chain-link fence their team has spent two weeks setting up tents, a heated yurt, two satellite trucks, and five trailers that house editing stations. They snaked miles – literally — of fiber optic cable through the forest, from tree to tree, through a culvert under a road, and on elevated walkways. Specially armored tactical fiber of course, to protect against critters' sharp teeth.
In the middle of the production village, a pair of semi-trailers – usually used for large sporting events like the Super Bowl – serve as the technical nerve center. Inside, more than 400 monitors display video from around the state, all in service of producing six one-hour live shows.
One of those locations is Katmai National Park, known for its photogenic brown bears snatching salmon from rivers. The park forbids traditional generators, so engineers modified equipment to run on hydrogen fuel-cells.
Underwater cameras will capture salmon, helicopter-mounted cameras will look for whales, and low-profile robotic cameras should provide more coverage on land without disturbing wildlife. Land, sea, air – even ice. Wireless cameras are deployed on, above, and possibly under the Mendenhall Glacier.
The show is all about playing the odds on where the animals will be, which is part of the allure of a live show for White. "For me, what's exciting about live TV is, that's the closest I think that you can get to going there. 'Cuz you don't know what's going to happen. When you go for a walk, when you for a hike, you don't know what you are going to see. That is what I think is so exciting."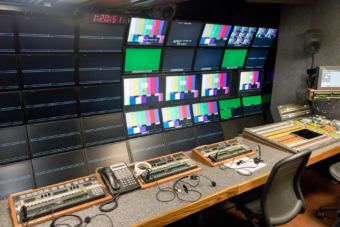 If feeding all that back to the control truck goes well technically, it's still a challenge in the moment to decide what to put on air, Margol said.
"Obviously we plan out the shows as much as possible and where we hope the action is going to be at any given point. You know, but when we're in there, there sometimes are decisions made: do we go with this, do we go with that? Do we stick with this and see if something happens or do we go away and risk that something — It's all part of live TV."
John Neary, the Director of the Mendenhall Glacier Visitor Center, has been involved in planning the project for more than a year.
"The magic of Mendenhall in many ways is the fact that we are perched right on the edge of the magnificent lake, glacier and ice field, that represents a really wild place. And so many people get to experience it, put their toes right on the edge of that wilderness, that it has the magic that BBC was looking for. As well as the great access, right to a capital city with jet service and all the accommodations."
To maximize the chances of spotting animals in their natural environment, the production is intentionally low profile — there isn't much for the public to see in person. Producers say the best way to watch is from home.