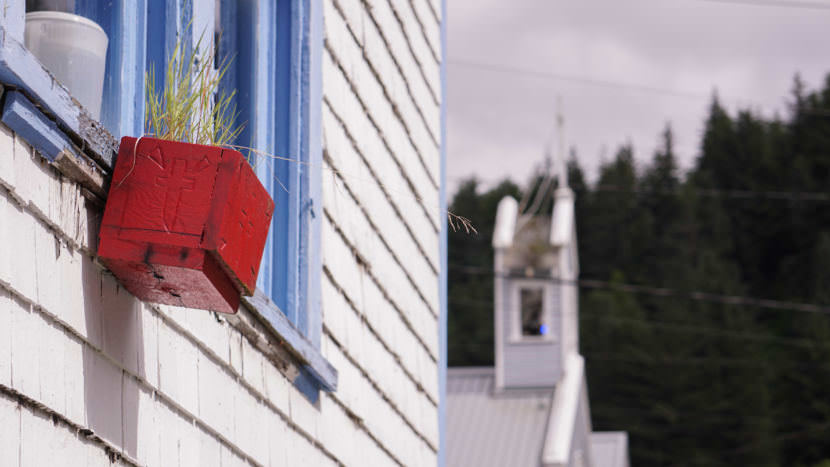 Today, Alaskans are on average less religious than the rest of the country, and a subset who don't identify with any particular religion is growing, according to data from the Pew Research Center.
"I grew up fairly religious, went to organized church, and then kept that going probably through the first year of college, and kind of lessened that. Now I don't practice anything specific," Chelsea Maller, a Juneau local, said.
Despite this, Maller says she still prays.
"I would say that's the most consistent thing I keep up with if anything," Maller said. "Just giving myself a peace even if I don't necessarily feel like if I need to go worship in a church or anything like that."
Maller falls into a growing group of the religiously unaffiliated, which can include anyone from atheists to the "spiritual but not religious" types.
The Pew Research Center refers to this group collectively as "nones," which originates from the "none of the above" option on a religion survey.
In Alaska, about 3 out of 10 people are nones. Nationwide, it's 2 out of 10. Both have grown since 2007.
A common misconception about nones is they don't have any beliefs — but like Maller many of them fall into a spiritual gray area.
Elizabeth Drescher, the author of the book, "Choosing our Religion: the Spiritual Lives of America's Nones" conducted her own research on the subject.
"It turns out that about 70 percent of the religiously unaffiliated, or nones, believe in God or a life force or some kind of higher power," Drescher said. "They don't identify with a particular religious tradition, even though they might participate in things that are kind of obviously religious to most of us."
It's not uncommon for nones to pray, attend religious services or consider religion important in their lives.
"That package that's called religion, some of it works for me, but mostly not so much all the time," Drescher said, voicing  what many nones feel. "I'm happy to take some of those resources, but I don't belong to that."
Drescher hasn't studied nones in Alaska specifically, but she guessed a seasonal workforce and fewer connections within the community could contribute to more nones.
Across the country, religious unaffiliation has increased and in every race, age, gender, education and socioeconomic background.
This concerns some religious leaders, and there are theories why people are leaving traditional religion, such as a more scientific world views, seeking out a more individualized religion and LGBTQ and women's rights.
Juneau local Rachel Smith grew up Mormon but doesn't align with that anymore.
"Mormonism is so – it's very black and white. I just never felt that way, it's a little, depending on who teaches it, it's a little bit demeaning towards women," Smith said.
Pat Casey, a pastor for the Catholic Church here in Juneau, says there are a lot of nones in town, but he also sees a lot of people who mix religious traditions.
"People tell me you know I'm a Christian, I believe in God but I like to do it in my own way," Casey said. "You know, the yoga movement and other types of meditation."
He says to say the Catholic Church is shrinking is a misconception. Nationally, immigrants are a major source of growth in the Catholic Church. Catholicism is still really popular in Latin America and the Philippines. But what draws people to Catholicism now?
"I've had a number of people come to me who want to talk about the Catholic Church where it is now, versus where it was when they left," Casey said. "Many of them find that challenging and welcoming."
In 1966, Time magazine published one of their most iconic covers ever. In bold red against a black background, a single three-word question sparked outrage and backlash.
"Is God Dead?"
Half a century later, the issues the magazine explored may sound familiar: Explaining the divine in an increasingly secular world, how theologians responded, and the move toward individualized religion.