A bear likely was just following its nose when it walked into a Lemon Creek business on Friday.
Bob Dilley is a community service officer supervisor with Juneau Police Department.
He says a bear walking into a business doesn't happen very often.
"It's fairly rare that they actually walk into a front door like that," he said. "It's a matter of luck that they come by and the door's open."
About 8:30 a.m., a Liquor Barrel store clerk posted a surveillance video on the Facebook page Juneau Bear Sightings. It shows a bear walking through the store's front door. Dilley says he watched part of the video.
"That place probably had some food in there that smelled so it wanted to check it out. "
At first glance, Roger Thibodeau, the clerk, says that from behind the counter it looked like a dog coming into the store, but then he saw its snout. "Oh my god," Thibodeau thought.
"I think that was the closest I've ever been to a bear, he said. I was basically kind of stunned when I saw it."
He described the bear as a cinnamon-colored juvenile about the size of an adult malamute dog.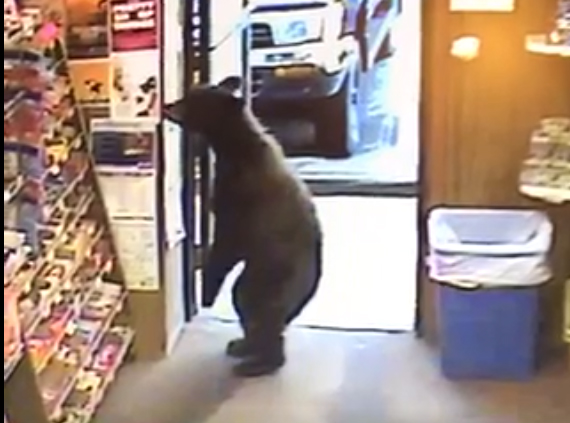 In the video, the bear can be seen walking in the open front door, looking at the candy rack and standing upright while browsing his options.
Thibodeau says a customer who was pouring his coffee began clapping his hands and shooed the bear out.
Thibodeau was worried the bear wasn't alone.
"It was very young I thought," Thibodeau said. "There might be some other ones; a mama bear maybe close by and I didn't want to get too close to it.
The bear went next door to the Harri Plumbing & Heating, he said.
Dilley has been a community service officer in Juneau for 19 years. In his duties, he regularly scares off curious bears that venture into residential areas in search of food.
"Be aware that the bears are out. There's quite a few running though different part so town," Dilley said. "If you can keep the doors closed and keep the attractants away, that would probably best."
He reminds residents that items like garbage or food can entice bears on to property.
Editor's note: This story has been updated.