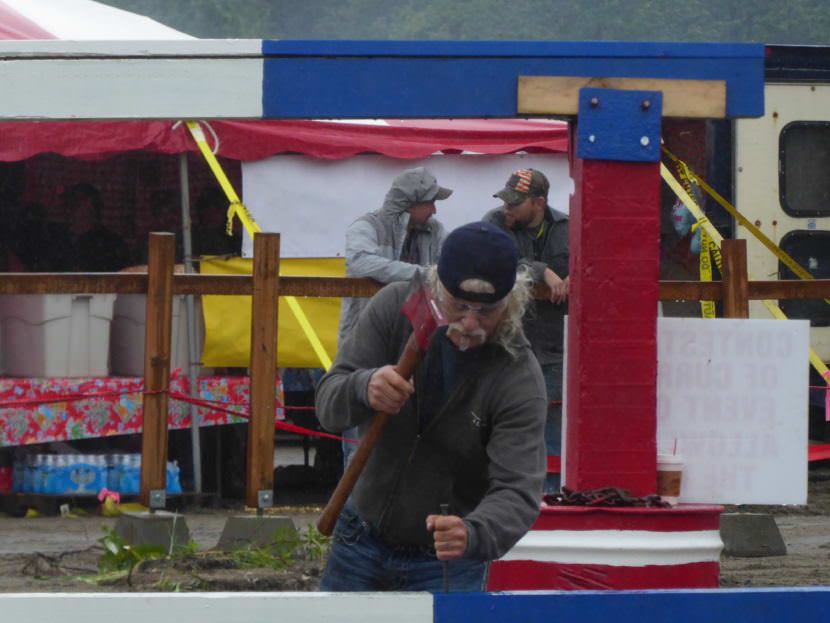 It's wet and muddy, but that isn't stopping raincoat-clad Juneau residents from enjoying the 27th annual Gold Rush Days.
The two-day celebration promotes Juneau's oldest industries: mining and logging. It has labor-intensive competitions like jackleg drilling, spike driving, axe throwing and log bucking. The games and fair atmosphere are part of a larger plan to strengthen relationships between residents and the workers who help build the local economy.
Right now contestants are finishing up the men's spike driving competition.
It's pretty much what it sounds like. Each contestant takes his turn hammering in metal spikes with the butt of an axe.
Nicolette Dunlap is sitting under the food pavilion with a friend. She says her favorite thing to watch are the men and women's speed climbing competitions.

"When they climb the pole or whatever," Dunlap says. "I don't know it's just really cool that someone could do that, because I could never do it."
Across the way, Jerry Harmon is inside of a tent planting tiny pieces of gold in three plastic containers full of murky water. He is staging a hands-on gold panning exhibit for a herd of little kids waiting outside.
Harmon lifts a bowl out of the dirty water and holds it up for inspection.
"How does that look?" he asks.
Several tiny flecks of gold shine against the rough, worn bowl.
"Everybody finds gold, (I) guarantee it. There's a lot of gold in there," Harmon says.
He has been helping with Gold Rush Days since the very beginning. He says it was originally set up to give Juneau residents a place to come meet their miners and loggers.
"So that they could have friends that were miners and we have a lot friends now that are miners," Harmon explains. "We have a lot of people who are not miners and not loggers that come out and compete as well."
Juneau was founded shortly after gold was discovered in the area in 1880. The first strikes drew hundreds of new residents and sparked a need for logging to build the mines and people's homes.
Harmon points out that today mining is still a big piece of Juneau's identity.
"The Kensington mine is operating here. The Greens Creek mine is operating here and it's part of the way of life," he says. "(It's) just a way of life!"
Harmon says usually up to 10,000 people come to this two-day event. It's hard to gauge the crowd size today, but it's easy to see that people are having a good time.
Kirk Ziegenfuss is a driller and blaster on mostly surface construction jobs. He used to be a miner and he also has been coming since the very first Gold Rush Days. Now, he jokes that he's gotten too old to compete in most of the games.
"… I used to do all the events in my younger years," Ziegenfuss says. "The hand mucking where you use a shovel or the spike driving where you're driving these big spikes with an axe. I'm getting to slow on everything else to even think about those anymore."
It's a fun time for Ziegenfuss. It's a free, family event.
"I kind of like it because I get to hob knob it with some of the miners that I know like, old timers like, this guy and some of the new guys coming up," he says. "I just show up to give (them) something to shoot for. And they're passing me up now."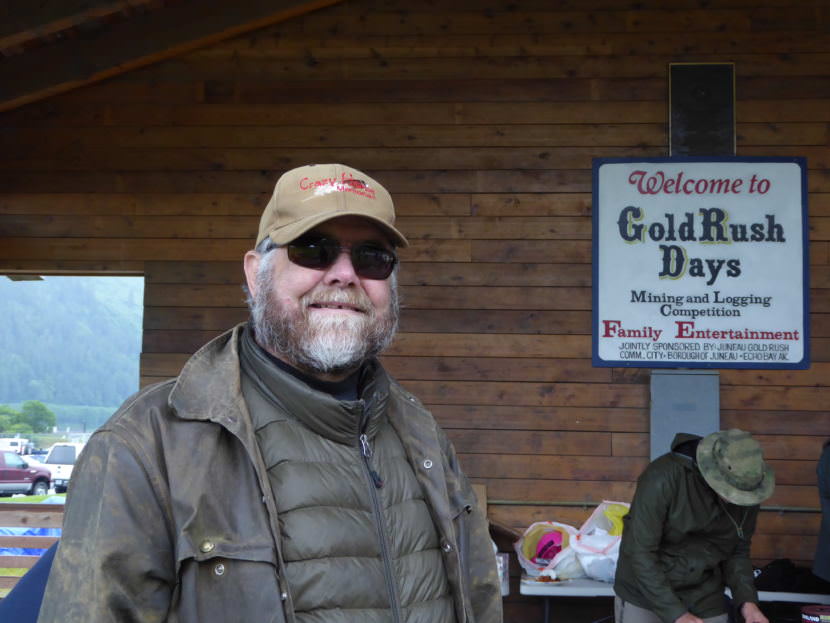 But, he also likes that the party helps connect people in the community who work and live in very different environments.
He smiles and says, "Some people actually have to get in there and get dirty and wear their bodies out. It kind of brings everybody together and gives them something to … especially in Southeast Alaska, everybody likes a good fair."
Gold Rush Days is sponsored by over 40 Juneau businesses including the Hecla Greens Creek Mining Company and the Kensington Mine. Jerry Harmon says local residents generally donate about $30,000 each year.