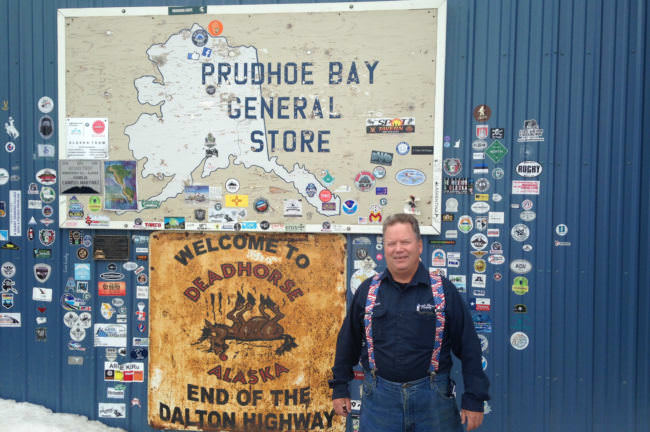 The North Slope community of Deadhorse is an unusual place. Its No. 1 purpose is to serve the oil field it's next to: Prudhoe Bay. There are no houses, there's no downtown and no parks; just a series of industrial lots and gravel roads in the middle of the tundra.
But Deadhorse does have a store. And the man who runs it is retiring this month, after 42 years.
If you find yourself in Deadhorse and you need some paint, an energy drink or a book about Sarah Palin, you'll need to go to the Prudhoe Bay "general store." It's the only store in town.
Dave Pritchard, the manager, gave a tour of the general store, which is what people usually call it instead of its official name, Brooks Range Supply. As he walked around the store's various rooms, he points out the inventory: pipe fittings, industrial hoses, candy, paint, copy paper, cases of water.
"We sell everything!" Pritchard said. "I always call us 'the mall.'"
Pritchard's clocked in at Prudhoe Bay since 1975 — longer than oil has flowed through the trans-Alaska pipeline. He started out working as a roustabout for a tug and barge company. After that, he took a job with the supply company that eventually bought the general store.
And over the next few decades, Pritchard said he worked his way to the top: "I've done the sales, I've been purchasing, I've done a little bit of everything — I was assistant manager for years, I've done the welding supply counter…"
Except for the occasional adventurous tourist driving the Dalton Highway, Pritchard's customers are mostly oil workers. And the oil industry never stops — so when Pritchard's on duty, he doesn't stop, either.
"We are open 24 hours, seven days a week, 365 days a year," he said. "We're open Christmas, we're open Thanksgiving, we're open every holiday — we're working."
More than 15,000 oil workers move through Deadhorse every month, according to BP, but nobody lives there full time. Pritchard works "two and twos" — two weeks on and two weeks off, a pretty common schedule for the North Slope workers. When he's off, Pritchard flies to his house in Cincinnati or a condo in Florida. Pritchard said that might sound great, but it takes a special kind of person to work where he does.
"There's a lot of people that come up can't handle the dark. There's a lot of people who come up here and can't handle the light," he said.
Plus, he said, the two weeks away from home can be tough for families. Pritchard's never been married and doesn't have kids. And he's seen a lot over the last 42 years, including some big changes. Back in the '70s and '80s, Pritchard recalls that things could get a little crazy.
"When Alaska Airlines first came up here, they brought Playboy Bunnies and beer kegs," said Pritchard.
Did he actually meet the Playboy Bunnies?
"Oh yeah, I was at that party," Pritchard said with a laugh.
Today, oil workers aren't allowed to drink once they land at Prudhoe Bay. Things are more tranquil nowadays. And Pritchard doesn't mind that. Working in the middle of the tundra, hundreds of miles away from the nearest city, he's become more in tune with nature's patterns.
"All of a sudden you'll see the foxes will be plentiful. And then the squirrels — won't be that many squirrels. All of a sudden, all the squirrels are around and the foxes aren't that many because they birth that way – it's a cycle," Pritchard said
Another cycle Pritchard's gotten used to is the fluctuation in oil prices.
He said, "I've seen it go both ways. I've gone through about three or four ups and downs. And right now we're on a big down thing – it happened in the '80s, it happened in the '90s, and now it's happening in the 2000s."
Brooks Range Supply isn't an oil company, but like every other business in Deadhorse, it's suffering through the latest oil price slump. Pritchard said it's hard — they've had to cut jobs and limit the number of hours employees can work.
But pretty soon, Pritchard won't have to worry about that. He retires this month. Asked what he thinks the future holds for the Prudhoe Bay General Store once he's gone, he replied, "Well, the future won't have me here — I'm kind of looking forward to that. But it all depends on the price of oil."
He added, "I always joke with my father and say, 'you pay too little for your gas right now,' and he laughs at me and says, 'yeah, I know what you mean.'"
Pritchard's last day at the General Store is June 27. After his final flight lifts off from Prudhoe Bay, he's looking forward to golfing and spending more time with his father.
This story is part of our series, Midnight Oil, about the pipeline that shaped Alaska. Next week, we'll look at why it was so hard to find oil at Prudhoe Bay.  Listen on Alaska Public Media or subscribe to the podcast on iTunes or wherever you get your podcasts.