Saturday the Goldbelt Heritage Foundation will raise a new totem at Gastineau Elementary School, where a Native cemetery once stood. The somber ceremony is the beginning of the T'aaḵu K̲wáan tribal government's plans to formally recognize historic trauma and begin healing.
The 26-foot Raven Pole honors the Gaanaxteidí clan of the T'aaḵu K̲wáan, featuring Raven clan crests, a leaf of devil's club that represents healing and a carved staff which represents the end of grieving.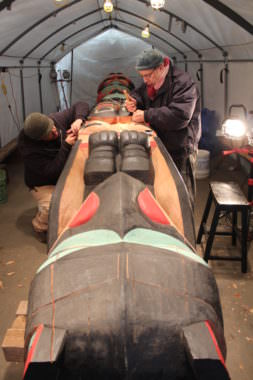 There will be no dancing at the ceremony, which will occur on the ancestral burial grounds of the T'aaḵu K̲wáan. The sacred site was paved over in 1956 to build Gastineau Elementary School.
"This pole really embodies the heaviness of what happened here," said Barbara Cadiente-Nelson who serves the board of the Douglas Indian Association, the tribal government of the T'aaḵu K̲wáan. She said the pole will restore balance and tend to the souls of the departed.
The Native cemetery was thought to have been relocated to Evergreen Cemetery. But in 2012, a headstone of a Chilkat man was unearthed during construction on the school parking lot. Using ground-penetrating radar, three grave sites were identified.
When the Douglas Indian Association heard the news, they called together several emergency meetings with elders. Cadiente-Nelson said they felt an obligation to address the rediscovery and the original desecration. The T'aaḵu K̲wáan elders considered raising a fight in court, even challenging the school's existence, but decided against it.  
"As they struggled with the enormity of this atrocity, they were comforted in recalling that these children were learning their heritage, the Tlingit language, the stories of the  T'aaḵu K̲wáan," Cadiente-Nelson recalls. 
The elders chose to uphold a T'aaḵu K̲wáan value to educate their youth.
"What really comforted them is knowing that these innocent children were dancing and laughing and learning on this land, T'aaḵu K̲wáan, and that's what buoyed them in such a rough sea of emotions," Cadiente-Nelson said.
Cadiente-Nelson also works for the Juneau School District, which is working with the Goldbelt Heritage Foundation to create placed-based education covering histories and stories of the Yanyeidí and Gaanaxteidí.
"And of course they'll learn alongside the history of how this school became constructed on top of a burial ground. And it's in the telling of it that will bring about healing. It's no longer buried underneath a school. It's no longer buried in the minds of our elders as a burden. It's a story that we have to honor and respect," Cadiente-Nelson said. 
Goldbelt Heritage has another totem raising planned for spring of 2018 less than a mile down the road in Savikko Park. It's the Eagle Pole recognizing the Yanyeidí clan at the site of the 1962 burning of the Douglas Indian Village.
While families were away fishing on the Taku River, their homes were set fire under direction of the City of Douglas to make room to build a boat harbor. Andrea Cadiente-Laiti, a T'aaḵu K̲wáan tribal government administrator, said the devastation was felt throughout the Native community.
"I've talked to so many who say 'I was here, I don't remember that, how could I not remember a burning of an entire village?' But that's what happened, it just was wiped from people's memory banks," said Cadiente-Laiti, who is delivering the keynote at Saturday's ceremony.  
Goldbelt Heritage Traditional Arts and Education Projects Lead Paul Marks believes the pole will honor ancestors and future generations of T'aaḵu K̲wáan.
"That's the healing of recognizing that hurt, so our children will be healed and they know we took care of it, that we didn't just stand by and let it happen. We addressed it and that's part of being Tlingit. That when there's a problem, we don't wait for someone else to do it, we take of it," Marks said. 
The totems and curriculum are funded through the Goldbelt Heritage Foundation, which received a grant from federal agencies, in  partnership with the Douglas Indian Association and Juneau Schools' Indian Studies Program.
A Time For Healing Ganéix Gaawú Kudzitee Totem Pole Raising is set for 10 a.m. Saturday at Gastineau Elementary School.