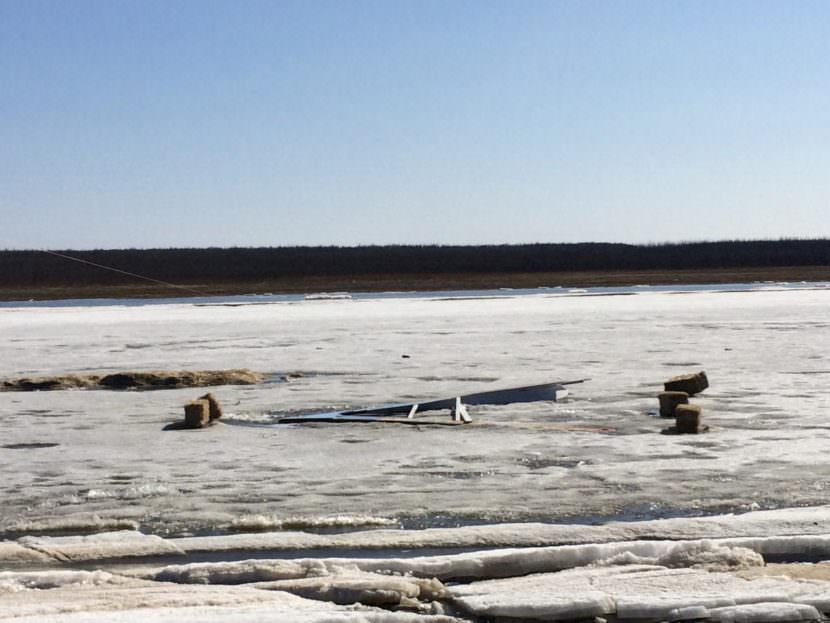 Ice Classic Manager Haley Hanson had just driven to the river when it happened.
"We were just down here, getting stuff ready in the shack, talking about the Breakup Bash, and waiting around, checking out the river, and it just fell over as we were watching it," she said.
That was at 4:40 p.m. on Thursday. The ice around the tripod is severely rotten and dark. Open water lies a few yards away.
"We're thinking that leg just punched right through the ice and is now underwater," said Hanson.
That leg is painted blue and extends 28 feet. The wooden frame is now lying flat on the deteriorating ice. But the water will have to carry the tripod 100 yards downstream to trip the clock.
When it does, $12,500 awaits the lucky winner. Marsha Riley hopes it's her. She drove to the river after her boss let her off work early to see the fallen frame.
"Ever since I was a little girl," said Riley, "this has always been a great thing to come and watch and see all the people get excited, join together, talk stories."
Riley has 15 tickets riding on the tripod, each one guessing a different time when the clock will stop.
If she wins, she says she'll save for the honeymoon her and her husband of three years have yet to take. Hawaii and Ireland are on her list.
The Kuskokwim Ice Classic sold 7,381 guesses this year, raising more than $32,000. What doesn't go to the winner goes to youth groups around the Delta who worked to sell tickets.