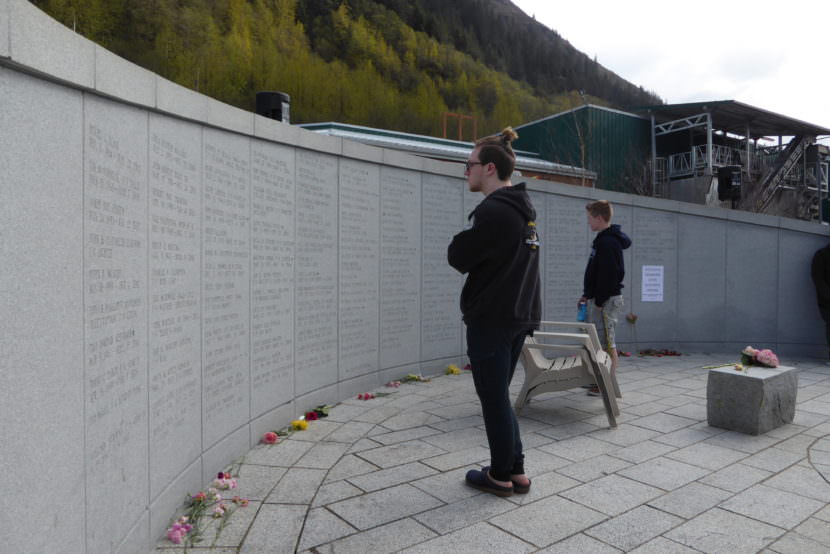 It was a warm, sunny Saturday in downtown Juneau. Dozens gathered for the 27th annual Blessing of the Fleet and to honor the commercial fishing fleet and also to remember the lives of six commercial fishermen whose names will soon be engraved in the Alaska Commercial Fishermen's Memorial.
The memorial is a curved, smooth granite wall engraved with over 200 names. Some have small stars next to them, indicating fishermen who died at sea.
Paul Dayton Fredrick's name is one waiting to be engraved. His name will have a star next to it. Kyle Moselle is Fredrick's son-in-law. He said Fredrick passed away last June.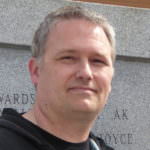 "He's one of those Southeast commercial fishermen that (was) a one-off mold. He's spirited and sometimes crass and sometimes hilariously funny and (a) hard worker," Moselle said. "He went out to the ocean and provided for his family and when the fish weren't running, he worked other jobs to provide for his family. That's who he was and who he is."
Moselle said Fredrick mostly fished from a 24-foot Bayliner named the Cathy Jean.
"He was never on the biggest boat. He was always on the smallest boat fishing with the big boats out in the open water too," he said. "But, he earned the respect of other fishermen that were out there on much bigger vessels than he was and he brought in the catch."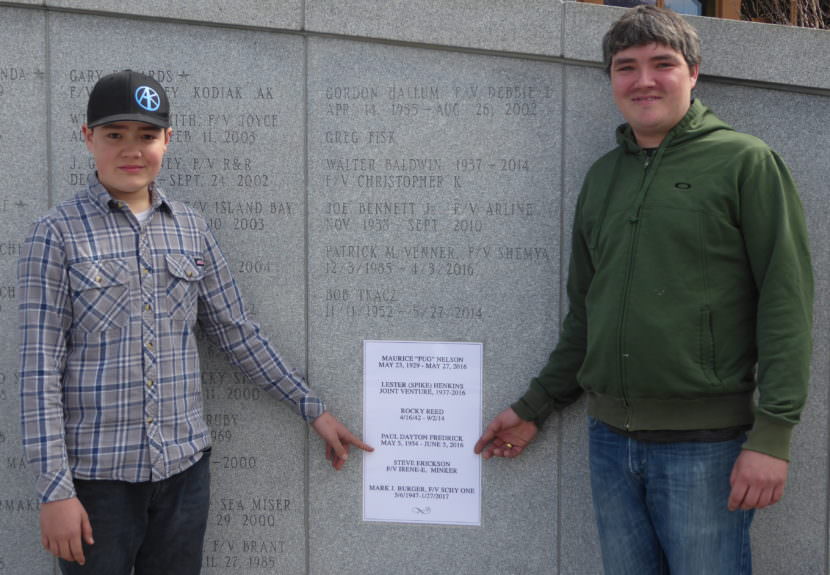 Moselle and Fredrick's son, Alex, said Fredrick was a fisherman for over 30 years. Moselle said he mostly fished out of Sitka, but went all over Southeast.
Lt. Gov. Byron Mallott was invited to speak at the ceremony. He attended alongside Gov. Bill Walker.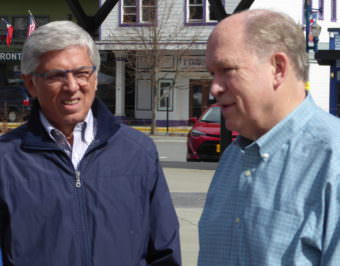 Asked why the community should continue holding the remembrance, Mallott said it's an important chance to pause from day to day business and remember fishermen who have died whether they're on the wall or not. He said it's especially important for families like Kyle Moselle's.
"Well you see families come to the wall, who have loved ones placed there just in the past year and you see their grief and you see the support that is given them by the entire community, and to me that's enough," Mallott said.
Kyle Moselle said commercial fishing is like "the fabric of a community" because it's an industry that benefits everyone in Southeast Alaska and the state.
"It's our family members and other family members that put their love, blood, sweat and tears into that industry and … this memorial recognizes that perfectly," he said.
The other five fishermen whose names will be added to the memorial wall are Maurice Nelson, Lester Henkins, Rocky Reed, Mark Burger and Steve Erickson. A board member with the nonprofit Alaska Commercial Fishermen's Memorial in Juneau said the names will be engraved in June.
Correction: An earlier version of this story and its headline omitted one of the fishermen added to the wall. Mark Burger's name will also be added for a total of six names.