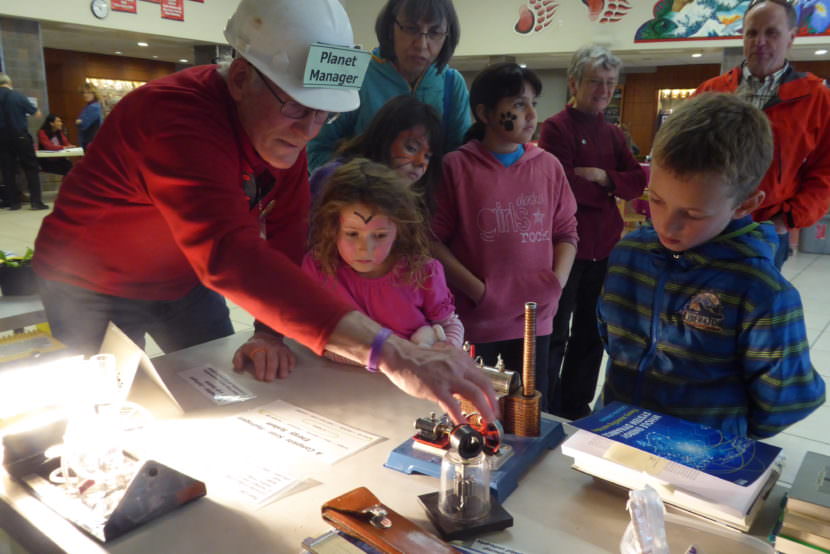 Inside the Juneau-Douglas High School commons, several face painted kids and a couple of adults are engrossed watching electrical engineer Bill Leighty explain the mysteries behind his model energy systems.
Right now, he's showing off the steam engine.
"OK, flick that big wheel with your fingers," Leighty directed a boy. "More, flick it harder, harder. Flick it the other direction. Ooh, almost had it go again."
It takes the boy a few more tries.
"Ooh, try it again," Leighty encouraged. "There it goes! It's running!"
This Earth Day, Juneau residents wrapped up their first March for Science with a stop at a fair promoting renewable energy and environmental consciousness.
About 30 different organizations and individuals put the fair together, including environmentalists and wildlife advocates.
Bill Leighty is a director of the Leighty foundation, a local charitable organization.
He has been on a mission for 15 years exploring how to make the jump from fossil fuel to renewable energy without carbon dioxide emissions.
"That's what I'm demonstrating with the little hydrogen demonstrator here," he said. "That's an electrochemical energy system."
Next, he compared the electrochemical system with the heat engine.
"Heat engines like we have in our cars now and boilers are very inefficient compared to electrochemistry, so that's why we have the hydrogen system, which is not hot at all," Leighty said. "There's no heat in there, except a little byproduct heat. Whenever you convert from one energy form to another, you lose a little energy in inefficiency and it appears as heat."
Leighty said he wants the kids to think about complete energy systems and how they work, from the source all the way to "turning the wheels on their cars."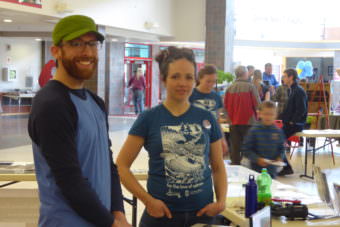 A few booths down from Leighty, The Juneau chapter of the Alaska Wildlife Alliance, is handing out flyers against predator control and supporting a buffer zone near Denali National Park and Preserve where wolves would be safe from trapping and hunting.
The Southeast Alaska Conservation Council is promoting their desire for a new baseline study on Hawk Inlet, an Admiralty Island watershed.
SEACC representatives say they want to know whether mining operations in the area are polluting the water and in turn hurting marine life and the people who eat it.
Other organizations at the Renewable Juneau fair include the Alaska Clean Harbors Project, the U.S. Forest Service, Juneau Compost and Juneau District Heating.
Thirty-one groups are sitting behind tables at the fair, according to Danielle Redmond, coordinator for Renewable Juneau.
"They represent all different kinds of things from local food to climate organizing to local schools and school groups, as well as advocacy organizations so it's been a really good mix," Redmond said.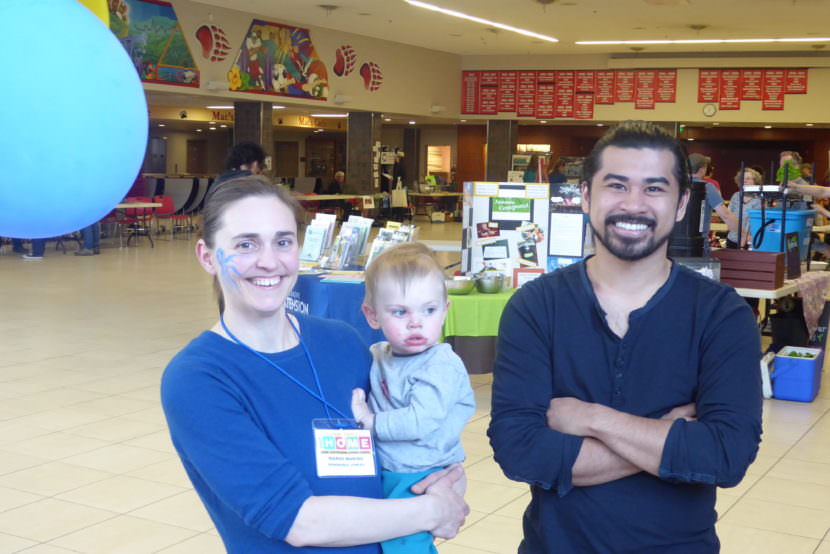 Renewable Juneau is a nonprofit that, like their name suggests, promotes renewable energy and utility regulation in Alaska.
Redmond is sitting cross-legged and holding her baby boy.
She said this is the organization's first fair and they're holding it on the same day as Juneau's March for Science.
"Oftentimes we have these marches, and we build up all this great energy, and we get excited, and we whoop and holler, and it's important to show that energy and to show that publicly," she said. "But, it's just as important to keep that energy going and channel it into productive avenues of both policy and concrete solutions on the day to day level."
Redmond has no idea how many people cycled through the fair, but she estimates they saw at least a couple of hundred, with a big boost in attendance coming from the protesters who finished their March for Science right outside the fair's door.
Editor's Note: Bill Leighty sits on the board of the Leighty Foundation which has helped pay for KTOO's internship program.
Correction: An earlier version of a photo caption in this story misspelled Renewable Juneau volunteer David Abad's name.